I admit, I'm one of those potentially annoying people who loves Christmas. This isn't to say that I don't eagerly await July 4th or St. Patrick's Day with equal enthusiasm (because I totally do!), but, ya know, there's just something special about Christmas. I love how it rolls in with Kris Kringle and The Macy's Thanksgiving Day Parade; begins to count itself down minute by minute as we decorate, bake cookies, wrap presents, and have carols filling our homes; and how it seemingly all ends with the magic of New Year's Eve and a new beginning to get this life thing right.
I've called Orlando home for the past 20 years. During that time I've learned how completely bizarre it is to have "Let it Snow" stuck in your head while the only glistening we're experiencing is that of perspiration. This snow thing ain't gonna happen. But, perhaps we don't need snow to awaken our Christmas Spirit – no, boys and girls – perhaps all we need is a little legendary Candlelight.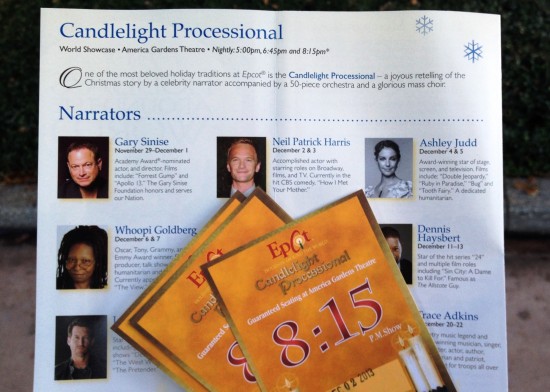 My boyfriend Sean and I started a Christmas tradition of our very own last year in going to Disney's Candlelight Processional at Epcot. We returned again this year in what we're affectionately calling our "Annual NPH Date Night." You see, we're pretty huge Neil Patrick Harris fans. We just LOVE this guy. Besides being Doogie Howser, M.D. and the infamous Barney Stinson from How I Met Your Mother fame, he's hosted the Tony and Emmy Awards, and he is currently preparing to appear on Broadway in 2014. Neil Patrick Harris is genuinely one of Hollywood's most talented stars.
The Candlelight Processional, in short, is a nightly event held at the America Gardens Theatre in Epcot, which consists of a 50 piece orchestra, full choir including The Voices of Liberty, and – of course – a celebrity guest host who narrates The Christmas Story as the musicians infuse classic Christmas songs into the story of Jesus' birth. From Candlelight alum favorites like Gary Sinise and Whoopi Goldberg, to 2013 first timers like Ashley Judd and Sigourney Weaver, it's truly a tough decision when it comes on choosing who to go and see. But for Sean and me, it's easy: NPH is our ticket to officially welcoming in Christmas.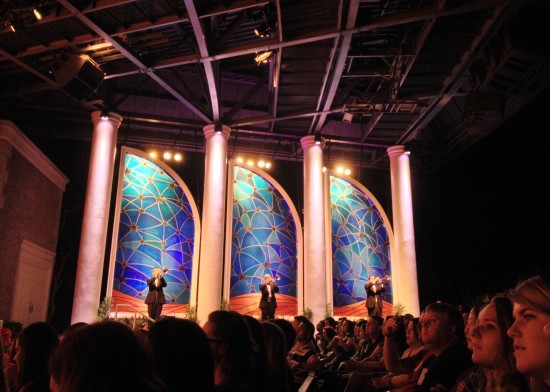 Candlelight Processionals are held nightly from now until December 30, 2013. This event is limited in seating, first-come-first-served, and extremely popular – I cannot stress that enough! So be sure to get there as early as possible. There is no "too early" for this event, as the line will literally wrap around the World Showcase, especially if the celebrity is a fan favorite of Candlelight goers.
You also have the option to take part in the Candlelight Dinner Package, which is in addition to your regular park admission. The Candlelight Dinner Package includes guaranteed seating for the Processional, lunch or dinner, and VIP seating for the Illuminations fireworks show; prices vary depending on which restaurant you select. Advanced reservations are highly recommended for the dinner package — learn more. Candlelight show times are usually 5:00pm, 6:45pm, and 8:15pm.

What I love most about Neil Patrick Harris' appearance every year is his absolute appreciation for the talent that surrounds him. Throughout the Processional, I can get lost in the gorgeous vocals, and I find myself somewhere in the resonating tones of the orchestra. How do these two come together perfectly for an intensely moving Christmas moment? Well, it's an experience not meant for words, and one of those things in life where you just have to feel it.
NPH brings a genuine, heartfelt telling of The Christmas Story. He sings along with the choir at the right moments, dances to the rhythm created by the outstanding orchestra, and brings humor during other appropriate times throughout the Processional. He is a simply gracious host, one who knows that the moment is so much more than just his being a celebrity. I can tell he honestly love being a part of Candlelight every year, and that it's as much of a tradition for him as it is for all of us.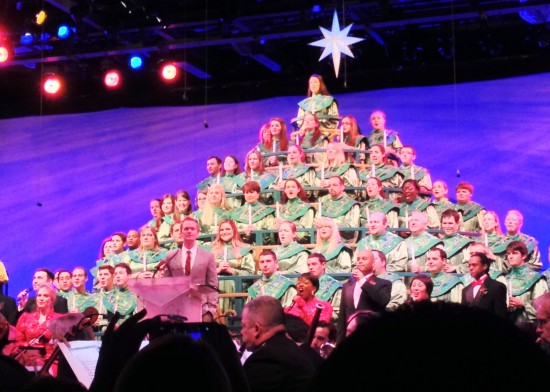 I'm having a blast narrating the Candlelight Processional here at #Epcot. Amazing orchestra, gorgeous voices, awesome crowds. Love Disney!— Neil Patrick Harris (@ActuallyNPH) December 3, 2013
During our visit last week, as the Processional came to a close and Neil exited the stage – followed by the choir and orchestra – I found myself just completely at peace. For a moment, all was right in the world. Maybe it was the clarinets and French horns, perhaps it was the vocal melodies, or that ever present Disney magic, or maybe it was because another Annual NPH Date Night was in the books for us. Another year come and gone.
I reached for Sean's hand. No, there wasn't even a remote chill in our southern air and there was definitely no snow – but I smiled anyway. I had to. Now, boys and girls, it's – wait for it – Christmas in Florida!
To see the full list of celebrity narrators and get additional show details, visit the official site for Epcot's Candlelight Processional. Or, to learn more on our blog, check out all our blog posts filed under the holidays, Epcot, or Walt Disney World.
2013 Candlelight Processional to Epcot – photo gallery
Click any image to view it full-screen. When the full-screen image is open, click to the right or use the right arrow on your keyboard to advance through the gallery.
Editor's note: This is the first blog post from our newest OI contributor, Casie (not to be confused with Kasie). We welcome her to the team and look forward to showcasing her work on our site!
[sws_author_bio user="CasieShimansky" size="105″ authorposts="More OI posts by Casie" name_format="About the author"] [/sws_author_bio]