Whether it's because you don't want to miss out on enjoying Universal's many attractions, or whether it's because you want a break, whether it's just because you're hungry… Universal CityWalk has a variety of quick bites for your taste buds! As you already know, there are plenty of full-service dining options at Universal CityWalk to choose from — right now I'm talking about the places that have counter access and are on the main path that surrounds the CityWalk lagoon, connecting Universal CityWalk, Universal Studios Florida, and Islands of Adventure.
A personal favorite of mine and many others is Jimmy Buffet's Lone Palm Tiki Bar, located directly across from Margaritaville.
Lone Palm is perfect for those days when you want a taste of Margaritaville, but just don't have enough time for a full-service meal. Even though the Lone Palm is a quicker option, it doesn't slack on atmosphere! Enjoy the tunes of Jimmy Buffet while being surrounded by palm trees, sand and Jimmy's own Albatross plane known as the Hemisphere Dancer.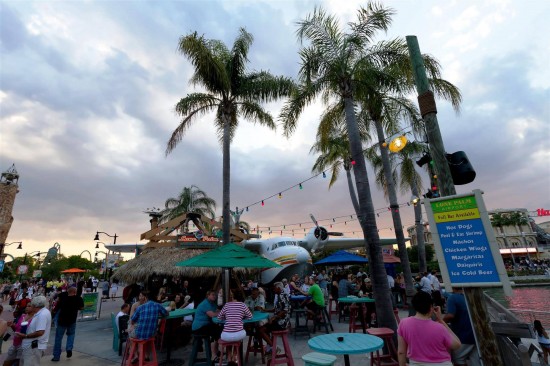 The Lone Palm offers wings, shrimp, conch fritters, hot dogs, beer, specialty drinks and the famous margaritas and Volcano Nachos – YUM! And don't miss out on Happy Hour during the week.
There are a handful of other restaurants and bars at CityWalk that also have express options:
Fat Tuesday's has an exterior walk-up counter where you can enjoy frozen daiquiris, hurricanes and more.
At Latin Quarter Express you can try Caribbean sandwiches and drinks to go.
Pastamoré Market Café offers breakfast in the morning and pizza, pasta, sandwiches, salads and desserts later in the day.
There are also several CityWalk bars to pick up a refreshing beverage as you make your way in between the two parks.
For those who have a sweet tooth, be sure to check out TCBY for delicious frozen yogurt and the always classic Cinnabon shop. In the mood for coffee? Starbucks on the second level of Universal CityWalk offers everything you'd expect to find at any other Starbucks across the globe, except for free wifi. (If you want free wifi — get this — you just need to visit Burger King in the food court).
Love fresh doughnuts? Be sure to stop by a new favorite of mine, the CityWalk Café! Here you'll find fresh made beignets, churros, apple fritters, krulers, coffee, corn dogs and hot pretzels.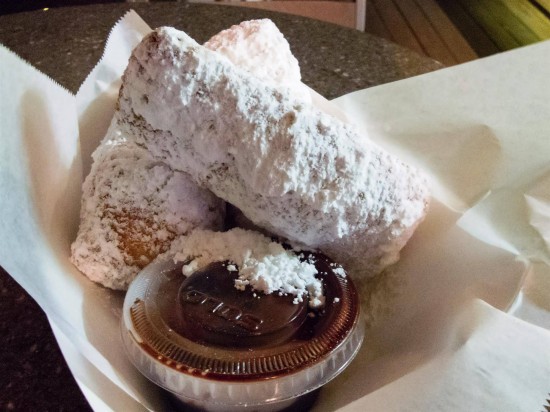 The beignets are so good, made to order and served hot and fresh loaded with powdered sugar and a side of chocolate sauce. There is a seating area with a beautiful view behind the café to sit and enjoy your tasty treats.
If candy is your idea of sweet eats, make sure to visit Katie's Candy Company where you will find over a hundred kinds of bulk candy including M & Ms, jelly beans, taffy and gummi candies to name a few. Katie's also has fresh made fudge, caramel apples, jawbreakers, chocolates, chocolate covered pretzels and a lot more!
If you have a little extra time for your quick bites, you can head to the food court at the top of CityWalk and grab a bite at one of their several counter service restaurants:
Burger King Whopper Bar
Moe's Southwest Grill
Panda Express
Fusion Bistro Sushi & Sake Bar
Big Kahuna Pizza
I am sure there are many more tasty express options hiding within Universal CityWalk. What are your favorite places to grab a quick bite or take a break?
Universal CityWalk quick bites – photo gallery
Click any image to view it full-screen. When the full-screen image is open, click to the right or use the right arrow on your keyboard to advance through the gallery.
[sws_author_bio user="jewels" size="105″ authorposts="More OI posts by Julie" name_format="About the author"] [/sws_author_bio]