My family and I recently visited Disney's Hollywood Studios (DHS) late one afternoon and evening, and we had a great time.
Right away I noticed the approximately 65 foot tall decorated Christmas tree that greeted guests in front of the park's entrance. Hundreds of oversized ornaments adorn the tree. Disney character cutouts and a holiday train "film strip" wrap around the bottom and provide excellent photo opportunities. After entering the park, I found holiday decorations everywhere, along with Christmas music playing over the sound system. My favorite holiday window display at DHS is the dancing Mouse Ear Christmas balls on Hollywood Boulevard.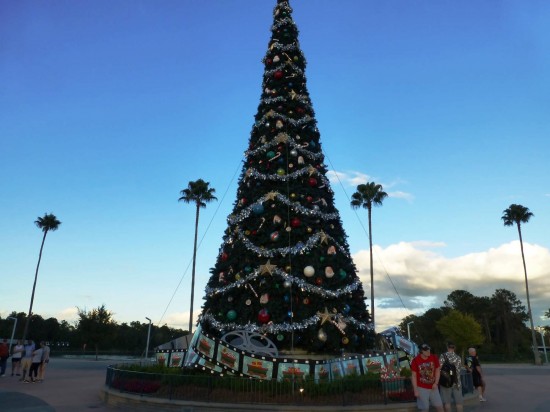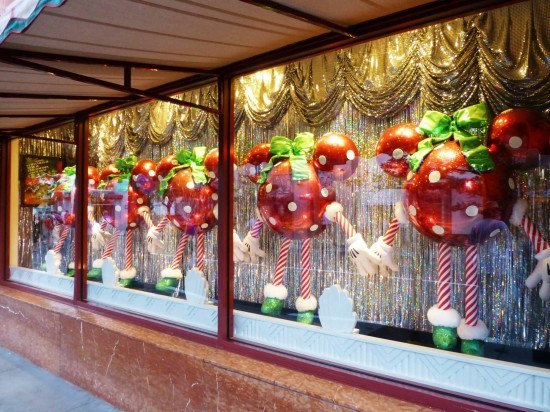 [wptouch target="non-mobile"]Remember, you can click any image to view it full-screen. And don't miss the complete photo gallery with 26 new full-screen images at the bottom of the post.
[/wptouch]
In the Magic of Disney Animation, a new meet-and-greet room for Minnie Mouse is now open between the Sorcerer Mickey and Wreck It Ralph greeting areas. There is no signage indicating where to meet Minnie other than the words "The Drawing Room" and a clock underneath. Ask a Cast Member for help if you are not able to find this room. The Incredibles round out the characters greeting guests in this building.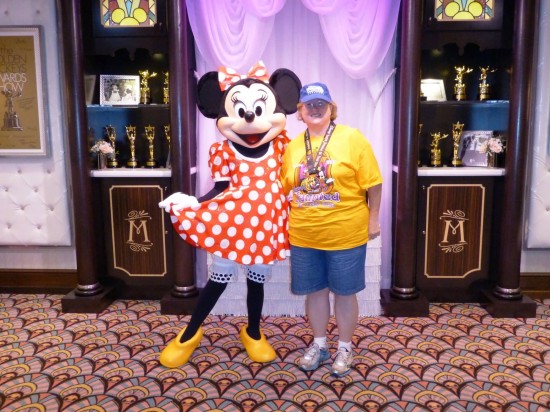 In the Magic of Disney Animation, I noticed several posters promoting future Disney movies including Pixar's The Good Dinosaur and Inside Out.
Banners were also placed throughout the Animation courtyard promoting Disney's newest movie, Frozen. In addition, Frozen merchandise was available for purchase including adorable plush toys, character dolls, and "cool" clothing.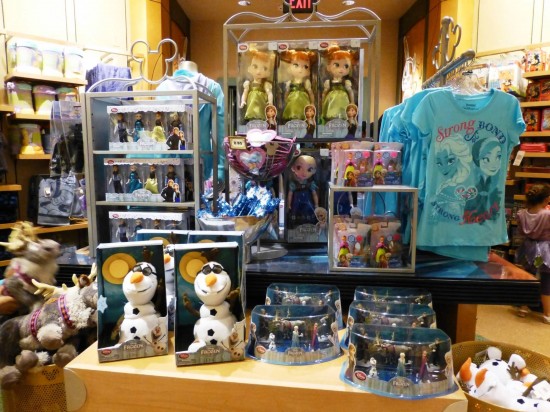 Nearby, a new lounge at the Hollywood Brown Derby restaurant is now open. Guests are seated on a first-come, first-served basis outdoors at umbrella-covered tables or a small indoor seating area. The menu offers beer, wine, and specialty cocktails alongside delicious appetizers and delectable desserts. We didn't get a chance to try it yet, but the new venue has received strong reviews — including this one OI contributor Dani published on her own site.
Mulch, Sweat & Shears was performing live on the stage set up in front of the Sorcerer's Hat. I always find this talented band entertaining. In addition to the classic hits they typically play, they were performing a variety of Christmas songs this visit getting guests into the Holiday spirit.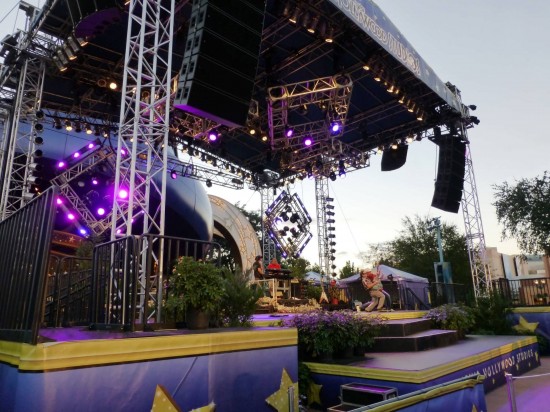 Experiencing the Osborne Family Spectacle of Dancing Lights is a holiday "must do" event that our family enjoys each year. Seeing over 5 million lights draped along the Streets of America buildings dancing in sync to some of our favorite holiday music is awe inspiring.
We spent most of our time at one end of the Streets of America and enjoyed the lights, music, and the reactions of the other park guests. We also found the purple cat and some of the 43 hidden Mickey's in the millions of lights. If you have time, Santa Goofy has a meet and greet in this area for some excellent photo opportunities.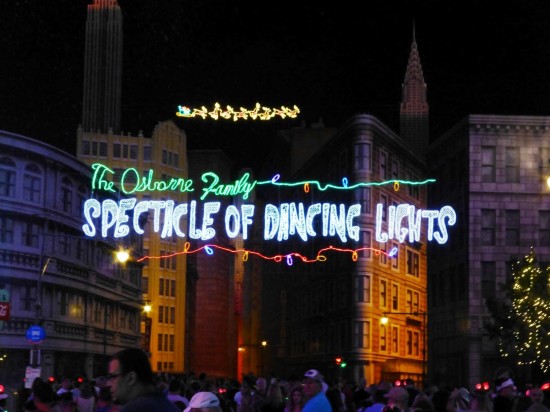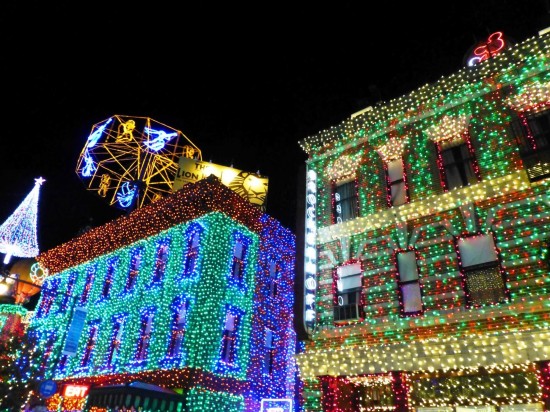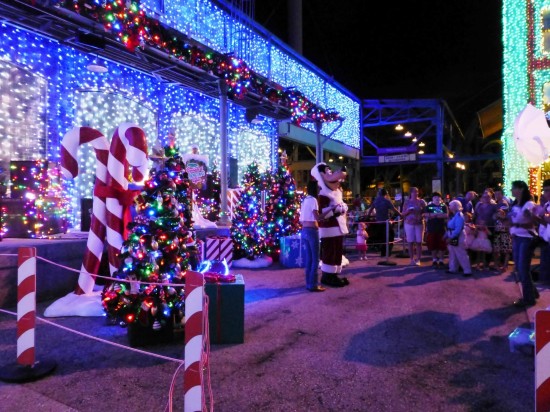 This year the Osborne Family Spectacle of Dancing Lights runs from November 8 through January 5.
A sweet addition to the Osborne Lights is the $6.75 Lighted Holiday cupcake with a multi-colored flashing ice cube available for purchase. The cupcake is pumpkin flavored with cream cheese icing, red and green sprinkles and a Mickey Santa hat on top. We shared this large, delicious cupcake and kept the flashing cube as a souvenir.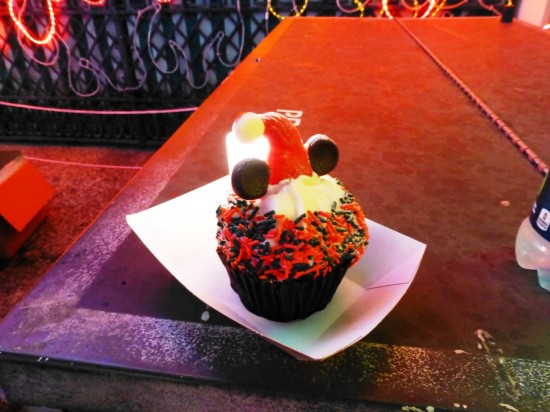 An exciting new feature at Disney Hollywood Studios is the Glow with the Show ears available for $25.00. In DHS, the Mickey Mouse ears on these hats light up in sync to the music and lights at both Fantasmic! and The Osborne Family Spectacle of Dancing Lights show.
Although some people have expressed that the hats can be distracting, I think the flashing hats added to the excitement and make one feel like they are a part of both shows. I enjoyed seeing them glow and blink multiple colors along with the music and lights.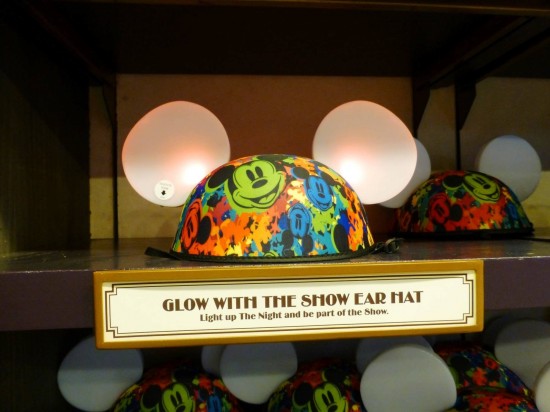 [youtube_video]mAvOfsGDJcg[/youtube_video]
After enjoying the Osborne Family Spectacle of Lights, my son wanted to ride Star Tours, a popular attraction at Disney's Hollywood Studios.
Star Tours – The Adventure Continues
This exhilarating motion simulator ride features an entertaining queue and 3D High Definition movie. As we entered the queue, we were prepared for our tour with a variety of announcements and large screens regarding gate changes, luggage restrictions and descriptions of the star speeder guests ride. C3PO also interacts with R2D2 in the queue and, in another section, various droids interact with the guests. The Droid that piloted the vehicle prior to the renovation of this ride in 2011 can be found in the scrap metal pile along the queue. We picked up our 3D glasses when we were assigned a vehicle and row. The humorous Star Tours safety information video played on the screen. After C3PO accidentally became the pilot of the ship, a Starspeeder 1000, our adventure began.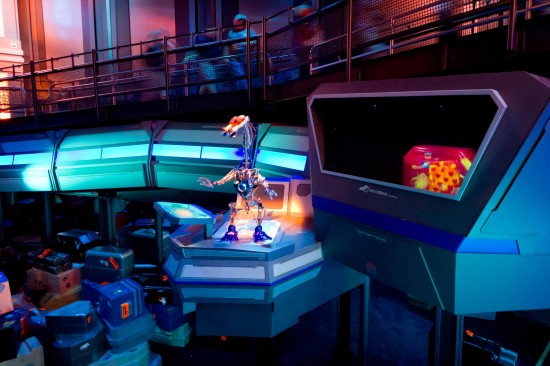 There are 54 different combinations of scenes guests can experience while riding Star Tours. For this trip, it was the first time we've experienced this particular combination, and we were very excited. The first scene after we escaped the Stormtroopers was on the planet Kashyyyk, the home planet to the Wookies. Storm troopers on speeder bikes attacked the Wookies riding Ornithopters as we raced through the planet's forest. We helped destroy a few Stormtroopers and experienced some dramatic flying over the Wookies before heading back into space.
After Kashyyk, Yoda appeared on our screen and instructed us to deliver the rebel spy to the Rebel station and gave our R2 unit the rebel station coordinates. We reached light speed and landed in a construction area of the Death Star. We fought the Empire, blew up the Bounty Hunter, and, after reaching light speed again, finally arrived at the Rebel station. Rebels congratulated us on our victory and bringing the rebel spy back to safety. This attraction is an exciting ride simulator for everyone, even for those who may not be very familiar with the entire Star Wars saga.
FastPass+ at Disney Hollywood Studios
Since my DHS trip report back in June, FastPass+ has been implemented throughout DHS at most of the major attractions. Currently, if you have access to FastPass+ while visiting DHS (at this time for those guests staying on Disney property), through December (and maybe longer) the FastPass+ attractions are now categorized into two groups. When making your DHS FastPass+ reservations, you can select one attraction from group 1 and two additional attractions from group 2.
Group 1 (more popular): Toy Story Midway Mania, Rock 'n' Roller Coaster starring Aerosmith, Fantasmic!, Beauty and the Beast show.
Group 2 (less popular): The Great Movie Ride, Tower of Terror, Star Tours, Indiana Jones Epic Stunt Spectacular, Lights, Motors, Action! Extreme Stunt Show, Muppet Vision 3D, Disney Jr. Live on Stage!
During our visit crowds were moderate and the temperatures were in the 70's. The posted wait times for attractions reflected the crowds with 30 minutes for Tower of Terror and 60 minutes for Rock 'n' Roller Coaster. Tip: Star Tours had a posted wait time of only 10 minutes since most guests on this side of the park were viewing the Osborne Lights.
Our visit to DHS this month was entertaining, adventurous, and awe-inspiring. It was a great start for our family's theme park Holiday traditions and I hope you will soon be able to experience the variety of entertainment options at Disney's Hollywood Studios.
To continue reading about Walt Disney World, view our WDW archive on the OI Blog. Or you can catch up on all our trip reports (we now publish monthly trip reports for Universal Studios Florida, Islands of Adventure, SeaWorld, Busch Gardens, and one of the four Walt Disney World parks).
Disney's Hollywood Studios trip report – photo gallery
Click any image to view it full-screen. When the full-screen image is open, click to the right or use the right arrow on your keyboard to advance through the gallery.
[sws_author_bio user="MaureenDeal" size="105″ authorposts="More OI posts by Maureen" name_format="About the author"] [/sws_author_bio]