My family decided to go to Disney's Hollywood Studios this past weekend for our next trip report. We were excited it was Star Wars Weekend and thought it would be fun to see the characters and merchandise available during this very popular annual celebration.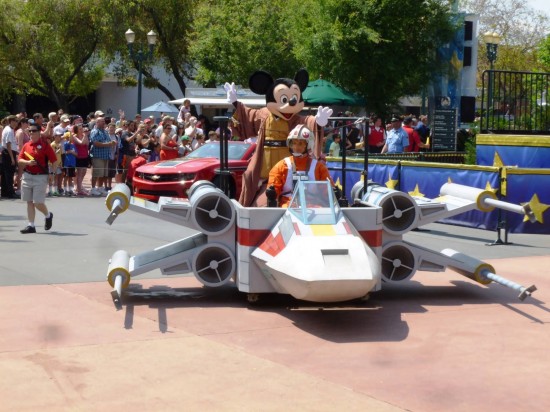 [wptouch target="non-mobile"]Remember, you can click any image to view it full-screen. And don't miss the complete photo gallery with 45 images at the bottom of the post!
[/wptouch]
As we arrived, the traffic going into DHS was heavy and we had to wait several lights before we could turn into the park's entrance. It reminded us of a holiday week. Once we entered the parking lot, we headed toward the entrance gate. The turnstile entrances are now divided into an electronic ticket entrance on one side and a paper ticket entrance on the other side. The electronic ticket side appeared to be moving faster.
We arrived in the park just in time to pick up maps and get a spot to see the "Legends of the Force" Motorcade and Celebrity Welcome. This parade of characters and celebrities affiliated with the Star Wars franchise was entertaining and a fun experience. Celebrities included stars from the Star Wars movies and the Clone Wars series.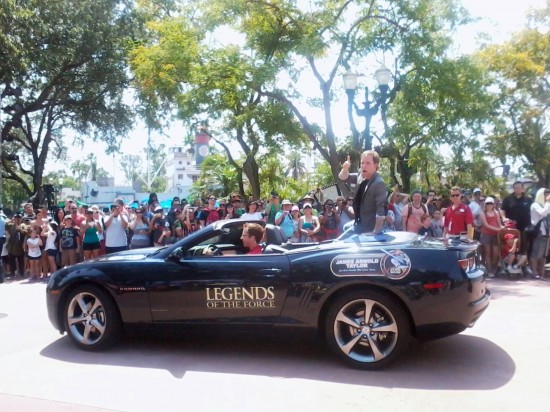 The Star Wars music that played during the parade was great and put guests in a Star Wars frame of mind. The numerous Star Wars characters gathered on the stage set up in front of the Sorcerer's Hat. James Arnold Taylor, voice behind Obi-Wan Kenobi and Plo Koon in Star Wars: The Clone Wars reviewed the different events scheduled throughout the day.
After we ate lunch my son and husband went to enjoy the thrills of the Tower of Terror while I shopped at the "Darth's Mall" located next to Rock 'n' Roller Coaster. Various logoed merchandise including shirts, hats, toys, artwork, collectibles and statues were available to purchase. You could also create your own droid, official nametag and customized iPhone cases.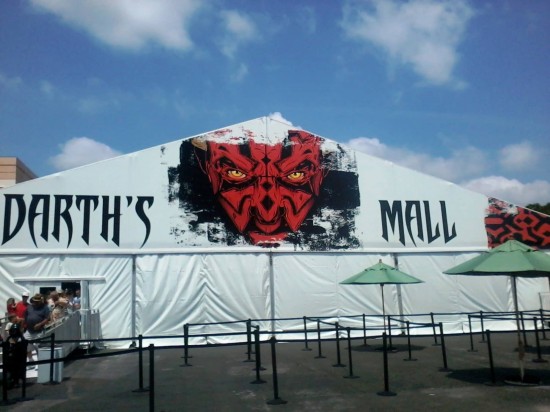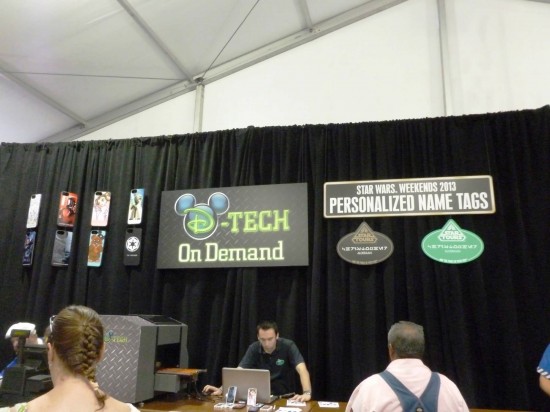 There was also a meet and greet photo op inside the Darth Mall with Luke Skywalker and Princess Leia, and other characters from the movies.
On Sunset Boulevard, the posted wait time for the standby line for Tower of Terror was 45 minutes and Rockin' Roller Coaster was over 100 minutes in the early afternoon. However, the Fastpass line moved quickly at both attractions. Beauty and the Beast live stage show was a popular attraction here.
From Rock 'n' Roller Coaster, we walked onto Hollywood Boulevard past The Great Movie Ride and toward Commissary Lane. At a kiosk just outside the Sci-Fi Dine-In Theater Restaurant, you could purchase your choice of drink representing which "side" of this epic saga you wanted to be on: The Force or The Dark Side. However, each drink had a shot of the other drink included.
Along the way, various Disney characters were available for photo and autograph opportunities. Chip and Dale as Ewoks, Donald Duck as a Storm Trooper and Goofy as Darth Vader are a rare treat and are usually only found during Star Wars Weekends.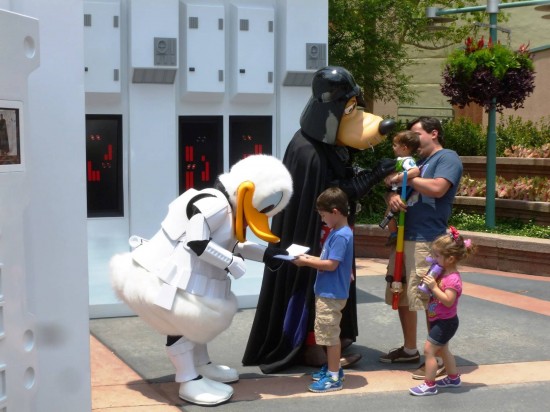 On Echo Lake, Star Tours had a posted wait time of 60 minutes for the standby line. Several characters including Chewbacca were available for photos and autographs near the attraction. In addition, there were also numerous Jedi Training Academy shows outside the entrance to Star Tours scheduled throughout the day.
On the Streets of America, we took a break at Pizza Planet and shared a one-of-a-kind Darth Vader Cupcake…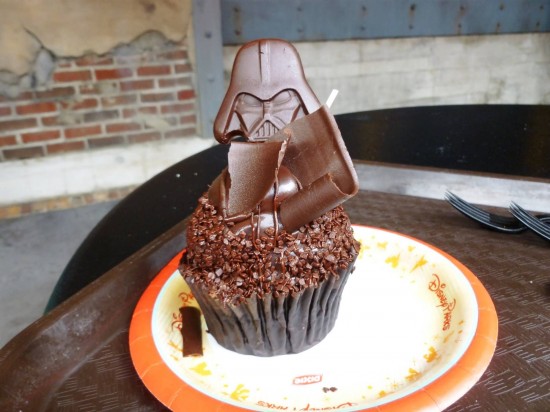 This cupcake was a rich and tasty chocolate cake with peanut butter topping coated in chocolate icing and sprinkles with a chocolate Darth Vader's mask on top. As I was looking for a table in the crowded restaurant, a cast member said "Welcome to the Dark Side" when she saw the cupcake on my tray. It was a funny moment. By this point my son was ready to leave the park but my husband and I wanted to finish walking around DHS before we left.
Also in Streets of America, we noticed the Miss Piggy statue was not rotating in the fountain outside Muppet Vision 3D as it usually does. Honey, I Shrunk the Kids Movie Set Adventure was a popular spot. There were several locations for Star Wars characters photos and autographs were spread between the backlot area and Toy Story Midway Mania, including a crowd favorite, Darth Vader. Toy Story Midway Mania had a posted wait time of 105 minutes for the standby line.
It started raining heavily while we walked along Mickey Avenue toward Animation Courtyard and guests ran for cover. Remember, an umbrella or poncho is a necessary item to have on hand during the summer afternoons at Orlando's theme parks.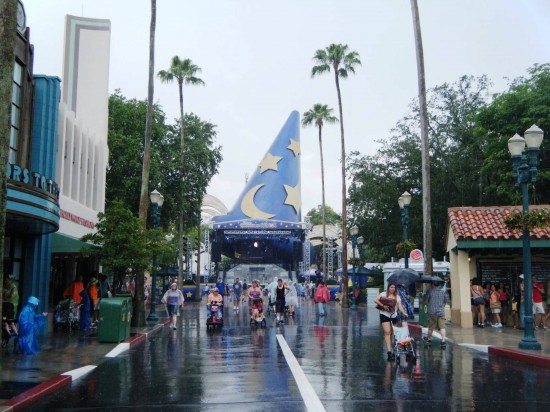 To escape the heavy rain, I investigated the character meet and greet location next to the Magic of Disney Animation. The usual characters of The Incredibles, Mickey, and Wreck It Ralph were available along with Stitch, Daisy Duck and Handy Manny from Disney Junior.
It started raining harder and my son became pretty insistent about going home. We decided to end our visit to Disney's Hollywood Studios at that time.  We weren't able to see several special events featured during Star Wars weekends, especially the highly popular Hyperspace Hoopla! We enjoyed what we did see and hope to return before the special Star Wars Weekends end on June 9, 2013.
Thanks for reading this trip report. Please leave your questions and comments below! Or, if you'd like to catch up on all our trip reports, click here.
Disney's Hollywood Studios (Star Wars Weekends) – photo gallery
Click any image to view it full-screen. When the full-screen image is open, click to the right or use the right arrow on your keyboard to advance through the gallery.
[sws_author_bio user="MaureenDeal" size="105″ authorposts="More OI posts by Maureen" name_format="About the author"] [/sws_author_bio]