For this trip report my family and I visited Disney's Hollywood Studios (DHS). This is my son's favorite park at Walt Disney World. We were last there to enjoy the wondrous The Osborne Family Spectacle of Lights (a must-see if you are in Orlando during the holiday season). The weather for this trip to Hollywood Studios was fantastic, the crowds were moderate and we had a terrific day.
At the park entrance there is some construction which appears to be the installation of the new RFID scanners for MyMagic+. Cast members were also directing those with a particular park ticket to enter through the right-hand side of the turnstile gate area. Throughout the park, most of the major attractions have the newly installed RFID scanners covered at this time, but they will be used for the MyMagic+/FastPass+ reservation system for guests who are staying at a Disney World resort.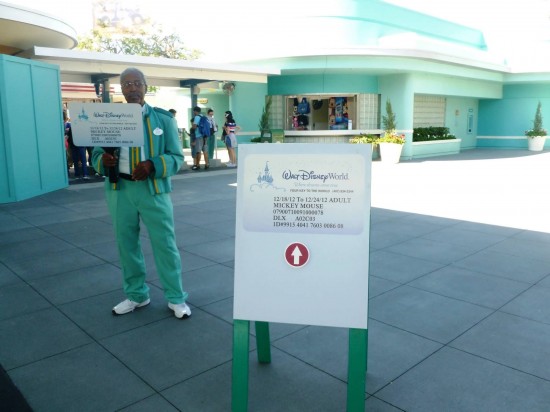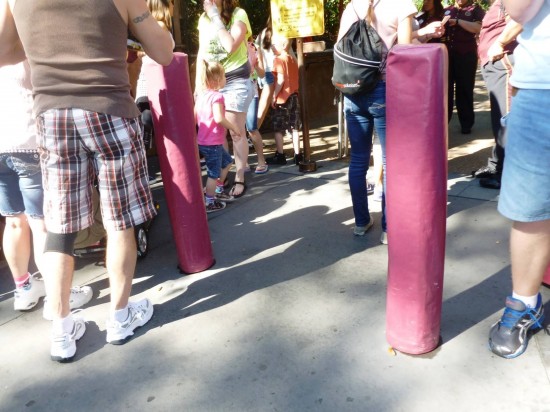 [wptouch target="non-mobile"]Remember, you can click any image to view it full-screen. And don't miss the complete photo gallery at the bottom of the post!
[/wptouch]
My son has a routine for attractions at each theme park and DHS is no exception. After entering the gate and getting our maps and show schedules, he headed straight to the Twilight Zone Tower of Terror ride, his favorite attraction in this park. The scenery in queue's hotel lobby and library really makes me feel like I'm in a hotel back in the early part of the 20st century. The unpredictable pattern of the elevator dropping and rising is always a thrill, and we love every minute of the ride.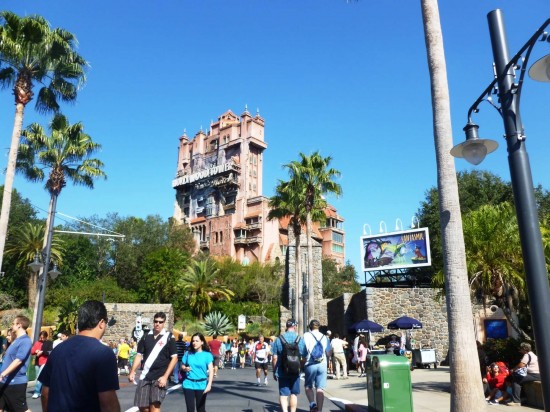 Next in my son's routine is Rockin' Rollercoaster by Aerosmith. This is the only rollercoaster in Orlando that my son will not ride. There is really no explanation we can find for why he doesn't like it. Since he is non-verbal, he really can't explain why not, although he rode it twice when he was younger, and he knows what to expect. However, he really enjoys the pre-show before boarding the coaster and the thrill of watching the coaster's countdown and take-off. As a result, we go through the queue like any other rider and at the point where the riders get on the coaster, we exit the ride.
After Rockin' Rollercoaster, our next stop at DHS is The Great Movie Ride. This ride is designed for all family members, no matter what age. There are new items on exhibit in the queue, including a Holographic Chess Table from Star Wars Episode IV.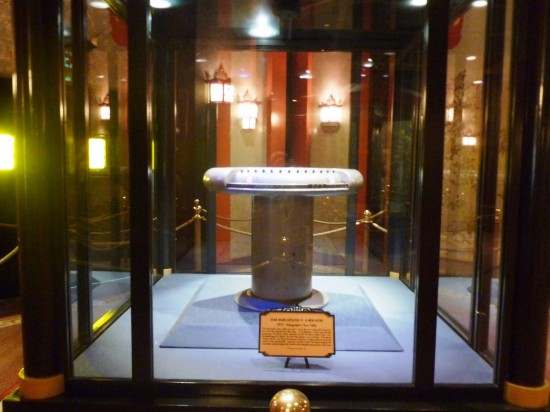 On the Great Movie Ride, you feel like you are a part of the movie as you journey through the animatronics' scenes from famous movies like Casablanca, Mary Poppins, The Wizard of Oz and many other movies. By the way, did you know there is a hidden Minnie Mouse silhouette in the loading zone area of this attraction?
As we exited the Great Movie Ride we were able to see a performance of "Disney Channel Rocks" in front of Mickey's Sorcerer's Hat.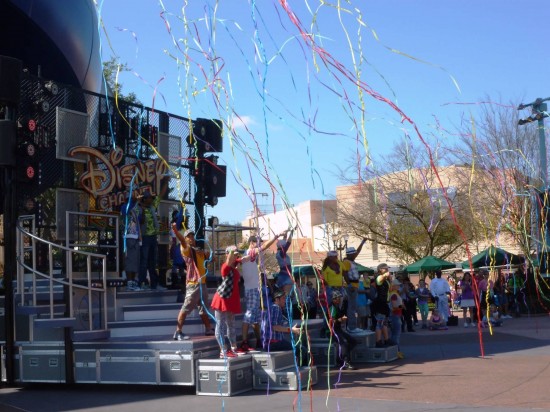 Afterwards, we rode Star Tours. I was excited to finally experience Darth Vader as one of the many possible scenes that appear during the ride. Then we headed for Muppet Vision 3D, a fun family attraction which had a 5 minute posted wait time. The Premier Theater, which is open seasonally, was closed.
The next attraction we experienced was Toy Story Mania. The posted wait time for the standby line was 70 minutes. Using the FastPass line, we waited less than fifteen minutes. My husband and son rode on one side of the car and I rode on the other, and we truly enjoyed the spinning and interactive carnival 3D games.
The Legend of Captain Jack Sparrow, a show based on the movie Pirates of the Caribbean's character, is now open — but we skipped it this time.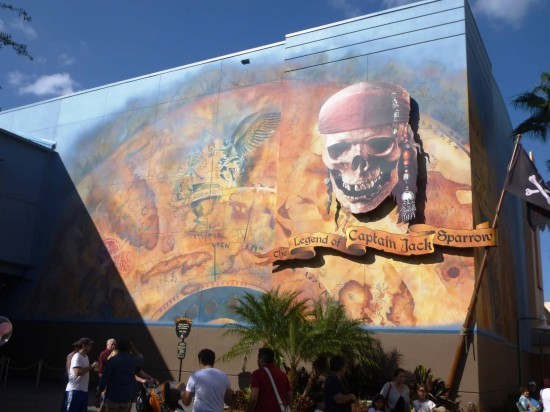 Next to this production is One Man's Dream, a walkthough attraction that chronicles Walt Disney's life and includes a variety of memorabilia and a very informative film. Also, scaled models of various Disney theme park attractions are on exhibit including a new detailed model of the New Fantasyland. This is an enjoyable attraction for the entire family.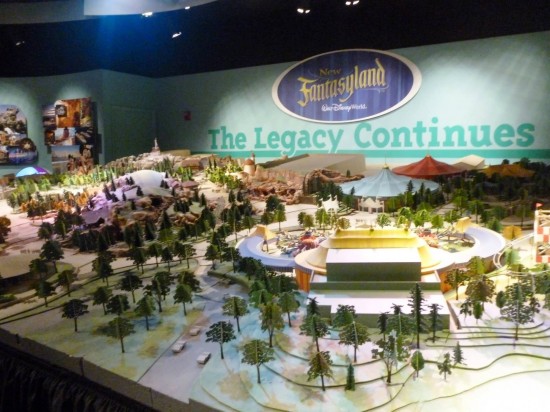 In the Animation Courtyard, the Disney Junior Live on Stage show was closed but will reopen in February. However, meet and greet opportunities with Disney Junior characters were occurring outside the stage show entrance.
The magic of Disney Animation attraction not only provides animation classes but it houses several Disney characters for photo and autograph opportunities. The featured characters this trip were Soccer Mickey, The Incredibles, and Ralph and Vanellope from the Wreck It Ralph movie.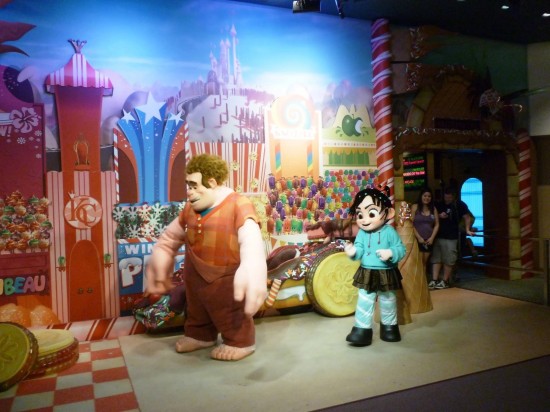 Pixar Pals Countdown to Fun parade was at 3:00pm, and we were able to see many of our favorite Pixar characters including Buzz and Woody.
Shopping on Hollywood Boulevard and Sunset Boulevard at DHS is something I like to do while my husband and son ride Tower of Terror multiple times. I noticed there were some great new clothing items, 2013 dated souvenirs and a new line of Disney kitchen items in black and white.
We left the park at dinner time so unfortunately we were not able to see Fantasmic, one of the best attractions at Walt Disney World that features fireworks, special effects and many Disney characters. We enjoyed our day at Disney's Hollywood Studios and look forward to returning soon.
I hope you enjoyed this trip report. If you'd like to catch up on all our trip reports, click here.
Disney's Hollywood Studios trip report – photo gallery
Click any image to view it full-screen. When the full-screen image is open, click to the right or use the right arrow on your keyboard to advance through the gallery. If several thumbnails are missing, try reloading this page in your browser.
[sws_author_bio user="MaureenDeal" size="105″ authorposts="More OI posts by Maureen" name_format="About the author"] [/sws_author_bio]