While I've always loved Disney's Boardwalk Resort, I admit that one of the property's weaknesses has been its lack of a substantial quick-service dining option. After months of being relegated to a temporary white tent during a massive renovation, the Boardwalk Bakery is back and fully equipped to provide that quick-service option, and it is better than ever (for the most part).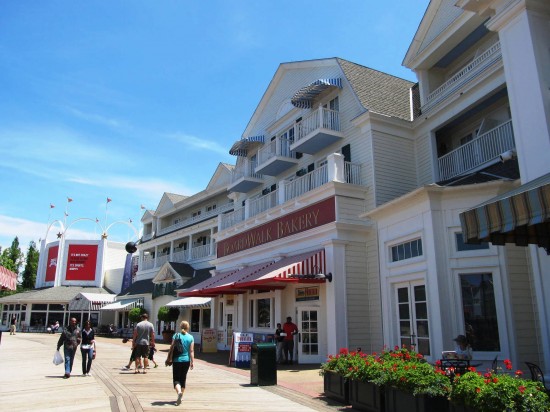 During its first few days of being reopened, a coworker and I headed along the shores of Crescent Lake and entered the much improved Boardwalk Bakery. Long gone is the cramped little cubby hole of a space. I was most impressed with the display case full of scrumptious, dreamy desserts along with sizable sandwiches and colorful salads.
The entrance leads you to wrap around a small queue and walk along the display case as cast members take your order. The cupcakes immediately caught our eyes, but we had to focus on first things first. Although the Lobster Roll and Herd Pork Loin sandwiches really appealed to me, my coworker and I both opted for salads instead.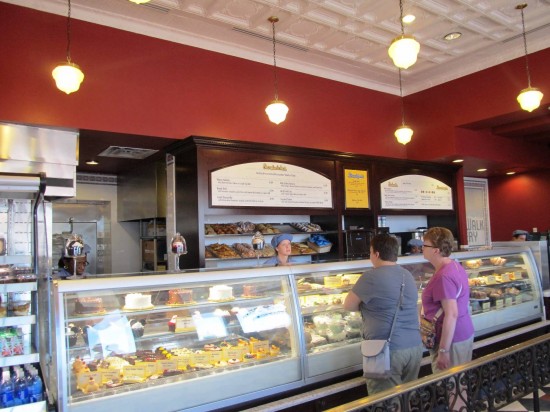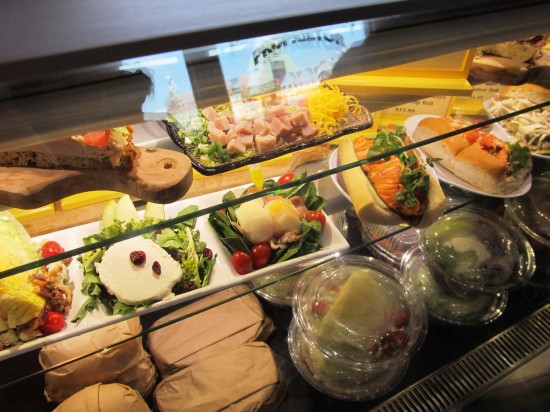 As we walked along the display case, we toyed with temptation. It was difficult to limit our dessert order to one selection each.
So much for the salads…
After paying for our lunch, we struggled with full hands and attempted to gather the utensils we needed. (If carrying trays were offered it would really be helpful to those not taking their food to go.) We found a table outside and took in the view. This really is one of my favorite areas of Walt Disney World. The beauty of the lake, the hustle and bustle of the boardwalk, and Spaceship Earth towering in the distance; it's one of the most unique atmospheres in Orlando.
The Apple Mixed Greens salad looked lovely. Dense, leafy greens are topped with crisp apples, sweetened cranberries, and a large slab of goat cheese. My coworker said it was very tasty and I soon regretted not making the same selection.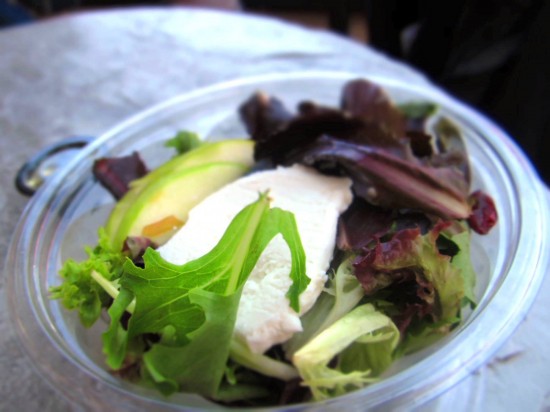 As I opened the lid of my Baby Spinach salad, I poked around with my fork. I looked for dressing and soon found it in a vile inserted into a soft boiled egg. Unique, that's for sure. I removed the vile and pulled apart the egg. It was gooey and slimy. I hesitated. As I continued to poke around some more, I came across another gooey egg and decided one was enough and removed it. I took one bite of the egg and couldn't stomach the texture. I stirred the spinach leaves and found some shallots and prosciutto. The bite was soggy, tart, and salty — I just couldn't do it.
Sadly, I had to take this salad back. The soggy textures, the briny taste of the shallots, the prosciutto that had far more fat than meat proved too much for me. I felt bad for returning it to the cast members, but I decided I might as well try the third salad option: the Iceberg Wedge.
It's pretty difficult to mess up a wedge salad. Thankfully, Boardwalk Bakery's Iceberg Wedge salad is pretty standard: a couple of grape tomatoes, some smoky bits of bacon, creamy and tangy bleu cheese crumbles, and a huge wedge of iceberg lettuce.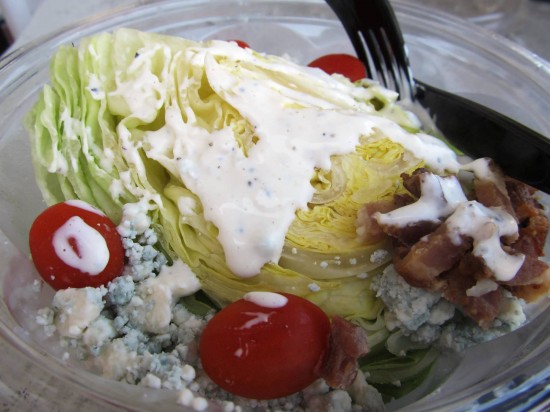 Overall the flavor is great, typical tangy of bacon & bleu, and it was vastly better than the Baby Spinach. However, it is worth noting that the wedge is massive and served as one whole quarter of a head of lettuce all inside a small plastic container — it took a lot of time and a lot of work to cut the whole thing into manageable bites.  In the end the best of the three salads is definitely the Apple Mixed Greens. If you decide to order it, I would suggest adding on some herb grilled chicken.
Divine desserts
After a somewhat disappointing experience with my two salad choices, I eagerly dived into dessert. With summer on the horizon and Florida strawberry season having just reached its peak a few weeks ago, I had to go with the Strawberry Shortcake cupcake. The thing is just darling to look at. Walt Disney World's cupcakes are far too enormous as finger food and so my fork dug right in.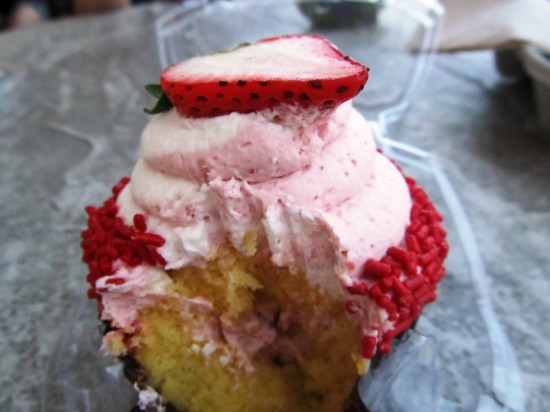 The light, creamy, and sweet frosting was reminiscent of strawberry ice cream. The moist vanilla cake mimicked the fluffy sweetness of sponge cake. And of course, a Walt Disney World cupcake would not be complete without a dense filling. In this case, fresh strawberries and cream. It is the perfect treat for a warm Florida day.
One other sweet caught our attention and we just had to try it: the Peanut Butter, Banana, and Candied Bacon Pie. Yes, it is as decadent as it sounds. Elvis Presley would certainly approve.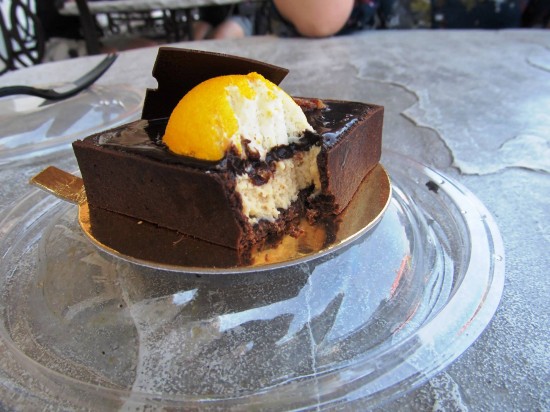 The banana overpowered the peanut butter in my opinion. Then again, peanut butter is my weakness, still the dense dark chocolate and over the top flavor of candied bacon are the heroes of this sinful treat.
Bodacious baked goods
The desserts definitely steal the show, as they should at a bakery. Thankfully the Boardwalk Bakery, with all its indulgent treats, is located right in the middle of one of Walt Disney World's most walkable areas. A few laps around Crescent Lake, up to Disney's Hollywood Studios, and back again may be in order after a visit here. And if you really want to burn off the bodacious baked goods, you can always grab a few pals and bike a few laps on the surrey bikes. Whatever method you choose, or none it all, the indulgence is definitely worth it.
Although the salads leave a lot to be desired, I am sure the sandwich options and breakfast choices make up for them. And really, anything would be an improvement over the former, teeny tiny Boardwalk Bakery. I will definitely visit again to try more yummy desserts and maybe grab a sandwich. I hope you too will stop by to enjoy the Boardwalk Bakery's baked good goodness!
Disney's Boardwalk Bakery – map & links
Click any marker to display the attraction or venue name. To scroll or zoom, use the controls on the top-left of the map. You may also switch to different map views by using the buttons on the top-right of the map.
Official website: https://disneyworld.disney.go.com/dining/boardwalk/boardwalk-bakery/
Disney's Boardwalk Bakery – photo gallery
Click any image to view it full-screen. When the full-screen image is open, click to the right or use the right arrow on your keyboard to advance through the gallery.
[sws_author_bio user="danidennison" size="105″ authorposts="More OI posts by Dani" name_format="About the author"] [/sws_author_bio]