My family and I recently visited Disney's Animal Kingdom on a very hot and humid day. As I entered the park, I was reminded of the vast transitions that take place here; more so than other theme parks in Orlando. The transition from the harsh, paved parking lot through the decorative safari-themed entry gates, the lush and tropical Oasis section to the viewing area in front of the Tree of Life is dramatic, including changes to the surface of the walkway. Guests leave the concrete jungle of the parking lot and enter the thriving, verdant jungle of Animal Kingdom.
[wptouch target="non-mobile"]Remember, you can click any image to view it full-screen. And don't miss the complete photo gallery with 40 new full-screen images at the bottom of the post.
[/wptouch]
Crossing the bridge over Discovery River onto Discovery Island, I stopped at the new Wilderness Explorers (WE) headquarters kiosk. In Disney's Pixar movie "Up", the character Russell was a Wilderness Explorer working to earn his final badge. This fun, educational and interesting experience welcomes guests of all ages to earn over thirty WE badges (stickers) throughout Animal Kingdom while learning about the various features of the park and covering topics including animal species, habitats and conservation. Each explorer is provided with a handbook including instructions about earning badges and where the badge stations, Troop Leaders and Badge Guides are located in the park. You can meet and greet Russell and Dug at one of the stations. There is no fee to participate in this badge earning exploration.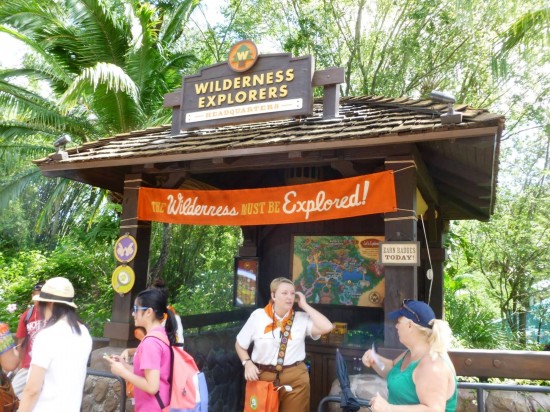 Another new finding on Discovery Island is the recently opened Gardens Kiosk. This kiosk sells allergy-friendly foods (including products from the very popular Babycakes NYC at Downtown Disney) and provides extensive information about special dietary options available throughout Animal Kingdom. The cast member was very knowledgeable and showed me the reference manual for every food item sold at Animal Kingdom, listing detailed information for guests with special dietary needs.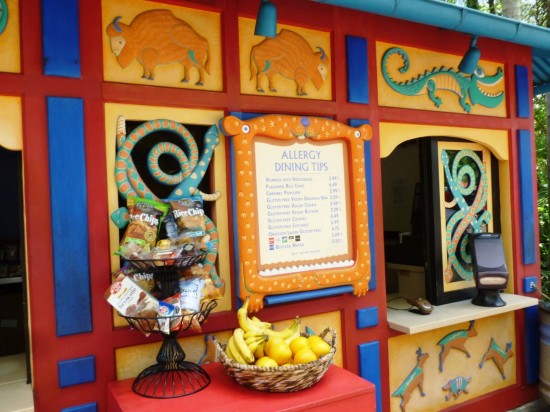 Also at Discovery Island, It's Tough to be a Bug had a posted wait time of only 5 minutes. The new Mickey & Minnie meet-and-greet location at Adventurers Outpost had a posted wait time of 10 minutes and had FastPass+ signage.
Walking past Pizzafari restaurant in Discovery Island, I experienced another physical and visual transition to an out-of-the-way area, Camp Minnie-Mickey. Although Disney recently announced The Festival of the Lion King show is moving to another location within Animal Kingdom, this area was busy this visit. A new FastPass+ entrance to the Lion King show is located toward the restrooms at the Greeting Trails. Although Mickey and Minnie have moved to Adventurers Outpost, guests can still meet many popular characters along the Greeting Trails. On this day Donald Duck, Chip & Dale, Baloo & King Louie and Pocahontas were all available to meet and greet park guests under a canopy of large shade trees.
Heading toward Africa, construction walls were up along the bridge from Discovery Island to Africa and behind the Tusker House Restaurant.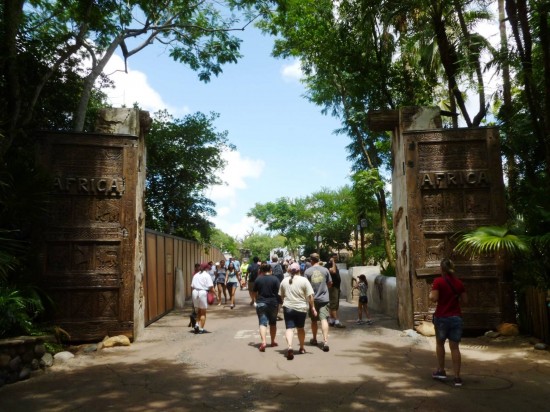 The Tam Tam Drummers of Harambe performed an upbeat, fun show in Harambe Village entertaining and interacting with park guests. Delicious bakery items including the new colossal cinnamon roll and elephant ears were on display outside the Kusafiri Coffee Shop and Bakery. Further up the walkway, Kilimanjaro Safaris had a posted wait time of 20 minutes. The Pangani Forest Exploration Trail invited guests to see gorillas, hippos and exotic birds while the Wildlife Express Train transported guests to Rafiki's Planet Watch. Rafiki's Planet Watch features Habitat Habit, Conservation Station and Affection Section, a petting yard for kids of all ages.
Have you heard Animal Kingdom's new Bamboo man? We missed him this trip, but here's the scoop and a video from Attractions Magazine:  "Bamboo is a 'living statue' type character made up of bamboo sticks and leaves. You may be able to spot Bamboo in the Africa section of the park near Tamu Tamu Refreshments. Don't get Bamboo confused with its 'cousin,' DiVine. She can still be found meeting guests in the Oasis section of Animal Kingdom."
[youtube_video]QJ8DHoCCn4I[/youtube_video]
Walking through the shaded pathway transitioning from Africa to Asia, Flights of Wonder welcomed guests of all ages to experience a variety of birds in an entertaining show. The exciting and soaking Kali River Rapids ride was popular on this hot day with a posted wait time of 80 minutes. (It took over 30 minutes for my family to proceed through the FastPass line.) The Anandapour Ice Cream Truck was also very busy on this sweltering afternoon. The intense and thrilling Expedition Everest had a posted wait time of 60 minutes. I noticed Expedition Everest's FastPass line extended into the general guest walkway requiring a cast member to display a sign alerting Fastpass riders where to enter the line.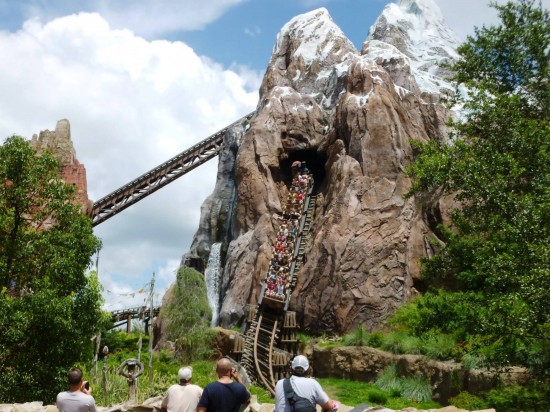 Crossing the bridge from Asia toward DinoLand U.S.A. I passed Finding Nemo-The Musical located at the Theater in the Wild with a new FastPass+ entrance. Passing under the enormous yellow dinosaur, I noticed a small construction area where the DinoLand photo prop car was previously located. The numerous carnival style Fossil Fun Games were being enjoyed by guests. Primeval Whirl had a posted wait time of 20 minutes and TriceraTop Spin had a posted wait time of 10 minutes. Across the walkway, Goofy and Pluto were meeting and greeting guests. The loud and dynamic DINOSAUR ride's posted wait time was 50 minutes. This attraction has recently been refurbished; my family noticed some new lighting and well-done smoke special effects entering and exiting the pre-historic times, which added to the experience of the ride.
Rounding out the afternoon back on Discovery Island, I took a break out of the hot sun and shopped in Island Mercantile and Disney Outfitters.
Afterwards, my family and I stood near Pizzafari and enjoyed a front row view of Mickey's Jammin' Jungle Parade featuring unique floats, beloved characters, costumed dancers and amazing colorful puppetry as they strolled along to buoyant music.
I really enjoyed my visit to Animal Kingdom for this trip report, as I experienced some new adventures and enjoyed some old favorites. I realized I needed to transition back to reality, and I reluctantly left the lush, fabulous jungle of Animal Kingdom and headed back to my car. I hope your next visit to Animal Kingdom provides your family with lasting memories as it has mine through the years.
Thanks for reading this trip report. Feel free to leave your questions and comments below. And when you're done with this post, you can catch up on all our trip reports by clicking right here.
Disney's Animal Kingdom trip report – photo gallery
Click any image to view it full-screen. When the full-screen image is open, click to the right or use the right arrow on your keyboard to advance through the gallery.
[sws_author_bio user="MaureenDeal" size="105″ authorposts="More OI posts by Maureen" name_format="About the author"] [/sws_author_bio]