It may be Orlando's most misunderstood and most underappreciated theme park. Disney's Animal Kingdom, which celebrates its 15th anniversary today, is Walt Disney World's largest theme park, and to me it is the most beautiful, most detailed, and most relaxing park of them all.
A little history
In the late 1990's Orlando experienced a case of deju vu. Just like the theme park race of the late 1980's, Universal and Disney went head to head to open their latest theme parks. I remember the ads in the newspaper and the countless billboards on I-4; both companies went toe to toe in an attempt to win over the public. In the end, Disney's Animal Kingdom and Universal's Islands of Adventure both broke the mold of traditional theme park design of that time.
During its first few months it was more of a sapling than the massive, billowing jungle it is now. My family and I visited during its first month. I remember enjoying the Jungle Book show with real fire on Shere Khan's tail, being awestruck by Kilimanjaro Safari, including the exhilarating poacher chase scene with multiple moving animatronics, and watching the park's "parade" known as "March of the Artimals".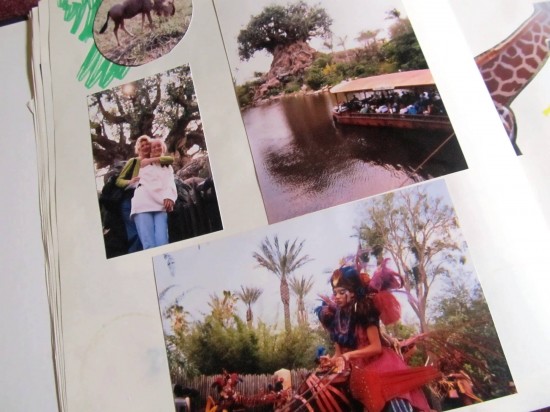 I regret that I did not ride the Discovery River Boats which now occasionally cruise the waters of Seven Seas lagoon near Magic Kingdom. Although it was a lovely park, the urge to return as soon as possible just wasn't there… but that all changed for me some five years later.
Finding my place in Disney's jungle
In the early 2000's I found a home at one of the local Disney Stores. I had pixie dust coming out of every fingertip and it was my first step into leadership. Then, with just two weeks' notice, the store closed. I was heartbroken and Walt Disney World was on a hiring freeze. Once it was lifted, I convinced myself that the 55 mile roundtrip commute would be worth it and went to Casting. When asked about my park preference I ranked Magic Kingdom #1 and Animal Kingdom last (thanks to the complaints and "advice" from a Cast Member who frequented the now closed Disney Store). I was hired into Fantasyland Attractions!
On the day I returned to Casting to fill out my paperwork, I was told that not only would I not be going to Magic Kingdom after all, but I also was not going to be in attractions either. Begrudgingly, I became a Merchandise Hostess at Animal Kingdom. I spent that weekend researching as much as I could about my new park and after just one week on the job, I fell in love. With its shorter operating hours, calmer environment, and awesome Cast Member cafeteria, Animal Kingdom is arguably the best Walt Disney World theme park for which to work.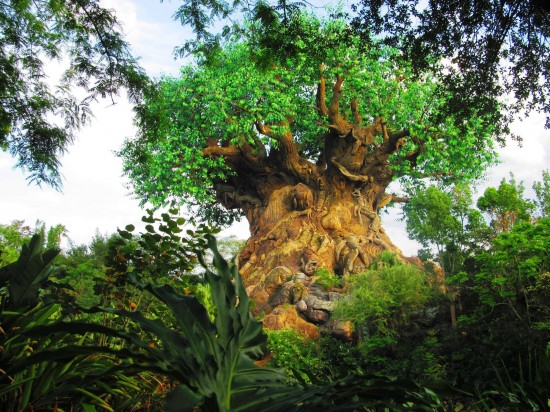 It is also one of the most inspiring theme parks in Orlando. An impressive rehabilitation program has helped increase the population levels of some of the world's endangered species. It has one of the most successful breeding programs in the entire world, especially for breeding elephants. During my time as a Cast Member, the more I learned about the conservation efforts, the more I felt proud of my park.
I soon learned about Joe Rohde, considered to be the father of Disney's Animal Kingdom. Prior to his work on the creation of Disney's Aulani Resort in Hawaii, he could occasionally be found having lunch in Pride Rock, the park's Cast Member cafeteria. It took a lot of self-control for me to not go into full-fledged fangirl mode any time I saw him. He is one of the most creative minds of our time, one that is reminiscent of the Walt Disney Imagineering days of old. His world travels enabled him to add significant detail and beauty to the park. The best examples of this are Harambe Village (the setting of the park's Africa area) and Anandapur (the park's Asia setting).
Harambe Village has evolved over the years and now has a lively energy along the main strip. It is also home to a rare outdoor bar, my favorite place to sit back and chill. The exacting detail is endless, especially in Asia. Prayer flags and bright colors fill this space.
How to enjoy Animal Kingdom: Take it slow
Slow down and explore! Do not simply go from one ride to the next then leave. You are wasting your admission price if you do. Get there when the park opens and spend your morning focusing on the animal viewing areas, including Kilimanjaro Safari. In fact if you can, ride the safari once in the morning and again in afternoon. It's been said before, but I'll say it again, the animals are the most active first thing in the morning and also during the last hour of the park's operation.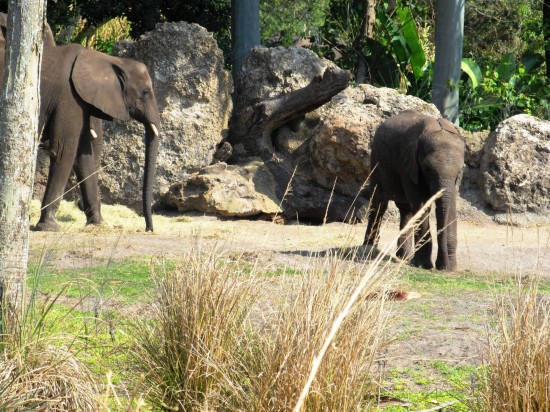 Give yourself a few moments of calm. Vacationing in Orlando can be stressful and tiring… if you let it. Take control of your experience and explore this park. If you take the time to go down the hidden trails that sprout off the main walkways, you will often find yourself with hardly anyone else around you. If you see a trail or walkway, as long as it does not say "Cast Members only", go for it!
The most beautiful animal viewing areas can be found along Maharaja Jungle Trek and the hidden trails near the Tree of Life. Located in Asia, Maharaja Jungle Trek is a lush walking trail where you can see a kimono dragon, a canopy of dazzling exotic birds, and explore beautiful ruins where tigers hide around every corner.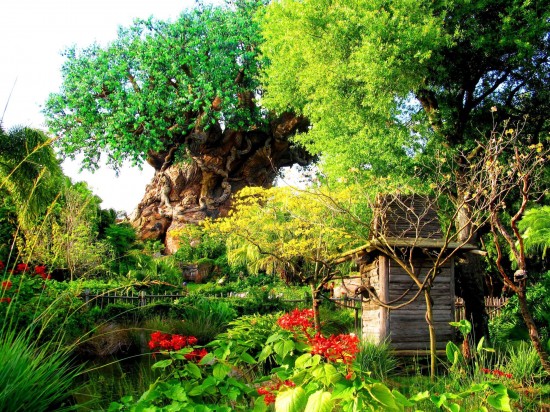 The best trail near the Tree of Life connects one side of Discovery Island to the other. You can either enter from behind the entrance to "It's Tough to be a Big" (to the left of the entrance) or across from the Creature Comforts gift shop, go to the right and look for the sign describing the catfish shark. Along this trail you should see gray kangaroos and get as close to the Tree of Life as possible. It is one of the quietest spots in the park, and be sure to pause for a few moments to check out the catfish shark.
Animal Kingdom must-do list
Fun for Everyone:
Kilimanjaro Safari
Festival of the Lion King
Pangani Forest Trail
Maharaja Jungle Trek
Kali River Rapids
Thrill Seekers:
Expedition Everest
Dinosaur
Primeval Whirl
For the Little Ones:
Rafiki's Planet Watch
Camp Minnie Mickey: home to some of the quietest character meet and greets in all of Walt Disney World
Finding Nemo: the Musical (though anyone under age 5 may get a little dodgy during Bruce's scene)
End your day exploring the Oasis and reflect back on your adventures. The Oasis is the entrance of Animal Kingdom and it is unlike any other Orlando theme park's entrance. Quiet, serene, full of dense vegetation and stunning orchids, if you do it right this area can actually help you relax. Slow down and stop at each viewing area in the Oasis. My favorite is located at the very front, near the stroller rental. Beautiful scarlet spoonbills, white ibis, and two impressive black swans can be found here, often preparing nests and splashing in the water.
Before you leave, be sure to find and read the subtle dedication plaque, located on a large rock in a planter between the lockers and stroller rental. It is a great way to cap off a day of exploring this beautiful park.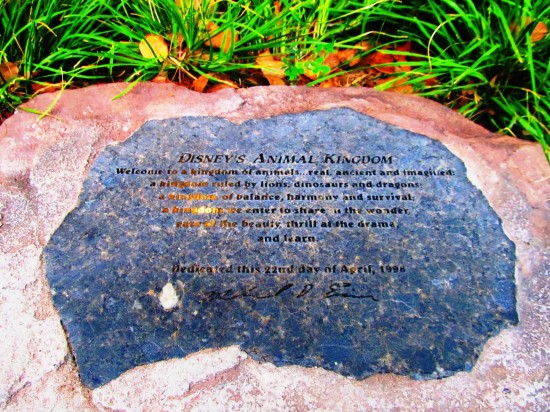 Welcome to the kingdom of animals…real, ancient and imagined
a kingdom ruled by lions, dinosaurs and dragons;
a kingdom of balance, harmony and survival;
a kingdom we enter to share in the wonder,
gaze at the beauty, thrill at the drama
and learn.
Dedicated this 22nd day of April, 1998
Michael D. Eisner"
Disney's Animal Kingdom – photo gallery
Click any image to view it full-screen. When the full-screen image is open, click to the right or use the right arrow on your keyboard to advance through the gallery.
[sws_author_bio user="danidennison" size="105″ authorposts="More OI posts by Dani" name_format="About the author"] [/sws_author_bio]