As promised, my family and I were at Epcot when the new Disability Access Service (DAS) card rolled out Wednesday, October 9. Over the last few days I have been in contact with others in the disabled community to see how their first contact visits with Guest Relations progressed. Below I will explain the new pass as well as provide my initial experiences and my analysis. As I've mentioned in my previous article, Disney's new accessibility program was initiated to address the pervasive abuse of the Guest Assistance Card (GAC) system.
How the Disability Access Service (DAS) card works
The disabled person should go to their selected park's Guest Relations office to ask for the DAS.
Those with mobility issues who do not already have a wheelchair or ECV (Electric Conveyance Vehicle/scooter) will be asked to acquire one — unless they have another need that falls under the DAS, these guests will not be issued the card without a wheelchair or ECV.
After a picture of the disabled guest is taken, it is printed on the card (still good for up to six people in your party), signed and dated by the individual or parent/guardian. On the back are spaces for ride wait times, enough to cover all four parks. You can get a new card if your spaces are filled. They are good for the length of your stay, or for Annual Pass holders, 14 days. However, you will still need to go to Guest Relations in each park you visit on subsequent days to ask for the accommodations your family member requires. The picture and information will remain in Disney's database.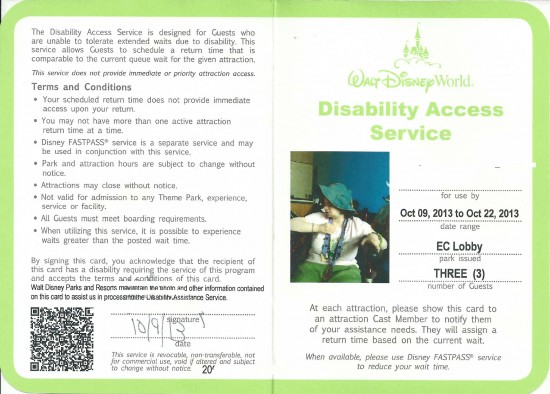 You will then show the DAS to a Disney cast member (CM) at each attraction. If the attraction standby line is 10 minutes or less, and you have no wait time on the card and you will be able to ride immediately. If the wait time is over 10 minutes, the CM will assign a return time on the back of the DAS card based on the current standby wait. Your reservation is good until you return to redeem it. You can only have one DAS wait time at a time, but you can choose to go on a ride with a 10 minute wait between reservations. If you choose to do this, you must use the standby or wheelchair specific entrance. Note: the DAS can be used at the Princess Fairytale Hall, Enchanted Tales with Belle, and indoor character meet and greets (these were not previously available with the GAC).
You can also obtain FastPasses, including FastPass+, for any participating attraction, and use these in conjunction with your DAS card to reduce your overall wait times throughout the day.
These are the Terms and Conditions as printed on the card:
Your scheduled return time does not provide immediate access upon your return.
Disney FASTPASS service is a separate service and may be used in conjunction with this service.
Park and attraction hours are subject to change without notice.
Attractions may close without notice.
Not valid for admission to any Theme Park, experience, service or faculty.
All Guests must meet boarding requirements.
When utilizing this service, it is possible to experience waits greater than the posted wait time.
Disney's new Disability Access Service is designed for guests who are unable to tolerate extended waits due to disability. In theory, this service allows guests to schedule a return time reservation that is comparable to the current queue wait for the given attraction.
DAS pros & cons
In addition to our day in Epcot, I have been in touch with others in the cognitively disabled community, reading and listening to all their comments about their first day and subsequent visits. Here are some pros and cons of the new system:
Initial request for DAS
Be prepared to advocate for yourself or your child/family member.
I must have said "she's Down Syndrome with Autistic tendencies" 20 times to the first cast member we encountered. Other moms reported that they were asked about needed accommodations immediately! It took us almost an hour and had to speak to three CMs before we finally received a few FPs and other tickets to allow our daughter the one accommodation she needs – accelerated access, which we were provided with when using the old GAC system. (Due to my daughter's lower than normal cognitive skills, she has never been able to comprehend "wait".)
As I've learned, the initial request process is inconsistent across the four parks, sometimes from day to day in just one park. Cast members have an iPad that they use to unobtrusively take the picture of the disabled (or the picture of the parent if you do not want your child's picture taken). Eventually all the information is going to be in the Disney computers, so you'll just have to show the picture ID that was initially used and the special needs should be there for the CM. One mom told me her son's information was there when she went to Animal Kingdom several days later; another mom told me her information was not at Epcot, and she had to go through everything a second time.
Mobility issues and the DAS
If you have your own wheelchair (or ECV/scooter) and don't have any other physical/mental medical impairments, you don't need to get a DAS and can bypass Guest Relations. I was told this includes guests with back and knee problems, broken bones and muscular diseases. You will be able to obtain return time tickets from any ride with wheelchair-only entrances without showing a DAS card. However, you will still have to wait the length of the standby queue less 10 minutes. You can utilize the regular FASTPASS system while you are waiting and that won't take away your return time ticket.
Wait times at the attractions
All guests, including the physically/mentally disabled, will now wait the amount of time posted at the entrance to each attraction, minus ten minutes.
One could explain that this is a "pro" to non-disabled guests who have never felt it right that those with disabilities used the FastPass lines with the GAC. On the other hand, I believe this is a "con" for disabled guests. When we come back to a given attraction to use our reservation time, our wait will most likely be longer because, when we return, we have to also stand in the FP line. In practice this means that disabled guests will often wait longer than those in the standby lines. In other words, not only will the wait in the FP line possibly add the 10 minutes back that was initially deducted when a reservation time was assigned, we will have to wait with all the regular FP guests arriving to the queue at the same time. That's the reason for the bulleted item on the cards above.
What to do while waiting
If you have a considerably long wait for the next attraction for which you've been given a reservation time, you can check the My Disney Experience mobile app to see what rides are 10 minutes or less. (Note: at SeaWorld that time is 20 minutes or less, and at Universal Orlando it's 30 minutes or less.) You can also use available FastPasses. Unfortunately, tracking down rides with less than 10 minute wait times or looking for FastPass machines both require extra walking and park crisscrossing. With my own physical disability, this is just not possible.
Disney wants you to get a snack, take in a show, watch a parade or shop while you are waiting. For those of us with a child/adult in the ASD and like disorders, they sometimes are not comfortable with many of these activities (except eating, and even that is difficult for us), and extra planning and organization is going to be required. Surely it is doable, but once again, it's going to be more stress on the parents. Of course, non-disabled people seem to think that's fair, even though their families have a world of opportunities available to them away from the parks; for us personally, the parks have been our respite in a world that is anything but inclusive for our daughter.
DAS: An assessment of the initial rollout
The inconsistencies with procedures among the CMs from park to park and ride to ride are the biggest problem that I've found with the new system. My experiences and what I've read so far shows me that the CMs have been mostly denying the needs of the disabled (as they were directed), even though Meg Crofton, Disney's President of Walt Disney Parks and Resorts Operations, wrote in a September 30 letter to several Autism Spectrum Disorder (ASD) bloggers, "We will continue to work individually with our guests with disabilities to provide assistance that is responsive to their unique circumstances".
This brings me to another point: However unhappy you may be with these changes, don't take it out on the front-line cast members. They didn't make the changes, Disney leadership did — take it to them (let me know if you need email addresses, contact information, etc.).
All in all, for the DAS to work as a complete system, it's going to take a lot more work, preparation and redirection from parents/caregivers. I don't think the parks' personnel have yet seen many meltdowns because, with the old GAC system, we were given strong tools to keep them at bay. Going forward, provided "quiet places" most likely will be anything but quiet. We are trying to be patient and positive in making this new system work, but it's going to add more stress for the person who is the main caregiver for the child/adult. In our daughter's case, I don't know what we'll do as we've already been through 25 years, 50+ teachers and therapists, and we still can't get her to learn the skill of "wait".
I know Disney is only trying to weed out the abusers, but in doing so they've yet to see how they are making disabled families feel unwanted. Not only is the new Disability Access Service more work for us, it's more work for the CMs: more paperwork, more tension with guests, more of their time trying to solve problems.  The GAC worked so well for those who truly needed it. In my opinion, Disney should have developed a system to track down the offenders, not implemented an entirely new system for those who have a real need for accommodations.
DISCLAIMER: Neither the author of this post nor any of us here at Orlando Informer are official representatives of any theme park in Orlando. While we work diligently to provide you with the very best advice from our collective expertise and experience, it is still your responsibility to verify your plans with each theme park. Thanks for your understanding!
View all of our Special Needs Are Universal posts
Do you have a
Special Needs Are Universal
question for Debi? She is available to assist your family in the
SNAU section of the OI Forums
. Registration is free, and once you have an account, we invite you to join the conversation or ask a new question.
[sws_author_bio user="iamdollie" size="105″ authorposts="More OI posts by debi" name_format="About the author"] [/sws_author_bio]