Disney has been at this theme park thing for almost 60 years now, and obviously they picked up a trick or two about how to design attractions, lands, and entire parks. So when more details leaked recently that Star Wars Land was going to be installed in Disney's Hollywood Studios, fanboys knew they could rest easy about having a top-notch, immersive experience planned and built.
There still is a little matter of size, though. Given where rumor puts the new land – roughly in the area around Star Tours: The Adventures Continue – Disney will be significantly constrained in its options, especially considering that Hollywood Studios is already quite a bit smaller than either Epcot or Disney's Animal Kingdom (though the park is roughly 12 acres larger than Magic Kingdom, a fact which surprises many a theme park enthusiast). With all the literally dozens of planets and hundreds of characters to sift through from just the first six Star Wars films alone, creating a small slice of real estate to encapsulate it all can be quite the challenge.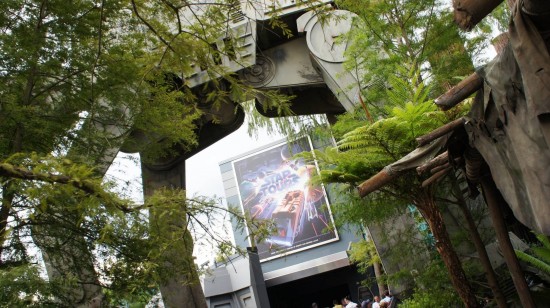 It just so happens, though, that Universal has had quite a bit of experience recently with cramming a lot of content into really small spaces; the Wizarding World of Harry Potter at Islands of Adventure, which features five shops, four attractions, two shows, and one restaurant, is only a measly 20 acres in size. (And the upcoming Diagon Alley over at Universal Studios Florida looks to be roughly the same size, although it's expected to squeeze in even more goodies in new and supposedly unexpected ways.) Considering that the Potter expansion has managed to out-hype and out-sell Disney's own recent attempts at renovating/expanding Fantasyland in Magic Kingdom, it just may be that the grizzled industry veteran might learn a thing or two from its rival, particularly in how to push the envelope in theming.
Here's how…
One land = one land
Universal was unconventional but smart in its choice to limit its "park-within-a-park" to just one specific location from the Harry Potter books and movies: the first Wizarding World is a recreation of Hogsmeade village only, while the second one will be just Diagon Alley. This may seem to go against Disney's history of doing lands that are thematically linked instead of geographically united (say, Liberty Square or Future World instead of London), but it actually centers the entire experience in a very concrete way, both literally and figuratively.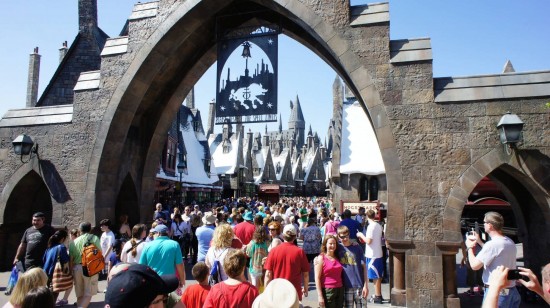 It also streamlines the design process for the Imagineers. Rather than having to run through all six films and several dozen television episodes to see which locations, characters, or action set pieces could be cobbled together willy-nilly, they can concentrate instead on just one city from just one planet and design all the attractions up from that. And if there is one specific experience from another location that they just have to include, they can still take a page from Universal Creative's book: Ollivander's Wand Shop was allowed to be placed inside Hogsmeade because of its being a "branch location" – so don't be too surprised to see a Jedi Field Office on Endor or Geonosis.
Best of all, this still allows Disney the opportunity to open up different Star Wars Lands at different parks all across the world and unite them in a variety of ways, just as Uni is doing with the Hogwarts Express between its two Orlando parks, an idea I've explored before.
Be more specific, please
Both Hogsmeade and Diagon Alley are, for all intents and purposes, just one street that culminates in a central, giant location that doubles as both a weenie (as Walt himself liked to call his visual icons) and flagship attraction, whether that be Gringotts Bank or Hogwarts Castle. This is a setup that maximizes the big three principles of theme park design: attraction layout, crowd control, and, most importantly of all, immersiveness.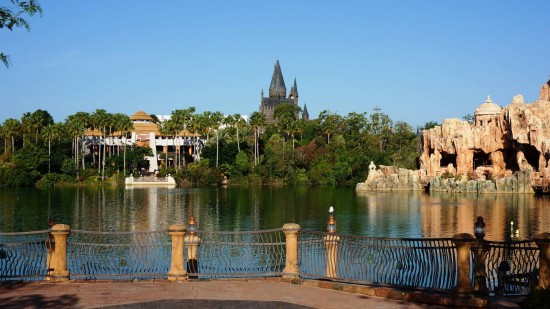 But what exactly would this entail for Star Wars Land? Should Disney pick, say, Tatooine as its subject, then the main drag of Mos Eisley would suffice nicely, with the famous Cantina serving as the quick-service bar/restaurant and Jabba's Palace looming ominously in the background. They could even move the podraces from Mos Espa over here, in a special "just visiting" race, if they so desired. Or do the main strip of Theed, Naboo's capital city, with the royal palace as the central weenie. (I guess this means that Padme's funeral procession could be one of the land's shows.)
Limiting the scope but not the scale
Just because we're proposing that one street of one city of one planet from the Star Wars mythology be the backdrop of our little theme park land, that doesn't mean we have to keep our sights contained within the alleyway.
This is particularly true when it comes to incorporating the theme across all available spaces, which was perhaps the shrewdest move Universal made with the Wizarding World. For the very first time, the gift shops and dining options were incorporated fully into the experience, making them full-fledged partners in storytelling rather than tacky – and artificial – add-ons.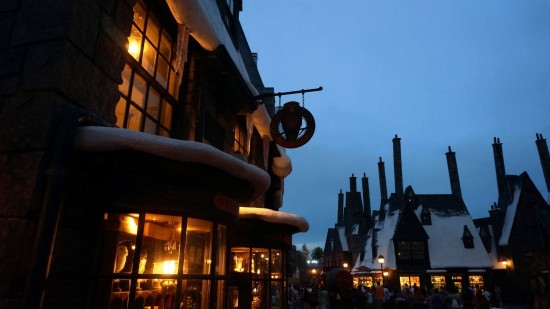 For Disney, an Imperial shuttle can be parked at the end of our Mos Eisley area, housing a cargo of exclusive Dark Side merchandise that just so happens to double as a gift shop. And once guests exit from the other side, they can be in a slightly different location on Tatooine – say, the Sarlacc Pit – as if they had just been transported by the vehicle.
It's the little touches that most often result in the biggest smiles.
Gotta keep 'em separated
The directive to not allow any other Universal-licensed characters into the Wizarding World was borne from J.K. Rowling and not Uni itself, but it's proven to be a boon regardless: by not having, say, Jurassic Park dinosaurs or Despicable Me minions running down Hogsmeade's main street, the feeling of being truly immersed in Rowling's universe is complete.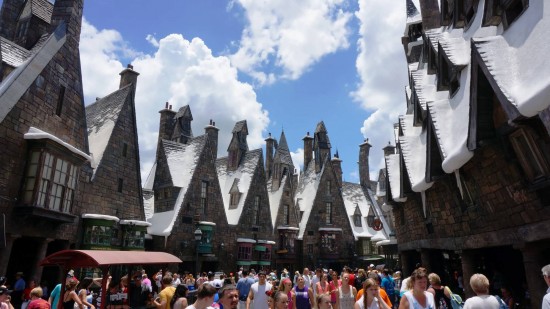 Not having Mickey and the gang aimlessly mill about the back alleys of Jabba's Palace would similarly seal the deal for many a guest – and it'd even open the door for some Star Wars-specific meet and greets that could be had exclusively at the park-within-a-park, a prospect which should make many a fanboy salivate.
However, it's the flipside of this arrangement that would give Disney the most difficulty. Just as Rowling won't allow anyone from outside of Harry Potter in, she won't let Harry and company out to other locations at Islands of Adventure and Universal Studios Florida. (Technically, you won't see Harry and friends outside of Hogwarts Castle.) Although there's something undeniably fun about seeing Mickey in Jedi robes or picking up Star Wars/Muppets mash-up action figures in Downtown Disney, executives need to put a leash on some of their ambitions and keep a few characters pure and unique to the new land.
No Starbucks
Just sayin', just in case.
[sws_author_bio user="msunyata@yahoo.com" size="105″ authorposts="More OI posts by Marc" name_format="About the author"] [/sws_author_bio]