Late last week Rich Bilbao of the Orlando Business Journal approached me to request an interview about Universal Orlando's new hotel, Cabana Bay Beach Resort. Rich was in the process of writing several articles on the topic, and he wanted to augment his own work with "expert insight" from an independent source.
I happily agreed to the interview, which was published today in the Orlando Business Journal.
Since Rich's article has edited out a few lines here and there, I wanted to take this opportunity to present the full, uncut interview for our readers. Enjoy:
Orlando Business Journal interviews Dan Hatfield
What are your thoughts on Cabana Bay Beach Resort? Do you think it will be a success and why? Is there an aspect of Cabana Bay that you feel is it's strength? What would you say is the weakness?
These questions really have the same answer: Family Suites. The popularity of this room type has grown substantially over the past few years to a point where many families expect a hotel to offer more in-room amenities then just a bed, bathroom, and TV. Parents with kids want a pullout sofabed, a fridge (that's empty, not filled with $10 beverages), and a little extra space for everyone to enjoy the room comfortably. Universal's current on-site hotel options, while very attractive for their own reasons, are not attuned to accommodating families on a budget. For example, if you want to sleep five guests in a standard double queen room at Portofino Bay Hotel, Hard Rock Hotel, or Royal Pacific Resort, you need to get a rollaway — and you have to pay $25 extra per night for that rollaway. Want a fridge to store food? That's another $25 extra per night. And if you have six people in your family, you'll need two rooms — and with rooms starting at between $224 and $279 per night depending on your hotel selection, bringing along cousin Timmy as your sixth guest can get very expensive. Cabana Bay Beach Resort will address all of these challenge by offering 900 Family Suites that sleep up to six guests and offer a kitchenette — with prices starting at $174 per night.
The other 900 rooms at Cabana Bay Beach Resort will also offer a first to Universal Orlando guests: standard rooms starting as low as $119. At only 300 square feet, these will be the smallest rooms on-site, but the trade off for guests will be the opportunity to stay at what will surely be Orlando's hippest hotel for many years to come.
Once you add to these factors the idea that in 2014 Universal will open its Harry Potter expansion, which by all honest estimations will likely be even more astounding than the current Wizarding World of Harry Potter, it is impossible to see how this hotel will not be a success.
The first challenge for Universal with regard to Cabana Bay Beach Resort is not offering unlimited Express Pass access. While this is a completely understandable decision given the hotels price point, the issue is that, over the last decade, staying on-site at Universal has become synonymous with unlimited Express Pass access. I am certain Universal will do a very good job educating potential Cabana Bay guests that this is not a benefit. Nevertheless, it will take some time for all the information, advice, and unofficial guides online — where everywhere it says "stay on-site at Universal and get unlimited Express Passes" — to turn over and add the Cabana Bay exception.
Universal's bridge is connecting to Cabana Bay Resort, do you feel like it's needed and why do you think it is/isn't important to the success of the resort?
The second challenge I see for Cabana Bay is the logistics of getting as many as 7,000 guests from the hotel to the parks each morning (1,800 rooms x four guests per room). Cabana Bay will have nearly as many rooms on its one property that Universal's other three on-site hotels have combined, so moving this amount of people will absolutely be new territory for the resort. And, sad as I am to say it, if there's one area where Universal loses touch of guest service year after year, it is in effectively communicating with and controlling large groups of guests on-site. I monitor complaints about Universal on my weekly visit to the parks and across the Internet as I research online, and crowd control over this last holiday season at the Wizarding World of Harry Potter was as bad as ever — despite the fact that Universal has been dealing with the exact same issues for three years.
So yes, a bridge is definitely needed, but anyway that path goes it is going to be a long walk from a guest's room the the turnstiles at either park — in some cases close to a mile — so a bridge can really only be one aspect of their approach to transporting guests.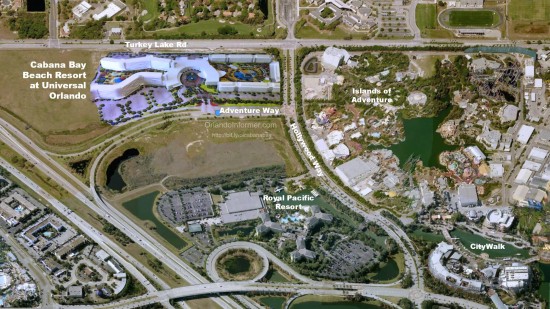 There's still some undeveloped land on the other side of Adventure Way, what do you think that land could be used for?
For years I've heard chatter about Universal building a waterpark. But with their interest in Wet 'n Wild, I have a tough time seeing this happen. I think the land will go undeveloped for quite a long time, just as the Cabana Bay Beach Resort plot was an overflow team member parking for so many years.
What are some things you think Universal is still in need of? More resorts? A new water park? Anything in that realm?
Honestly, I think Universal Orlando is outshining about every single theme park resort in the world right now. The day they inked the deal for the Wizarding World of Harry Potter, they set in motion a historical upward shift in the level of excitement, detail, and immersion a theme park experience can have. Now with the expansion of the Wizarding World, and with Transformers, the new Simpsons rides and restaurants, and the possible developments of more Jurassic Park and Seuss Landing attractions on the way, what else can I say other than please keep doing what you're doing!
With the opening of Transformers coming soon, a Simpsons area and Harry Potter: Part 2, how do you think this will poise Universal in the grand scheme of Orlando theme parks?
While it is difficult to see Universal ever matching the attendance numbers of Magic Kingdom, which as one park still draws in more people then the two parks at Universal, it is just as difficult nowadays to dismiss Universal as a one-day destination to get around to after Walt Disney World. Once all the current plans on the table are complete, it will be impossible to enjoy all of Universal without a multi-day, multi-park ticket, and I think that has been a goal of Universal's leadership team since the opening of Islands of Adventure in 1999.
More importantly however, from the guests perspective, Universal Orlando has raised the bar for all future theme park developments — be it shops, attractions, or (hopefully) new hotels. Does anyone doubt that Disney has reshuffled its plans for New Fantasyland, Avatarland, and Downtown Disney at least in part because of the tremendous success Universal has had with its current and future offerings? In this case competition has been very good for us.
And let's not forget the impact Universal's success is having in its neighborhood. International Drive is also experiencing a boom in business, with the new I-Drive Live complex well under development, and SeaWorld's soon-to-open Antarctica attraction, and the huge expansion at Fun Spot America.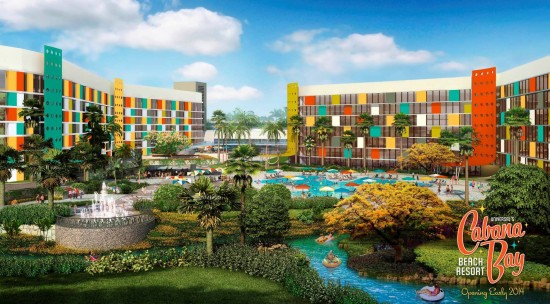 Thank you for taking the time to read my interview with Rich Bilbao of the Orlando Business Journey. You can follow any one of these links for more information:
Original article on the Orlando Business Journal's website