As any seasoned theme park veteran knows, 14 solid days of park touring can leave you needing a vacation from your vacation. Luckily, Orlando is a huge city with an incredible amount of culture and new experiences to try away from the parks, so an excursion into uncharted territory is never far away — and for a peaceful Saturday morning there is no better place to go than Winter Park.
An upscale suburb located just north of downtown Orlando and a short drive up the I4 from the attractions areas, Winter Park is the perfect place to people watch, window shop and explore.
The town is centered along the idyllic Park Avenue, a beautiful brick-paved and tree-lined street bustling with independent restaurants and shops – no McDonald's and Nike outlets here – where it's easy to forget you're less than half an hour away from the neon explosion of I-Drive! Park Avenue is a perfect place to take a stroll in the sun and take in the local history and sights, boasting more than 140 boutique shops, cafes, and museums, the street is bordered by the stunning oak-canopied Central Park, which plays host to seasonal art shows, concerts, exotic car shows, and fashion events alike.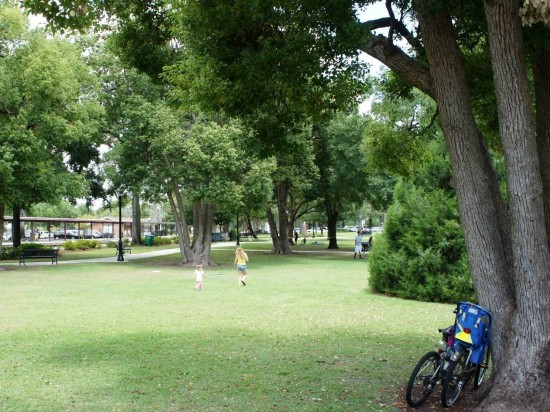 On Saturdays the City of Winter Park hosts an excellent farmers market inside and outside the old train depot located just off Park Avenue, which gives local vendors a chance to sell their fresh and delicious produce. The farmers market is a foodies dream: from fresh squeezed lemonade, fresh popped kettle corn and a variety of cakes and baked goods, to the always popular bagel stand (you'll see the line before you see the stand), savory snacks like the gourmet French fries (not to be missed) and a huge variety of fresh fruit, vegetables, local honey and more — I defy you to not leave with some kind of snack.
The market varies every week with different stalls and food trucks, and it's always wonderful way to spend half an hour rubbing shoulders with the friendly locals and treating yourself to a delicious fresh breakfast.
The market runs from 8:30 until lunchtime, but the earlier you get there the better the selection! Learn more: cityofwinterpark.org.
But Winter Park is has even more to offer than just a farmers market and a fabulous town center; it's a beautiful area with many prestigious homes and remarkable landscapes, and what better way to sample to local life than the very serene and fascinating Scenic Boat Tour.
The Scenic Boat Tour has been taking guests on a superbly narrated one hour guided tour through three of Winter Park's lakes — Lake Osceola, Lake Mizell and Lake Virginia — aboard a small pontoon boat since 1938. Voyagers have the opportunity to take in a vast array of Central Florida scenery, wildlife and architecture, which often gives way to staring in awe at the huge private residences and estates.
The tours are skippered by knowledgeable and witty local guides who navigate the boats though narrow winding man-made canals linking the lakes, and there's always great sights to see all over the tour.
The tour takes in the historic Rollins College and its campus, Kraft Azalea Gardens, the Albin Polasek Sculpture Gardens, the man-made Isle of Sicily, and postcard views of the area with its towering trees, beautiful flowers, wildlife and scenery. The guides know the histories of the majority of the houses along the shoreline; most of the buildings have been around for hundreds of years, and many have been designed by world famous architects. On the journey through the area's living history, you may even get a chance take in some celebrity houses along the way.
The Scenic Boat Tour provides patrons with a great way to spend an hour away from the bustle of the attractions, it's suitable for all ages, and definitely worth a visit. Departing from 10am until 4pm from the dock on East Morse Boulevard (a 5 minute walk from Park Ave), boat tour tickets for adults are $12, children aged 2 – 11 pay $6,  and children under 2 ride for free. Learn more: scenicboattours.com.
Winter Park is located off the I4, Exit 87, East on Fairbanks Ave. To give you a sense of its placement, here are directions from Universal to Park Avenue. I hope you include a visit to Winter Park in your Orlando plans — you won't be disappointed, and you'll make some unexpected memories!
Winter Park, Florida – photo gallery
Click any image to view it full-screen. When the full-screen image is open, click to the right or use the right arrow on your keyboard to advance through the gallery.
[sws_author_bio user="danmay" size="105″ authorposts="More OI posts by Daniel" name_format="About the author"] [/sws_author_bio]