THE BIG 5: Top fives secrets to getting the most out of the Wizarding World of Harry Potter
The Wizarding World of Harry Potter has now been on the Islands of Adventure map for over three years, and its popularity is so incredible that Universal will create the world's first multi-park, centrally themed "land" when the resort connects the original Wizarding World to Diagon Alley next spring.
Even though millions of guests have traveled through the streets of Hogsmeade Village, and much of what was once a truly mysterious area is now well understood, I bet I know a few tricks inside the Wizarding World you haven't quite figured out yet. Let's take a look in today's edition of THE BIG 5: Top five secrets to getting the most of out the Wizarding World of Harry Potter.
#5 – The butterbeer line is shorter inside Hogs Head
We're going to start our collection of "secrets" with the one that you're most likely to know (but if you don't, it's extremely valuable). 95 out of 100 times, the line inside Hogs Head, next to Three Broomsticks, is far shorter than the line at the two outdoor butterbeer carts. Hogs Head serves the exact same versions of butterbeer, frozen or regular, and offers the same container options, souvenir mug or disposable cup — so there just isn't a reason to wait in the longer lines outside.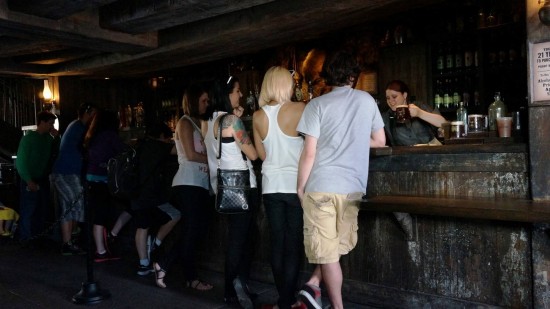 What's more, getting your drink at Hogs Head offers two additional benefits: First, they serve more than just butterbeer, so if you want a variety of drinks they can assist (I recommend trying pumpkin fizz if you haven't yet). Second, Annual Passholders can use their food & beverage discount at Hogs Head, an option not available at the outdoor butterbeer carts.
#4 – The butterbeer souvenir mug is good for 95 cent refills
Staying on the topic of beverages for the moment, most Universal guests are familiar with the resort's classic souvenir mug refill program, which is most often represented by the big, red cups you see every other guest carrying around the parks. However, what many don't realize is that basically any souvenir mug you purchase at Universal can be used as part of the 95 cent refill program, whether the mug is shaped like a Transformer, Homer Simpson's head, or that of the souvenir mug you got with your butterbeer.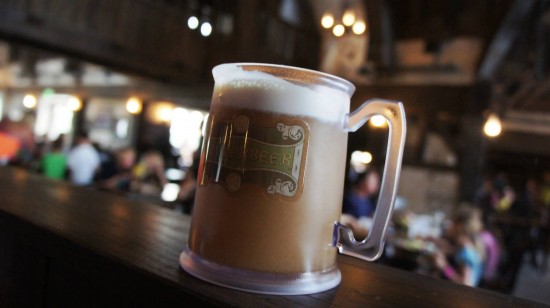 Granted the butterbeer souvenir mug isn't as large as the other options, nor does it have a top, but it still can be used if you really want to get a soda refill around Universal Orlando's theme parks for only 95 cents. In addition, many of the stands that sell other varieties of drinks (like slushies) will offer you a discount if you use your butterbeer mug instead of getting a new cup.
#3 – Free photo print of your Forbidden Journey ride
A lot of folks are aware that Universal offers a Star Card Package, which, in very brief terms, allows guests to collect their souvenir & ride photos over a five-day period for the low price of only $59.95. Once their vacation is over, guests can access digital proofs of their photos online and share them as they please. One additional feature of the Star Card Package is that it includes a free 8×10 or 5×7 print, and you can use that free print for your Forbidden Journey ride photo — but here's the catch — you can only do this if you get your free photo printed at the Forbidden Journey photo kiosks as you exit the ride.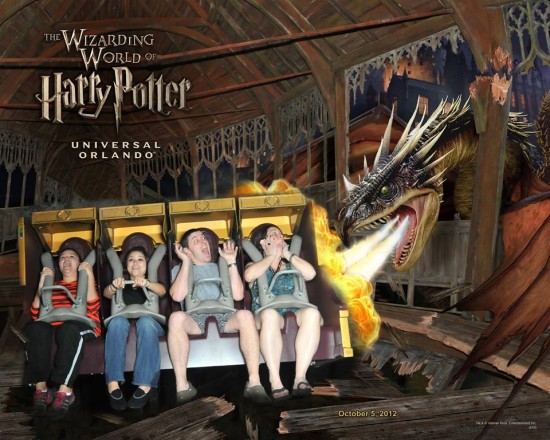 If you're just learning about this option for the first time, this may not seem like any big deal. But it is, and that's because any other photo you've collected throughout both theme parks can be used as your free print and produced for you anytime when you visit the main Photo Connect stores at the entrance to the parks. But, to get your Forbidden Journey ride photo as your free print, you must request it at Filch's Emporium, the Forbidden Journey gift shop. If you try to get your FJ ride photo printed at the main Photo Connect stores as your free print, you're out of luck.
#2 – See into the future on Dragon Challenge
We are all very sad that the coasters on Dragon Challenge no longer operate in dueling mode (although you can hardly blame Universal for making the permanent change after two guests were injured by flying debris). That's why, if you are willing, you can consider it a new thrill of the attraction that Dragon Challenge now offers a brilliant look into the future of the Wizarding World of Harry Potter.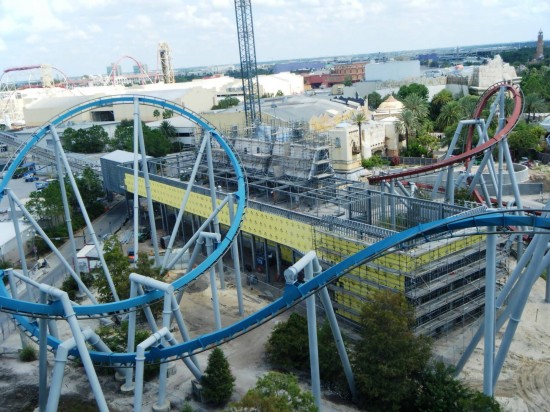 As you join the Triwizard Tournament and ride up, down, and all around the aggressive Dragon Challenge tracks, you will be given a perfect view of the Harry Potter expansion project now underway at Islands of Adventure and Universal Studios Florida.
The building in the foreground is the new Hogsmeade Station, which will be used for guests disembarking and boarding a real Hogwarts Express. But look a little further into the distance, following the Hogwarts Express track toward Universal Studios Florida, and for now you can also catch a glimpse of the actual Hogwarts Express ride vehicles…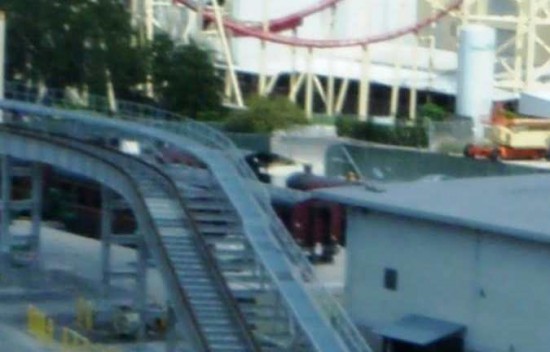 (This isn't the only way to see Universal's Hogwarts Express before it goes into commission. Guests riding USF's Hollywood Rip Ride Rockit are also treated to a gorgeous view of the trains, and now that Halloween Horror Nights 2013 has started, guests exiting the soundstage houses can also see the top of the vehicles.)
#1 – The perks of buttons & costumes
I'm about to turn your visit to the Wizarding World of Harry Potter from the best vacation you've had this year into the vacation of a lifetime with these two tricks. First, if you are going to Universal Orlando and you can associate the visit even remotely with any kind of life event — be it a birthday, graduation, anniversary, honeymoon, new job, or even just your first visit to Orlando — stop by Guest Services and get a button. You have the option between the specific "Birthday" button or the general "I'm Celebrating" button. And don't worry about dates; even if your kid's birthday was last week, if you're at Universal because of it, get the button!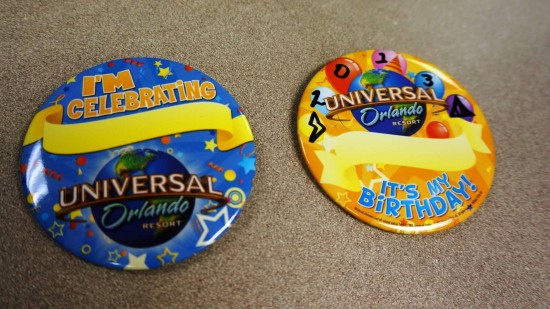 Once you have this prized precession in full view for all Universal team members to see, you'll start to notice that you get special attention throughout the parks. For the purposes of our discussion today, here's what you might get inside the Wizarding World of Harry Potter: Wearing a Universal button is the closest thing you can get to a guarantee you will be picked for the wand experience at Ollivander's Wand Shop (keep in mind I said "closest thing to a guarantee" — I didn't say it is a guarantee!). Once you're done with Ollivander's, mosey on over to the Forbidden Journey line and show off your button with all the enthusiasm you can muster. You may be given an Express Pass for the ride, which, besides not having to pay for it, is remarkable because Forbidden Journey does not offer Express Pass access aside from special circumstances.
Can't think of anything to celebrate? Then consider showing your Hogwarts "house pride" by getting decked out in a Potter costume (it's better if it's homemade, not purchased at Universal). Again there are no guarantees here, but team members inside the Wizarding World often try to enhance the experience of guests who they know are celebrating a special event, or are die-hard Potter fans. Heck, you might even get a free butterbeer.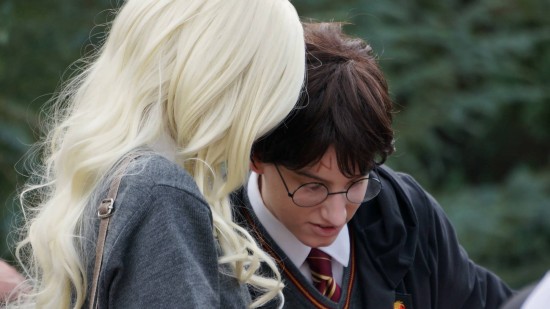 One more tip: If you are indeed celebrating something special at Universal and you're staying at an on-site hotel, be certain to note the event on your reservation — the on-site hotels often give special treats to birthday boys and girls, etc.
As with many of our BIG 5 topics covering Universal, I held back on including links to the OI Universal Center in the material above because the post would just be link after link after link. Instead, here's a collection of what to check out next if you'd like to learn more:
Insider's guide to the Wizarding World of Harry Potter
Universal Orlando souvenir & ride photos
Refillable cups, popcorn buckets & Coke Freestyle
Harry Potter expansion: Diagon Alley
Read and write reviews of the attractions inside WWoHP
I hope you enjoyed today's edition of THE BIG 5, and I sincerely hope you get a chance to put the secrets shared on this page into good use very soon!