Orlando is home to the world's top theme park brands: Disney, Universal, and SeaWorld! Of the three, too many Central Florida vacationers give SeaWorld the cold shoulder. I'm here to set the record straight by presenting the top five reasons why this unique theme park destination should be part of your next visit to Orlando.
#5 – Special events INCLUDED with park admission
A spectacular feature that SeaWorld has over the other major theme park resorts: special events are included with your daily park ticket!
SeaWorld offers different events throughout the changing seasons. In October guests can experience SeaWorld's Halloween Spooktacular, where you can enjoy seasonal shows, trick-or-treating, taking pictures with sea creatures, and more. Get in the holiday spirit during the months of November and December as SeaWorld's beloved Christmas Celebration comes to town. At this event there are many holiday shows and ride overlays to get you in a festive mood. You can check out The Polar Express Experience, in which guests take an adventurous journey to the North Pole and may even see Santa Clause. Winter Wonderland on Ice allows guests to sing to classic Christmas songs as they are entertained by world-class skaters. O Wondrous Night brings to life the Christmas Story in a way you have never experienced with live singing, acting, and animals. And let's not forget the thousands of lights that illuminate almost the entire park!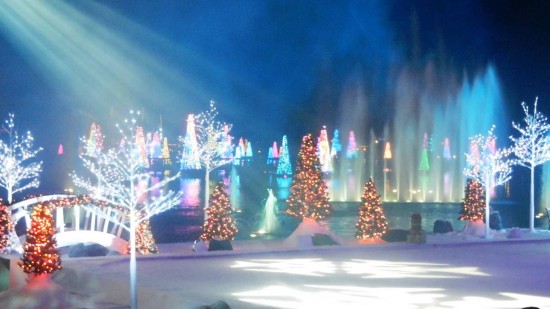 There are also other events throughout the year, such as Just for Kids, where younger visitors can meet and be entertained by some of their favorite TV characters; Bands, Brew & BBQ, when guests get a chance to munch on southern cooking, sample a variety of beers, and see popular rock and country artists; and many more special events throughout the year!
SeaWorld Orlando offers some of the area's best annual events, and each one is included with regular park admission.
#4 – Remarkable animal encounters
Unlike that animal theme park down the street, at SeaWorld guests are able to get very close to and interactive with a variety of animals at many locations around the park. You can see flamingos, penguins, dolphins, sting rays, sea lions, and killer whales. Animal lovers both young and old often cherish the opportunity to touch a dolphin or feed a sting ray.
[youtube_video]UBkAYq3A8dw[/youtube_video]
For those who desire even closer encounters, SeaWorld offers tours and experiences where guests can step into the environments of many of the park's animals and interact with them. (Watch for a new blog post later this week on Orlando Informer about the Marine Mammal Keeper Experience.) If you are passionate about animals and want to have an even deeper love of them, no one offers better and closer interactions than SeaWorld!
#3 – State-of-the-art rides & one-of-a-kind attractions
Can you imagine what it feels like to glide through the water like a manta ray, experience the cold land of Antarctica, take a splash through Atlantis, or journey on a wild ride to the home of the polar bear? Well, thanks to the creative minds at SeaWorld, you can experience all these and more on their lineup of state-of-the-art rides and unique attractions.
SeaWorld has two thrilling high-speed rollercoasters (including Orlando's most under-appreciated coaster, Kraken), a hybrid water/coaster ride, a wild simulator ride, a mini-land with kids rides, the all-new Antarctica attraction — in which the whole family can take an amazing journey to one of the coldest places on earth — and much more. In addition, many of SeaWorld's attractions are themed to a particular animal or environment so that, from the minute you enter the queue, you feel as if you are part of the experience.
#2 – World-class shows
On a typical SeaWorld visit, guests can choose between four or five world-class shows to enjoy. Although all of the shows incorporate either the sea or animals, they are all different in their presentations. SeaWorld's dolphin show Blue Horizons invites its visitors on an adventure to learn about these playful animals of the sea. Complete with an original soundtracks, graceful animals, and a talented cast, Blue Horizons always leaves my mind captivated and wanting more. A'Lure, The Call of the Ocean is a show that families with kids will especially enjoy because it is a fairytale under the sea. Filled with good and evil, this show features amazing costuming, special effects, and plenty of acrobatics.
If your goal is to see the star of SeaWorld, Shamu, look no further than One Ocean. With a combination of whales, fountains, and music, this is a must-do on any SeaWorld visit! And if you are looking for a place to cool off during a steamy summer day, save the money you would spend on a soda and take a seat in the splash zone — there's no better way to be refreshed while being entertained.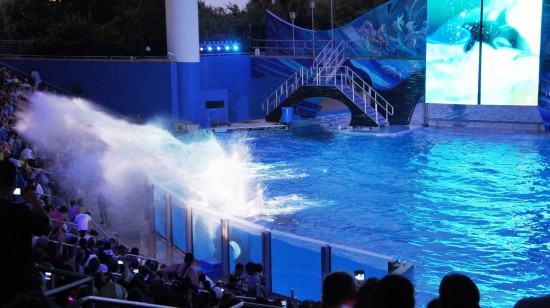 As you see in the photo caption above, during special events like Summer Nights the amount of shows presented at SeaWorld often doubles, so that even frequent park visitors can enjoy new offerings while first-time guests can enjoy both the seasonal and regular entertainment.
#1 – Best theme park value
Although the price of a general one-day admission ticket to SeaWorld is set at $92 per person like many all of Orlando's major theme parks, with a little planning you can pay a whole lot less than that. Weekday tickets are $50 per person for US residents through December 20. The Fun Card allows you to pay $92 for one day and get the rest of the year free.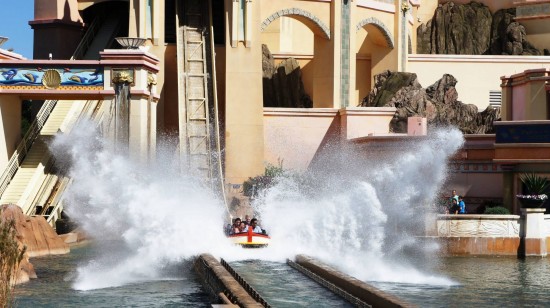 If you feel that you will be a frequent guest of SeaWorld, an annual pass is the way to go. Starting at $149 per person, you can get unlimited admission for 365 consecutive days; free parking ($15 savings per visit); shopping, tour, and dining discounts; and many more incentives. Most of these ticket offers are available exclusively online and not at the gate, so check out SeaWorldOrlando.com for more information. And remember our first point at the top of the article: SeaWorld's incredible annual events are included with general admission!
Honorable mention – you can actually relax at SeaWorld
Certainly SeaWorld, like all destinations across the globe, has its busier days and its slower days. Nevertheless, a typical visit to SeaWorld just seems to feel more relaxing. Whether it's the meandering pathways, the beautiful landscaping, or the friendly staff, there is a comfort in the air and a slower pace on the trails at SeaWorld that is lost in the hectic thrill rides at Universal and the overcrowding at Disney.
I'm not suggesting you shouldn't bother planning your visit to SeaWorld ahead of time, or that you won't find long lines during peak travel times. But if you do plan appropriately, there is a peaceful side to SeaWorld that you'll likely not experience at the other two theme park resorts.
I hope this top five list has made SeaWorld Orlando a priority on your next family adventure to Central Florida!
To learn more about SeaWorld, Aquatica, and Discovery Cover — including complete information about SeaWorld's Halloween Spooktacular underway right now — check out all the OI blog posts filed under SeaWorld.
Or you can view all of our BIG 5 posts.
Editor's note: A few weeks back you may recall that Orlando Informer hosted an open call for new writers. One of the goals of this open call was to help us bring our readers more extensive coverage of SeaWorld. We are proud to have Shane among our group of new contributors who will be helping us cover SeaWorld, and we look forward to sharing his Orlando insights and experiences with you.
[sws_author_bio user="ShaneClarke" size="105″ authorposts="More OI posts by Shane" name_format="About the author"] [/sws_author_bio]