I-Drive, more formally known as International Drive, is a fantastic destination for Orlando visitors looking get away from the theme park routine during their Disney & Universal vacations. If you are looking for somewhere that might help you stop singing "It's a small world" in your sleep, the I-Drive tourist corridor (anchored roughly on the north by Premium Outlets International Drive and on the south by SeaWorld) is most certainly for you!
Here is a list of the best hot spots on I-Drive that my friends and I love to visit…
#5 – Brick House Tavern + Tap
First up is Brick House Tavern + Tap. Here you can get great food and drinks in a very relaxed, slightly upscale environment. Brick House offers one of the most unique means of drinking your beer at your table with the "Beer bong", a whole yard of beer that comes directly to your table with its own tap on the end of it. All draft beers at Brick House are available in four different sizes; 16 ounces, 22 ounces, a half Beer Bong, and a whole Beer Bong.
Not only do they have a great selection of beer, but the venue also has a large selection of food to choose from! I personally recommend trying either the Yard Bird Sandwich or the Southern Fried Chicken Sandwich (can you tell I like chicken sandwiches?). Don't forget to opt for the tater tots instead of fries — you will not regret it!
At Brick House, the drink options make it adult friendly and the atmosphere and large menu make it kid friendly, so sit back and relax in your couch/booth hybrid and enjoy your stay.
brickhousetavernandtap.com  |  Google Maps
#4 – Dave & Busters
Dave & Busters is the perfect place to allow yourself to feel like a kid again, but without having to forgo a fully stocked bar. You can enjoy a few drinks as you explore the latest interactive games in the Million Dollar Midway. They truly have something for every type of person, from the traditional game Skee-ball to the more high-tech games like Fruit Ninja.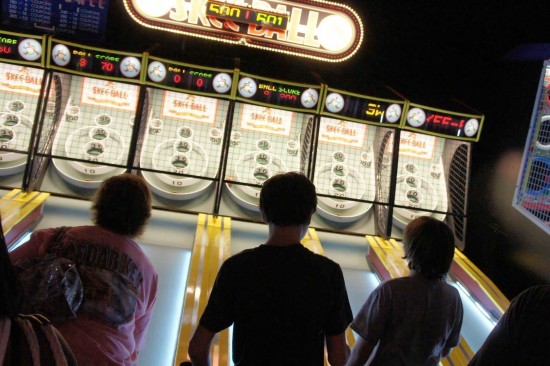 Most people will tell you that this place is a little overpriced, but you just need to know when to go. Happy Hour specials at the Orlando location run Monday through Thursday from 4:30 to 7:00pm, and they include half price Cocktails and $2.50 domestic pints. They also have a late night Happy Hour Sundays through Thursday from 10:00pm to close.
Dave & Busters also offers food, and it has an Eat-Play-Win option, but I recommend only snacking here because there are many other places with better food nearby (like Brick House). But overall this place has a lot to offer friends looking for a good time or families with older kids searching for an electronic adventure.
daveandbusters.com  |  Google Maps
#3 – Hard Knocks
I couldn't discuss I-Drive without mentioning the new Hard Knocks at Pointe Orlando — this is a laser tag experience that you will never forget! The venue features weapons adapted from military combat simulations, and with those weapons its patrons can set out on over 70 unique combat missions.
My last visit to Hard Knocks included a combat mission called Roulette. Each person was handed an electronic glo-stick and asked to turn them on simultaneously. Each team was represented by a color, and we had to race to find our teammates while taking out our enemies — immediately after turning on the glo-sticks in the "battlefield".
For this activity I would not suggest bringing kids that are less than 10 years old; and if you can round up some of the gang, Hard Knocks is much more fun when experienced with a large group!
#2 – The Pub Orlando
Also located at Pointe Orlando — and perhaps a good place to make up with your friends after kicking their butts at Hard Knocks — this is a pub experience like no other on I-Drive. The Pub features a Pour Your Own Beer section, which allows guests to control what beer they are drinking and how much of that beer they would like.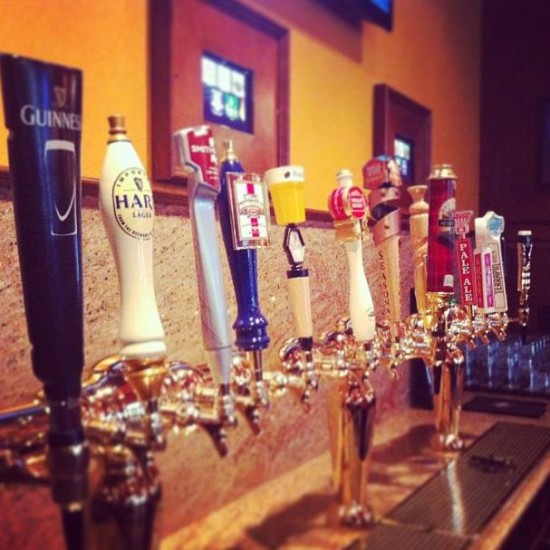 If you are interested in some authentic British pub fare as well as some delicious American cuisine, you need to try this place out. I personally recommend their Fried Pickles, but be careful because they pack a bite! To be careful, pair the Fried Pickles with a Hoegaarden in my all-time favorite beer glass (hint: it takes me two hands to pick it up). In addition to appetizers, The Pub Orlando offers a full menu with a wide variety that will satisfy just about anyone's appetite. And don't forget to ask about Happy Hour specials, which run Monday through Friday, 3:00 to 7:00pm.
experiencethepub.com  |  Google Maps
#1 – Howl at the Moon
My number one pick offers some of the best fun you can have on I-Drive! Howl at the Moon is a dueling piano bar, and one of the reasons that I like this venue so much is that anyone can have fun here. Whether you want to sit back and relax while enjoying the show, or you want to sing and dance your heart out, you will quickly discover that Howl at the Moon is right for you.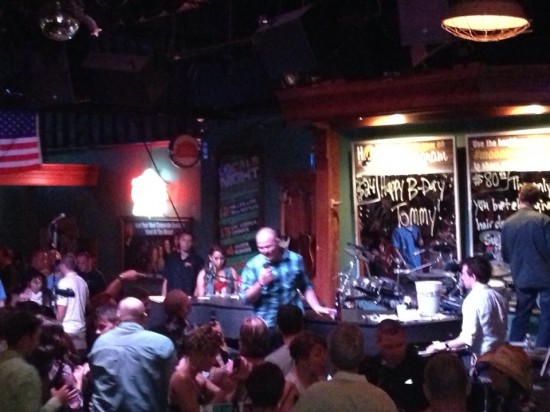 Should you feel like buying a drink that will most certainly turn some heads, order one of the six flavors of Booze Buckets with your friends. This beverage is 86 whopping ounces, so remember that sharing is caring. As you enjoy your bucket, sing along to the dueling pianos and keep an eye on the mirror behind them. Guests can pay to get a message up there, and the staff will write the price and message on the board. If anyone wants a message on the mirror, they need to pay more than the last group did for their message. During my most recent night out there was an epic battle between some teachers and nurses that ended up costing them $110 to relay the newest message!
For the 21 and older crowd, Howl at the Moon is a must-visit party place on I-Drive.
howlatthemoon.com  |  Google Maps
Honorable mention – Sling Shot at Magical Midway
Get ready to impress your friends with the ultimate party in the sky. Located at Magical Midway, a small amusement park just down the street Wet 'n Wild, you will find one of Orlando's most extreme rides: the Sling Shot.
[wptouch target="non-mobile"]
[/wptouch][wptouch target="mobile"]
See the Vine video
[/wptouch]
"As the volcano starts to erupt you are catapulted out at a force of 3 to 5 G's. You will experience total weightlessness as you are rocketing over 390 feet above the ground, surrounded by the scenic view of Orlando."
If you're up for a thrill, but you're not quite ready to step up to the Sling Shot, Magical Midway's Star Flyer swings are a second option that will still get you 230 feet in the air — and your special time enjoying the aerial view of Orlando won't be interrupted by bloodcurdling shrieks.
magicalmidway.com  |  Google Maps
All in all I hope that this list helps you find something amazing to do for an evening on I-Drive. Let me know if you think anything else should have been on this list as an honorable mention!
See more stuff to do on International Drive