On my last visit to Universal Studios Florida I decided to try something that even guests who have been going to Universal for year's still haven't done: check out Beetlejuice's Graveyard Revue…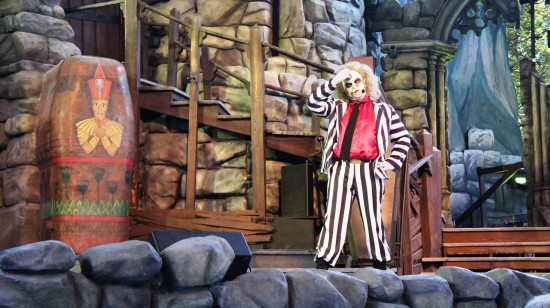 I went to a 2 o'clock showing smack dab in the middle of Orlando's busy summer season. I expected just about every seat to be full, yet I found several rows and even a whole section empty. I thought maybe it was a slow time of the day, but the bustling crowds on the USF streets and the incredibly long lines (upwards of an hour and a half) at the other attractions begged to differ with that logic.
The truth is, like me, a lot of guests seem to overlook this show, writing it off as just another way to kill time while waiting for the long lines to die down. I have one thing to say to that: if you've been pre-judging this show as filler attraction, then you are sorely mistaken. You, my friend, have been missing out on a great experience, full of fun and entertainment that everyone really can enjoy.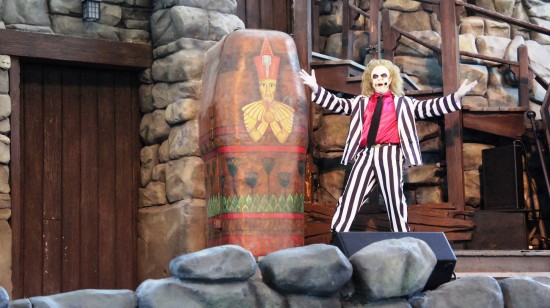 Beetlejuice is a classic, and even if your kids do not know or remember the movie, the show at Universal Studios Florida provides so much action-packed excitement that they'll be dancing along anyway. The show is complete with awesome music, thrilling dance moves, hilarious dialogue, and impressive pyrotechnics. An incredibly cheerful production, the Graveyard Revue allows for some of the scariest and most sinister monsters of film history to be seen in a more fun and relatable light. Plus, the show provides a great opportunity for those needing a break from the crowds and Orlando sun, but still want to do something to keep themselves and their families entertained.
You get to watch and groove along as Beetlejuice transforms the classic monsters Dracula, the Wolfman, Frankenstein and the Bride of Frankenstein into all out rock stars. The show includes some of the best and most popular songs that have defined generations; including "I Will Survive," "Jump," and "Jesse's Girl," … or "Frankie's Girl" as Dracula broodingly croons to Frankenstein's diva-licious bride.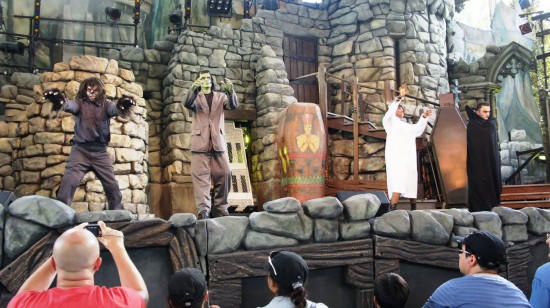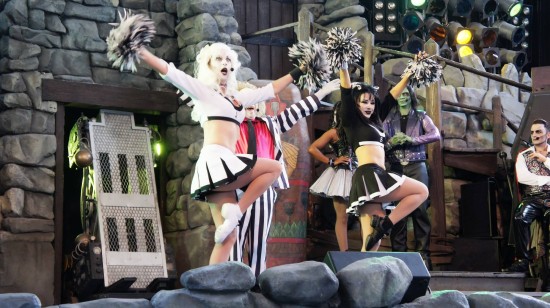 From the minute Beetlejuice stepped out on stage I noticed that the entire audience was fully engaged. He goes up and down the aisles giving high fives, making jokes and unsuccessfully trying to pick up poor, unsuspecting ladies in the audience. As the show got underway we all clapped, cheered, sang along and laughed until our faces turned red. The talented cast is absolutely amazing. Again, this is the kind of top-quality showmanship I have come to expect from a Universal production, and I surely have not been disappointed yet.
Be sure to include a visit to Beetlejuice's Graveyard Revue on your next trip to Universal Orlando and be ready to rock out with your kids. And don't forget the most important part of all: Say his name three times to get the show on the road.
BEETLEJUICE! BEETLEJUICE! BEETLEJUICE!
[youtube_video]FNZFmWp-TW8[/youtube_video]
Beetlejuice's Graveyard Revue amphitheater is located in the San Francisco backlot of Universal Studios Florida. Shows usually start each day around noon and run about every hour and a half or so from there. Show schedules do change often though so be sure to check the listings on the park maps when you arrive. It's suggested that you arrive 15 minutes before gates open to ensure an easy seating process, and to have time to get snacks from the carts located just outside the theater.
To read real guest reviews of this attraction, visit the Beetlejuice's Graveyard Review page in the OI Universal Center.
Beetlejuice's Graveyard Revue – map
Click any marker to display the attraction or venue name. To scroll or zoom, use the controls on the top-left of the map. You may also switch to different map views by using the buttons on the top-right of the map.

View OI's map to Universal Studios Florida in a larger map
Beetlejuice's Graveyard Revue – photo gallery
Click any image to view it full-screen. When the full-screen image is open, click to the right or use the right arrow on your keyboard to advance through the gallery.
[sws_author_bio user="DinaFayeMagdovitz" size="105″ authorposts="More OI posts by Dina" name_format="About the author"] [/sws_author_bio]