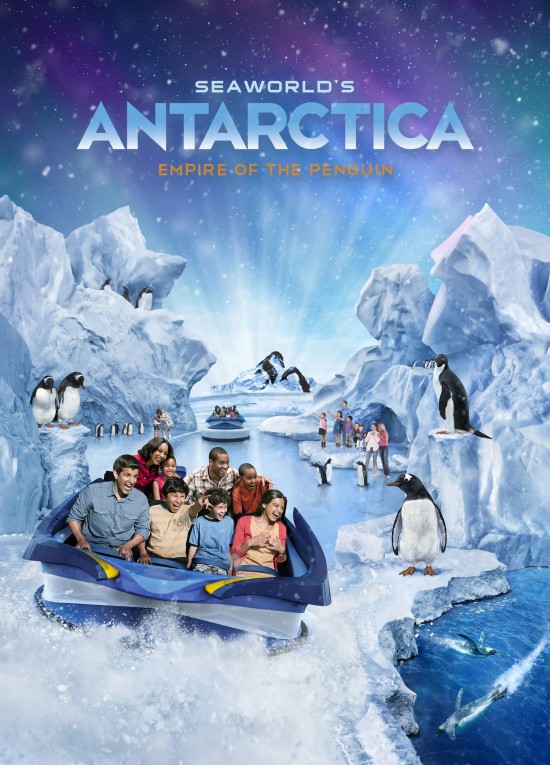 Antarctica: Empire of the Penguin – sure to be Orlando's coolest attraction – will transport families into a rarely seen, icy world.
Guests will feel the majestic grandeur of the South Pole and see it through the penguins' eyes on an exhilarating, first-of-its-kind family ride. They'll explore a massive penguin colony in an expanse that envelops them in cool extremes, both above and below the penguins' icy world. It's a must-see, one-of-a-kind theme park experience only at SeaWorld in Orlando starting Friday, May 24.
Download the song
SeaWorld Parks & Entertainment partnered with award-winning country artist Lauren Alaina to perform the official theme song for Antarctica: Empire of the Penguin.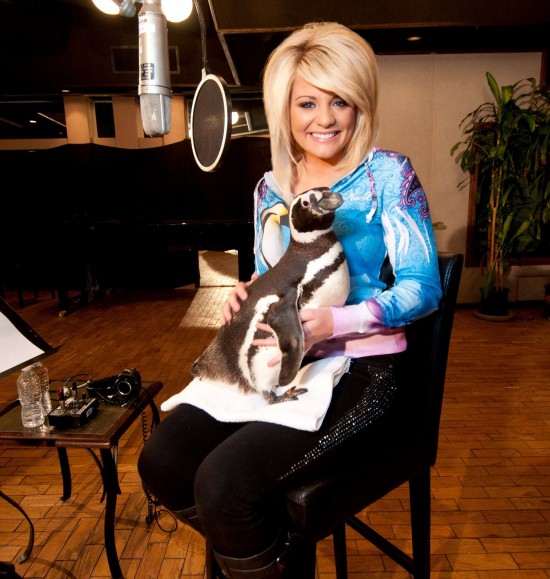 Alaina recorded two songs for SeaWorld, including the theme song for the ride in Antarctica: Empire of the Penguin, and a remix version called "Antarctica: One World, One Family." Alaina also will be performing the song live at SeaWorld Orlando for the attraction grand opening the week of May 24th. The remix version is available for free download clicking here. Alaina is currently in the studio working on her forthcoming sophomore album, and is scheduled to perform her new single "Barefoot And Buckwild" on American Idol Thursday, May 9, airing nationwide on Fox networks.
"I have such great memories of growing up and going to SeaWorld with my family, so being a part of the theme park and their new attraction is so exciting," says Alaina. "Recording the official theme song for the ride was so much fun – SeaWorld even brought a penguin named Pete to the studio to help inspire me!"
Download the app
Fans wanting to explore even more of SeaWorld's thrilling, chilling new adventure of a lifetime should download the free Antarctica app, available now for iPhones, iPads and Android devices and can be downloaded by clicking here.
Ride requirements for Antarctica: Empire of the Penguin
• Guests less than 48" tall must be accompanied by a supervising companion.
• Guests must be at least 42" tall to ride the "Wild Expedition".
• Guests less than 42" tall can ride the "Mild Expedition".
• Handheld infants may not ride. However, all guests may experience the penguin exhibit.
• Riders of this attraction will be exposed to forces, speeds and other intense features that may cause distress or injury to persons with pre-existing health conditions.
• For your safety, you should ride the Wild Expedition only if you are in good health. If you know or suspect you may be pregnant, have high blood pressure, heart, neck or back problems, motion sickness or recent surgery you should ride theMild Expedition.
• Guests will be exposed to cold air temperatures.
• You should not ride if you have any impairment or condition that would prevent intended use of seating and safety restraints as provided or the inability to follow any safety requirement.
• Guests with any type of prosthesis must ensure that it is properly secured and will remain in place during the ride.
• Certain loose articles are permissible to take on the ride provided they do not obstruct the ride's safety restraint and fit securely inside the ride vehicle. Loose articles larger than a backpack are not permitted.
• Guests must wear footwear and shirts at all times.
• Please follow all posted and verbal safety instructions.
1-Year Annual Pass plus 3 months free!
Thanks to sponsorship by McDonald's, guests can add three months free onto new annual pass purchases. Get the details
When you have your Annual Pass, you can then reserve front-of-the-line access to Antarctica!
Continue your exploration
Learn much more about this new attraction by visiting http://seaworldparks.com/en/seaworld-orlando/Antarctica.