The 8th annual Orlando Film Festival is set to once again take over Orange Avenue in downtown Orlando starting this Wednesday. With over 220 films, including more than 50 features, this is by far their biggest year to date. The festival runs October 16th through the 20th. All screenings & panels take place at the beautiful Cobb Plaza Cinema Cafe (see map at the bottom of the page).
Opening night kicks off with a 7:00pm screening of the critically acclaimed & multiple award winning CHASING SHAKESPEARE. Directed by Norry Niven and starring Danny Glover, the film is an epic love story full of mysticism and wonder — see the trailer. Following the screening, join the filmmakers and the rest of the festival VIPs for an after party at The Citrus Club.
Thursday is horror night. With two theaters dedicated to a great mix of films to scare and delight, there is a little something for every horror fan. This year's offerings include the comedic CHASTITY BITES, the old school horror of THE HOUSE OF BLOOD, a totally twisted collection of HORROR SHORTS, and bouts with the paranormal in THE VISITANT and COPIII: THE 1ST ENTRY…
[youtube_video]mbi28NktmCQ[/youtube_video]
This is sure to be one event no horror fan will want to miss. The screenings start at 6:00pm, and a $10 day pass gets you into all the films. Better yet, admission is only $5 for those in costume. Plus, your festival pass also grants you access to the Dia De Los Muertos & Monster Factory block party happening at City Arts right up the street.
Friday features a special screening of the documentary SPACE SHUTTLE ATLANTIS, followed by a panel featuring some experts in the field of space exploration. Saturday night's Award Ceremony is guaranteed to be full of surprises and is free for anyone to attend. And the closing night special screening of Thomas Dolby's THE INVISIBLE LIGHTHOUSE is sure to thrill any 80s fan who was blinded by science.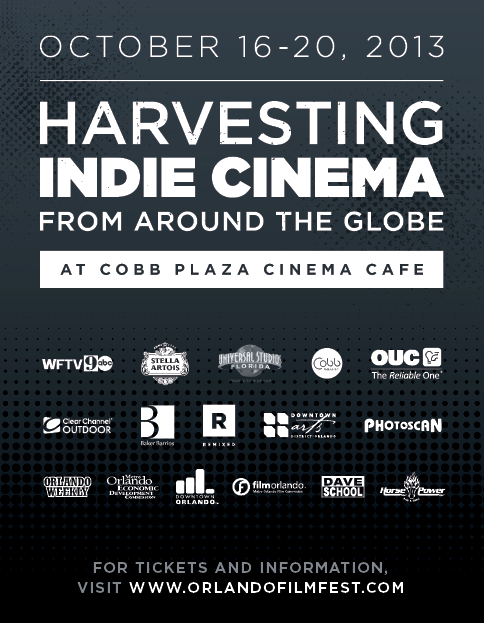 A few other notable films include BEFORE I SLEEP starring Tom Sizemore & Chevy Chase, GIVE ME THE BANJO narrated by Steve Martin, JFK: A PRESIDENT BETRAYED narrated by Morgan Freeman and THE TROUBLE WITH THE TRUTH starring John Shea & Lea Thompson.
This is just a small sampling of what the Orlando Film Festival has to offer this year. With passes starting at just $10, there's no excuse to miss such an incredible event.
For a full list of all the films & events, plus info on how to purchase your passes, please visit OrlandoFilmFest.com!
– map
Click any marker to display the attraction or venue name. To scroll or zoom, use the controls on the top-left of the map. You may also switch to different map views by using the buttons on the top-right of the map.

View Orlando Film Festival in a larger map