Just this week, word has broken that Fox will be creating its very first theme park, replete with "media-based, thrill, dark, children's, and water" rides, along with the Dream Parade, "an animatronics parade based on all characters and titles represented throughout the theme park."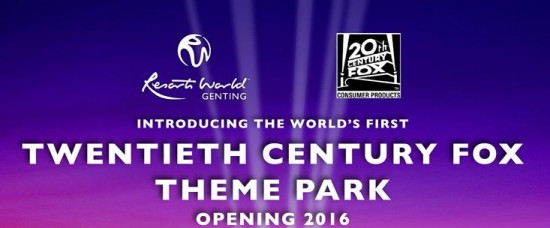 That's enough to get any theme park enthusiast's blood pumping – just think of the competition with Disney and Universal, and what new attractions that will net us all! – but the specifics are worth looking into.
First and foremost, the park will be located in Malaysia, where Resorts World Genting currently is. The 25-acre park will be getting a $158 million makeover to upgrade it to the new Fox theme, with the movie studio supervising every step of the way (though not contributing any money towards its construction, nor taking part in its day-to-day operations). So while this means that Universal's two Asian parks (Universal Studios Japan and Universal Studios Singapore) and Disney's soon-to-be three (Tokyo Disneyland, Hong Kong Disneyland, and Shanghai Disneyland) may be feeling some increased pressure, their multiple destinations in the West may not be similarly affected.
Or will they? In an interview with TheWrap, Jeffrey Godsick, president of Fox Consumer Products, has this to say about whether any Simpsons attractions may pop up at the new location:
With The Simpsons we have the right to talk to other partners, but we've been in business with Universal on two theme parks, and in the next couple of weeks, we'll be talking about an expansion for The Simpsons at Universal.

We always like to talk to our current partners first, so I think we'll start with exploring other opportunities with Universal before we go elsewhere.
The immediate take-away from this, of course, is that should Fox get any new Simpsons ideas a-brewin' from their new theme park experimentation lab in Malaysia, they would take them to Universal first for implementation at any of its four (and soon to be five) locations around the world. This is particularly good for Universal Orlando, which easily has the biggest amount of real estate available – as the recent development of Fast Food Blvd readily attests to.
But it's the first paragraph that holds the real nugget here: talk of a Simpsons expansion will be held in "the next couple of weeks." Seeing as how Fast Food Blvd has been in construction since the very end of last year, any future expanding would have to mean that, say, Universal Studios Hollywood will soon be getting a whole new slew of places to shop, eat, and hurl at. (Hey – the Android's Dungeon and Baseball Card Shop first debuted over there before getting brought over to Orlando, so you never know.) And as we've seen with Harry Potter, whatever new improvements Hollywood throws into the mix will probably, ultimately trickle out to all the other locations.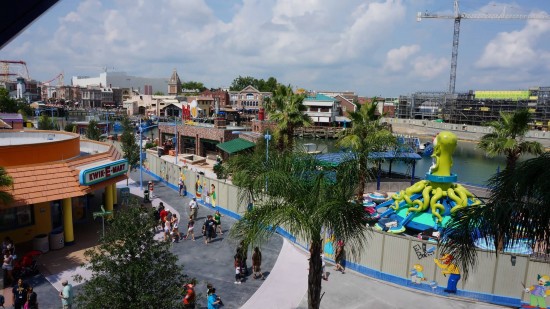 In the meantime, if the eventual development of even more Simpsons experiences just isn't enough to titillate you, there's Fox's new theme park, which will open in 2016. Expect to see somewhere between 25 to 30 different brands represented to some capacity or another at Fox Land, including Alien, Ice Age, Life of Pi, Rio, Night at the Museum, and Predator. (What you won't see, of course, is Avatar, since the company signed its exclusive theming rights away to Disney, or the Star Wars and various Marvel movies, since it doesn't own the licensing rights to those properties [that would be Disney again]).
Full press release
Kuala Lumpur, 26th July 2013 – Resorts World Genting, the world's largest destination resort operator, announces today a licensing partnership with Twentieth Century Fox Consumer Products to develop the first international Twentieth Century Fox theme park. Opening in 2016, the new theme park at Resorts World Genting will fully immerse visitors in an entertainment experience featuring some of FOX's most recognized and powerful film brands including ICE AGE, RIO, ALIEN, and NIGHT AT THE MUSEUM.

Dato Lee Choong Yan, President and Chief Operating Officer of Genting Malaysia Berhad and Jeffrey Godsick, President of Twentieth Century Fox Consumer Products participated in a signing event solidifying the partnership between Genting Malaysia Berhad and Twentieth Century Fox Consumer Products. The alliance was witnessed by Tan Sri Lim Kok Thay, Chairman and Chief Executive of Genting Malaysia Berhad.
"For the first time, audiences will soon be transported into the worlds of their favorite Twentieth Century Fox properties," said Godsick. "Brought to life by our partner Resorts World Genting, this theme park marks the launch of our global location based entertainment strategy."
"Twentieth Century Fox is one of the world's largest producers and distributors of entertainment content in the world," said Tan Sri Lim. The FOX brand is popular throughout the world because the studio has earned a reputation for quality, creativity and longevity. We're honored to partner with Twentieth Century Fox to realize the vision of a world class integrated resort."
The Twentieth Century Fox theme park at Resorts World Genting will feature rides and attractions based on a wide array of FOX properties including action, adventure, animation, family and sci-fi genres.
rwgenting.com/en/themepark/fox/index.htm
[sws_author_bio user="msunyata@yahoo.com" size="105″ authorposts="More OI posts by Marc" name_format="About the author"] [/sws_author_bio]