According to the annual TEA/AECOM Theme Index released yesterday, attendance data for 2012 reveals increases nearly across the board at major theme parks/amusement parks, with strong performance in both North America and Asia. Attendance at the top 25 parks worldwide grew 5.2 percent, to 205,906,000 visits in 2012. Attendance at the top 20 water parks worldwide grew by 5.4 percent, to 25,005,000 visits in 2012.
Here are the top 20 Amusement/Theme Parks in North America: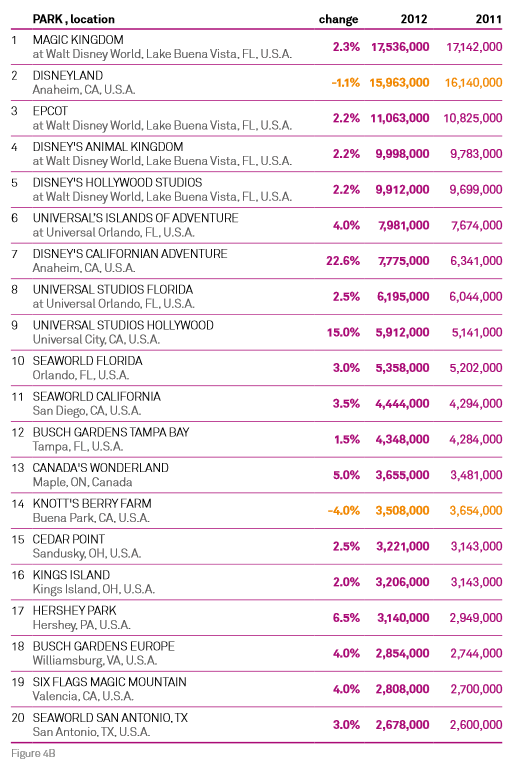 The report is available free online:
-TEA's website at TEA/AECOM/themeindex2012 or http://www.teaconnect.org/sites/default/files/misc/files/2012teaera.pdf
John Robinett, Senior Vice President, Economics, at AECOM, says, "The major operators in Europe, Asia and North America all had a successful year – but Asia is the really dramatic news. We forecast in last year's Theme Index that the industry in Asia would begin to outpace the industry in North America, and the 2012 report contains the first clear sign of it: Our figures show that water park attendance totals in Asia have, for the first time, surpassed those of North America."
The TEA/AECOM Theme Index and Museum Index is a collaboration of the Themed Entertainment Association (TEA) and the economics practice at AECOM, a global provider of technical-professional and management-support services. This calendar-year study of global attractions attendance is a free resource for park operators, land developers and the travel industry. Top worldwide theme parks, amusement parks, water parks, museums and theme park group operators are named, and industry trends are identified.
The largest amusement/theme park market remained North America, with 131,555,000 visits to the continent's 20 largest parks in 2012, up by 3.6 percent from 2011. Asia's amusement/theme park market continues to grow rapidly, achieving 108,689,000 visits to its 20 largest parks in 2012, up 5.8 percent from 2011. Continuing to struggle with the effects of the Euro crisis, the top 20 amusement/theme parks in Europe saw attendance decline marginally to 57,954,000 visits in 2012, down 0.3 percent from 2011. Despite significant declines at a few of Latin America's amusement/theme parks, the top 10 amusement/theme and water parks in the market grew by 2.6 percent to 13,199,000 visits in 2012.
The top 20 water parks in North America grew by 2.2 percent to reach 15,386,000 visits in 2012. The top 15 water parks in Asia grew significantly faster at 7.4 percent, achieving 15,999,000 visits in 2012.
The top 20 museums in Europe had 71,536,000 visits in 2012, followed by the top 20 museums in North America with 55,816,000 visits, and the top 20 museums in Asia with 41,568,000 visits. In contrast to the amusement/theme parks and water parks, all of which charge an entry fee, the museums include those with both paid and free entry.
The complete TEA/AECOM Theme Index and Museum Index examines attendance trends by geographic region and park type, and includes rankings of top attractions. The full report is available free of charge on the TEA (http://www.TEAconnect.org) and AECOM (http://www.aecom.com/economics) websites as of June 4, 2013.