World's Largest Entertainment McDonald's & PlayPlace
We visited the World's Largest Entertainment McDonalds & PlayPlace in Orlando on January 1st, 2012, after an amazing day of fun in the sun at Discovery Cove. Having indulged all day in the included food and drinks at DC, we were seeking a lighter option for dinner than what we would find at a more formal, full-service establishment. Being the typical "tourist family", we could not resist visiting any attraction that bills itself as the "World's Largest" of its kind. It was also super close to our hotel on International Drive, meaning our weary bodies (exhausted from a day of swimming) didn't have far to go.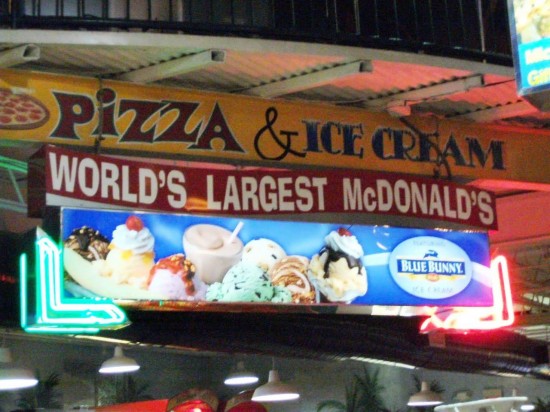 This location boasts many culinary advantages over your typical McDonald's. Their extensive Bistro Gourmet menu provides excellent options for non-traditional McDonald's meals (and quite honestly, our least favourite things about a regular McDonald's restaurant is normally the food). Various selections of sandwiches, pasta, salads, premium ice cream and wonderful desserts accompany your standard McDonald's fare. My angel hair pasta with Alfredo sauce, chicken and garlic toast was surprisingly tasty, piping hot, and was cooked to order within view while we waited. Our teen son had a buffalo chicken sandwich that he's still raving about to this day, and we appreciated the ability to be able to choose between French fries or salad as the included side. We honestly weren't expecting much as far as the food went (who really sets their standards that high when dining on "fast food"?), but were pleasantly surprised.
Not interested in the "new" or "healthy" options? You have nothing to fear. For those McDonald's die-hards who can't get enough of the typical Mickey D's offerings of burgers, chicken nuggets and their signature Happy Meals, you can relax: these, too, are available for purchase as readily as the specialty Bistro items.
If you are looking for a quiet and peaceful family meal, quite honestly this is not your place to dine. A mecca for families, virtually every diner is accompanied by happy and excited children who are there to do anything but eat. Let's face it, with so many distractions at arm's length from your table, focusing on your food will be tough for anyone under the age of 10. A dizzying array of entertainment options abound, more than any other McDonald's location in the world. Over 100 games are located on-site, most designed for the younger set in particular, yet our teenager still found lots to do following the conclusion of our meal. When visiting, plan to let your inner child loose and enjoy the many amusements provided for your entertainment. Our family's favourites included the 3-point basketball shooting and bowling, though the bowling games had multiple issues of freezing up which necessitated us to beckon assistance from a staff member twice during our visit. A large second floor encompasses everything from a climbing structure (exceedingly popular with the youngest visitors) to arcade style games and an onsite gift shop.
For about $10 we managed to squeak out about an hour of "playtime", and we were able to sample a nice selection of the various amusements on both the first and second floors.
The sheer volume of mess-making kids (a natural occurrence) kept the staff constantly busy cleaning the seating areas. They probably could have doubled their lot and lobby attendants and still would have had difficulty keeping the tables cleaned for the next guest. Definitely keep your expectations in line: first and foremost, this is still a McDonald's, and the same issues you would experience at your local establishment will still be a factor here as well.
All in all, this is one of those places we were glad we visited once. Your kids will love the entertainment options (they certainly won't be bored), there's a good balance of food options for the entire family that far exceeds your typical fast-food menu, and there are some great photo ops here for those of us on vacation who seek the cheesy "I was here!" kind of shots. Go at least once, just to say you've been there.
World's Largest Entertainment McDonald's – map & links
Click any marker to display the attraction or venue name. To scroll or zoom, use the controls on the top-left of the map. You may also switch to different map views by using the buttons on the top-right of the map.
Official website: http://www.mcdonalds.com
[sws_author_bio user="GinaBrak" size="105″ authorposts="More OI posts by Gina" name_format="About the author"] [/sws_author_bio]