WonderWorks is possibly the strangest and most intriguing attraction on International Drive. The look of the building itself is enough to draw anyone's curiosity, as, upon first glance, it seems to literally be upside-down, but there's much more to the experience than just appearances – this "amusement park for the body and mind" is edutainment at its finest, with over 100 different exhibitions on three separate floors.
I'm going to take us through WonderWorks floor by floor, but, first, let's dig into its backstory.
A top-secret experiment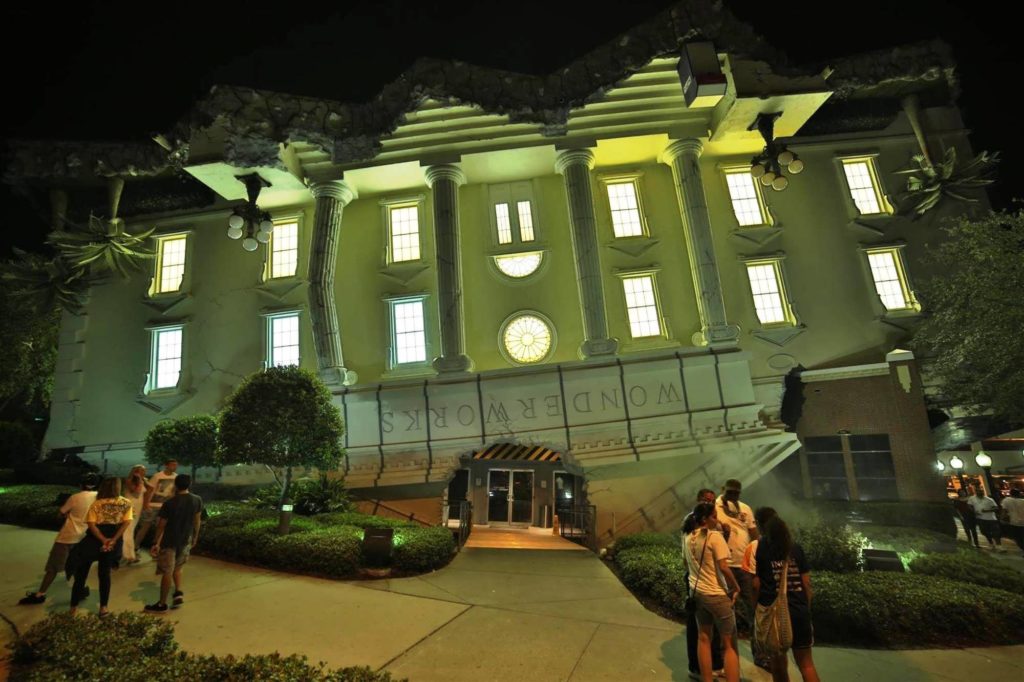 According to lore, WonderWorks started as a lab on an island in the Bermuda Triangle that was part of a top-secret project, which had leading scientists – headed by a professor by the name of Wonder – to create and harness a tornado's power for unknown reasons. In the process, they created a powerful vortex that accidentally uprooted the facility, hurling it miles from its home! The lab landed atop a warehouse on International Drive in Orlando, Florida, with everything inside remaining intact, albeit upside-down.
Approaching the establishment with my fiancee, we found their theming to be well executed. What impressed us most about the appearance was hearing the warehouse "creaking" from its struggle to support the science facility above it, as well as the "buzz" from the flickering lamps that were transported with the lab. Entering the dislocated building, we noticed even the lobby was upside-down. This was a great way to maintain the story, which wrapped up nicely with a vortex (or "inversion") tunnel that "turns everything right-side up" for you before entering the first level.
Level 1 – Natural disasters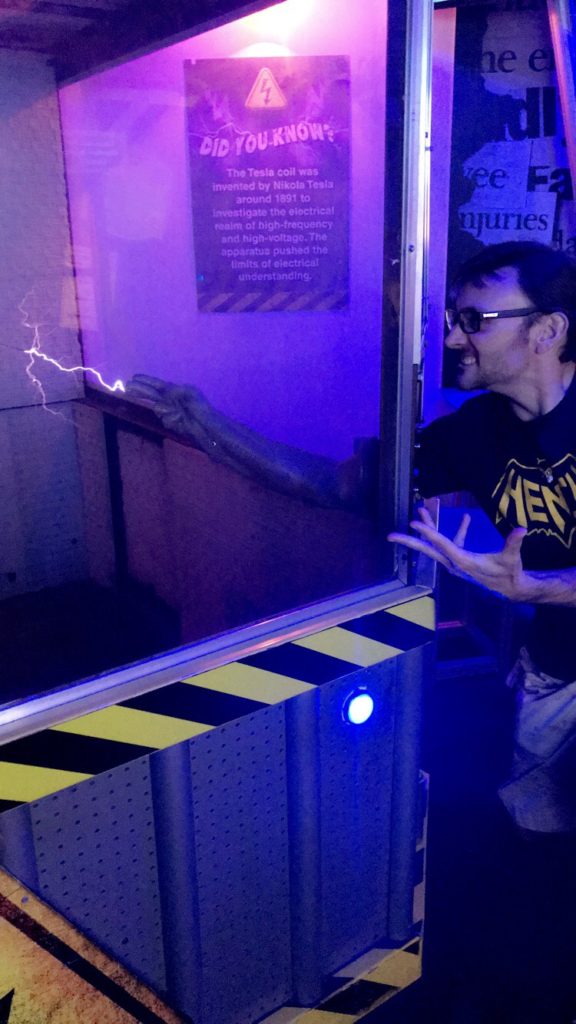 Each level has themes or "wonder zones." The first floor's is singular, focusing on natural phenomena and disasters. Here, we enjoyed a cafe-styled booth that simulated an earthquake that measured 5.3 on the Richter scale; a room designed to look like a shack had us grasping to stand still as it blew category-one-hurricane winds; and a Google Earth display allowed us to virtually travel the entire globe. Our favorite, though, had to be the chance to get "hands on" with 100,000 volts of electricity via a chain-mail glove at an exhibit featuring a Tesla coil. This one had us highly entertained as we were striking different poses with the coil's current!
There are two more attractions here I should probably point out. The first is one that simulates the temperature of the waters that the Titanic sank in by using a small tank of 28-degree water; you put your hand and some of your forearm into it, and you can even scratch your competitive itch by using the display's timer to see who can withstand the cold the longest. And the other, an anti-gravity exhibit that uses an interactive, light-based illusion to change or suspend the flow of water streams at the push of a button, was fun, but I was disappointed when I realized that it had replaced the previous Titanic-focused exhibit (which showcased not only the waters' temperature, but also the ship's angle as it sank).
We noticed that the placement of these attractions was very close to one another, as if WonderWorks was trying to draw connections between two otherwise-unrelated activities. While this was aesthetically awkward, we wouldn't worry about this affecting someone's experience.
Level 2 – Let's get physical!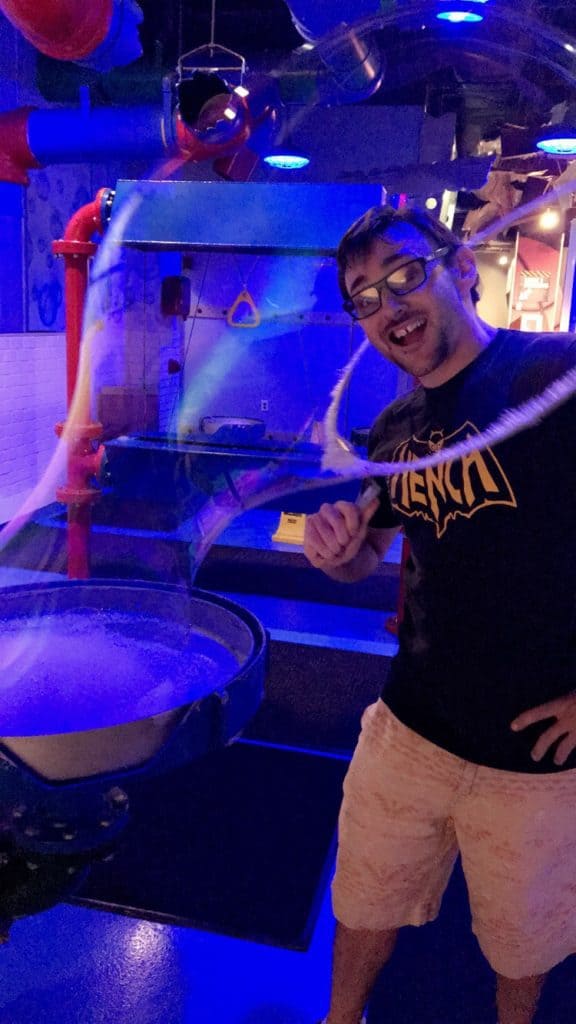 WonderWorks's next level gets a little more elaborate. On this floor, there are four different wonder zones: Physical Challenge, Light and Sound, Imagination Lab, and Space Discovery. At Physical Challenge, guests can lie on a bed of nails (3,500, to be precise!), impress themselves with a free-standing wall of 40,000 plastic pins, and test their athletic prowess at the Virtual Sports exhibit, which houses various sports-themed trials, such as seeing how fast you can can pitch a ball or how many soccer goals you can score within a set time.
(Our number-one favorite experience from our visit was this zone's Bubble Lab. Using the specialized wands, we created bubbles of all sizes, with some large enough to fit a person! We found this to be especially great for families and couples.)
The Light and Sound wonder zone greets you with a neat virtual air-hockey exhibit that uses your shadows to play. Beyond that are entire walls that catch your movements in lights and shadows, an attraction that follows your actions with bold color patterns, and a giant-sized piano that can be played by using your footsteps (we had a lot of fun with this one).
In the Imagination Lab, we drew on a glowing graffiti board and created different "islands" that teamed with virtual life in various sandboxes; the type of life that was created depended on the sand piles' shapes and sizes. (You could also pick from different lifeforms, with our favorite being dinosaurs.) There are other neat exhibits here, too, like a giant-sized Lite-Brite wall with massive, colored pegs and an Alien Stomp game that uses light-projector interactions (similar to how those aforementioned sandboxes work) to do what the name implies. The game did seem a bit glitchy during our visit, but I could see this being an otherwise-entertaining experience.
The second level's final wonder zone, Space Discovery, is all about, well, space discovery. Here, guests simulate landing a shuttle or take the Astronaut Training Challenge in a gyroscope, as well as getting to create and then ride their own virtual Wondercoaster. It's this last attraction that holds my biggest critique – the coaster we experienced wasn't the one that we had designed. This wasn't a deal-breaker for us, though – we still had fun doing it, but you should probably be forewarned.
Level 3 – More experiences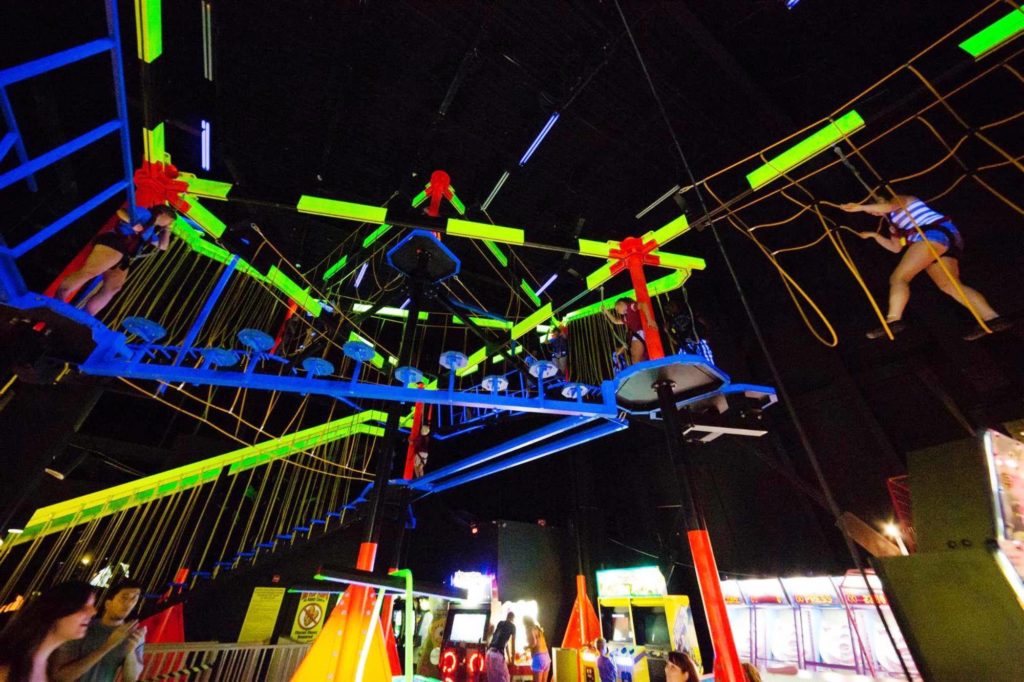 The third level houses an indoor rope course, which is suspended 36 feet from the ground; a laser tag maze; and a 4D XD motion theater, where guests can experience multi-sensory, 3D movies that are played on a rotating schedule. All of these cost an additional fee and are separate from the other exhibits.
We had experienced the Canyon Coaster 3D movie on a previous visit, so we opted for the rope course this time. Put simply, if you're like me and have a fear of heights, don't get ahead of yourself! Take your time and take comfort from the fact that you're safely secured within a harness. (By contrast, my fiancee was zipping around the course and having an absolute blast!)
Overall, this final floor completes the WonderWorks experience, particularly for someone who's looking for something extra out of his day. But by no means do you need to engage in any of these upcharge activities; I'm confident you'd still have a great time even if you passed on the top level altogether.
Dinner, anyone?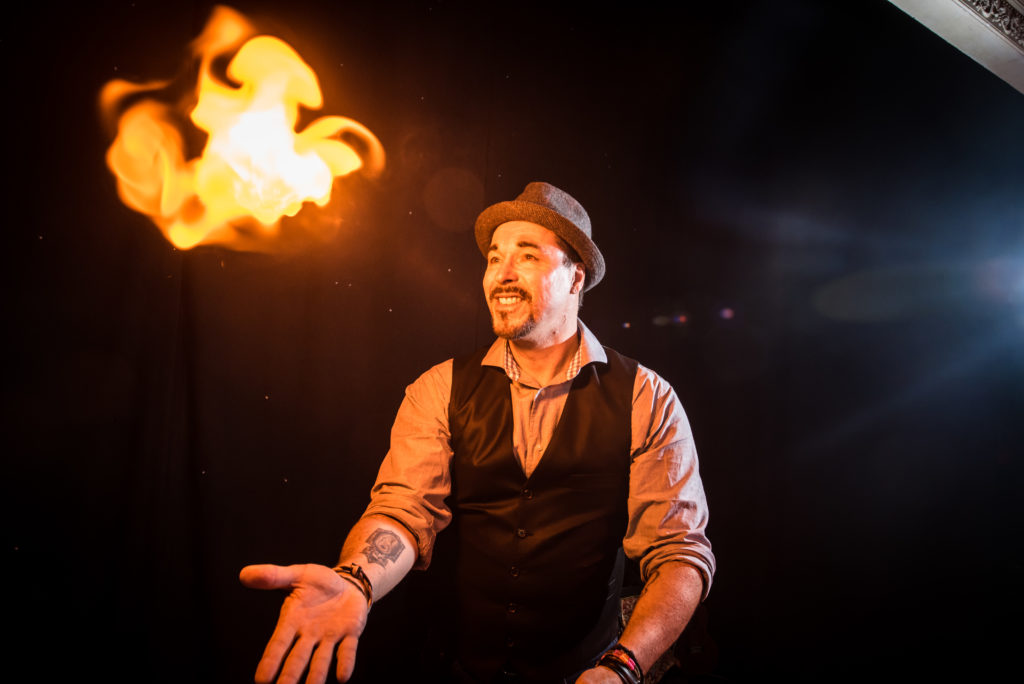 We may have run out of floors, but there's still one last attraction that we need to discuss.
WonderWorks' Outta Control Magic Comedy Dinner Show is a great choice for guests who want to relax and refuel without having to leave the premises. The price averages to about $30 per person and includes unlimited, house-made pizza, popcorn, salad, and beverages, as well as magic and laughs from renowned performers (each has been recognized and praised by the likes of USA Today, the Travel Channel, and, even, America's Got Talent). While the cuisine is limited compared to I-Drive's other offerings, it may still be worth it for you and your family.
–
Overall, my fiancee and I walked away happy with our experience at the strange, upside-down laboratory from the Bermuda Triangle. There is enough here for someone to enjoy a day's experience – not to mention it's also educational! WonderWorks is at the top of my list for anyone who's looking for something great for either a date or a family occasion, either rain or shine.
Have any questions or WonderWorks experiences of your own you want to share? Tens of thousands of vacation planners are waiting to discuss the I-Drive area with you in our OI Community. And while you're at it, you can also follow Orlando Informer on Facebook, Twitter, and Instagram for the latest news and tips at Universal Orlando, Walt Disney World, and other Orlando destinations.