Wet 'n Wild Orlando: A water park for thrill seekers and party people!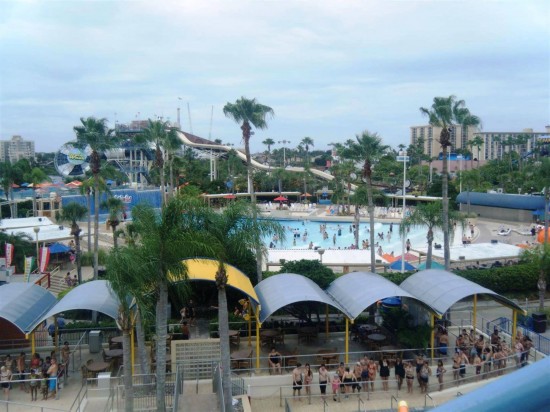 Having recently taken on a huge love for water parks over the last few years, it was time for me to make my first visit to Wet 'n Wild, located on International Drive. I've been visiting the Orlando area for over 20 years and had never been — it was definitely time!
You will want to make note that parking is located across the street from the actual park. It's just a short walk to the park entrance and crossing the street can be easily done at marked crossing areas.
Parking Rates:
Cars, Vans and Motorcycles $12.00
RVs, Cars with Trailers $16.00
Like most water parks, once inside you can rent lockers. Something I really liked was the option to rent a personal locker, well more like a lock box. The locker is just big enough to fit your keys, a wallet or two and a camera or other small belongings. We really liked this option because often times the only things we really need to keep locked away are keys or wallets.
Rental Pricing:
Towels $4.00 + tax
Lockers – Personal Size $5.00 + tax
Lockers – Standard Size $8.00 + tax
Lockers – Family Size $10.00 + tax
Life Vest free
Deposits: There is an additional $3.00 deposit on each rental item, which will be refunded upon return.
After renting a locker it was time to find a chair for the day. We got there early so had no problem finding a nice spot under the palm trees, on a sandy beach!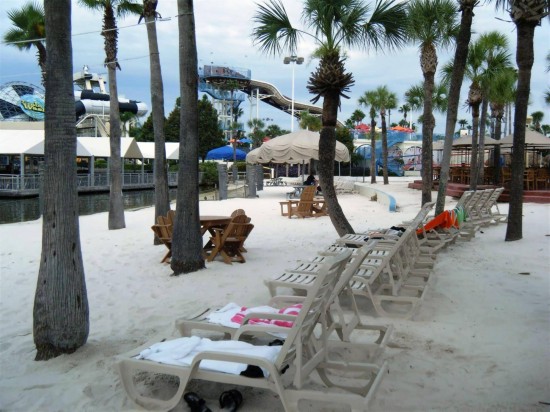 There are a lot of free chairs you can claim, but the park also offers cabanas too. From Wet N Wild's Site:
Relax in and enjoy a cabana set in a lush, tropical oasis on an island surrounded by the Lazy River. Price includes four guests; up to two additional guests for $20 each (six guests per cabana.)

YOUR CABANA EXPERIENCE WILL INCLUDE:

Refrigerator with , three complimentary bottles of water per guest
Towels
A lockbox
Table, chairs and loungers
20% off merchandise at the Breakers Beach Shop

Cabana price does not include park admission; park admission sold separately. Price varies seasonally. Purchase online or at the park. Click on Reserve for availability, pricing and to reserve your cabana today.
After we got situated it was time to get into action! We headed over to DiscoH2O. This is a four-person innertube ride that launches you into a covered "toilet bowl" style slide. Once inside you'll be transported to a party with groovy sounds and disco lights. (Riders must be at least 48″ tall, or 36" tall if riding with an adult.)
I've been on several kind of toilet bowl style slides, but this was like no other! The darkness, mixed with disco lights, music and speed of the slide made for one crazy ride! Everyone on the raft were screaming and laughing the entire time. Check out our on-ride video:
[youtube_video]wpRtkDTdTS8[/youtube_video]
As you explore the park you will notice that a lot of the attractions are multi-person. Wet 'n Wild knows how much people enjoy riding together and they have more multi-person attractions than any other water park around.
Brain Wash is another party style slide. Here you will be seated on a four person innertube and start your journey on this mind altering trip, all leading up to a 53 foot vertical drop into a swirling funnel. (Riders must be at least 48″ tall, or 36" tall if riding with an adult.)
The Black Hole: The Next Generation is a 2 person ride where you descend into dark tunnel filled with explosions of color and sounds. You board through a space ship and blast off into darkness! (All riders must be at least 48" tall.)
The Blast was a completely new type of attraction for me. You board a two person raft and sit facing each other while riding through a ruptured pipeline. Of course, plenty of surprises around each and every turn. Waterfalls and bursting pipes will soak you from all directions. A few of those bursting pipes sure caught me by surprise. (Riders must be at least 48" tall, or 36" tall if riding with an adult, able to swim and control the tube.)
On The Flyer riders board a 4 person toboggan style raft where you glide along 450 feet of turns and curves. (Riders must be at least 48" tall, or 36" tall if riding with an adult.)
The Surge takes you on a 5-story tube ride that carries up to four people down 600-feet of banked turns, twists and dips. (All riders must be at least 48" tall.)
Bubba Tub is a great family attraction. Pile into a 4 person tube and experience a triple drop together. (Riders must be at least 48" tall, or 36" tall if riding with an adult.)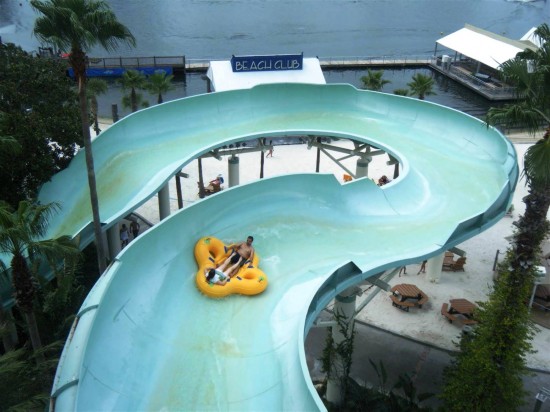 Two of the "solo" attractions we did were The Storm and Mach 5.
I was very anxious for The Storm. It's what a lot of people refer to as a human toilet flush slide. It's a body slide in which you start down an enclosed tube slide and drop into a giant bowl. You spin around a few times at high speed until you lose energy and then fall out a hole in the middle into a misty pool below.
I was not ready for this slide, it really beat me up! Be sure to keep your head back on the tube slide and once in the toilet bowl brace yourself to be dropped into the pool below. I would also recommend plugging your nose. I ended up falling into the pool completely backwards and got a head full of water. It was very disorienting falling into the pool (at least for me it was being dropped in upside down) and there is a lot of mist surrounding the pool area, but the lifeguard is right there waiting for you and will help you out. I was so happy to reach for the lifeguard's hand and be pulled out of that crazy attraction.
(Riders must be at least 48" tall.)
Mach 5 was much more to my liking. For this slide you are supplied a padded body mat (the same kind you use on racing mat slides) and slide down a twisting and turning flume. The slide complex has 3 different courses to chose from. This one is not only fun to ride, but fun to watch everyone as they fly off at the end. You can get some crazy air time along the course before you are launched into the pool at the bottom of the chute. A word of advice for the ladies, watch your tops at the end! I saw many bikini top malfunctions, yikes. (No height restrictions, ability to control a mat is needed. Under 48" tall is required to wear a US Coast Guard approved life vest/flotation device. )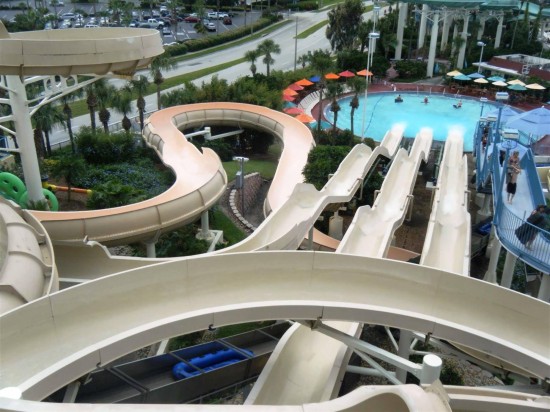 For a more relaxing change of pace you will want to take a dip in the lazy river. Grab a tube or free swim your way trough. You'll pass boat dock replicas, vintage billboards and waterfalls in this relaxing 4 foot deep waterway. (Children and non-swimmers should not be left unattended. All children 48'' tall and under are required to wear a US Coast Guard approved life vest / flotation device while swimming in the Lazy River.)
Currently the children's area of the park is closed, but will re-open this Summer as a brand new sand castle play area featuring over 17 slides, two splash pools and more than a hundred soakers, water jets, cannons and waterfalls. View the press release – PDF file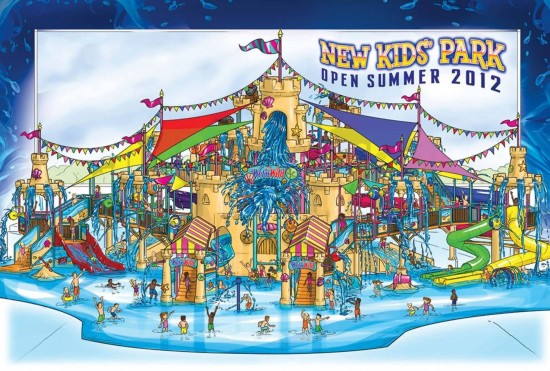 Wet 'n Wild also features The Wake Zone where you can take part in some up charge attractions that you can't experience at any other water park. Here you have the opportunity to Wake Skate, Knee Ski and be pulled around on a big bouncy tube pulled by a personal water craft. The Wake Zone is open May through September, noon to dusk.
If you're looking to have some dry fun, Wet 'n Wild features regulation size volleyball courts, a Tiki Lounge or just spend your day relaxing on one of many lounge chairs!
After a day at Wet 'n Wild we all decided this is a water park for thrill seekers! (Of course there is always room to sit back and relax too.) Though this park is more of a vintage/classic water park, the variety of unique attractions and theming really creates an experience like no other water park I have been to.
Wet 'n Wild Orlando – map & links
Click any marker to display the attraction or venue name. To scroll or zoom, use the controls on the top-left of the map. You may also switch to different map views by using the buttons on the top-right of the map.
Official website: http://www.wetnwildorlando.com/
Wet 'n Wild Orlando – photo gallery
Click any image to view it full-screen. When the full-screen image is open, click to the right to advance through the gallery. If several thumbnails are missing, try reloading this page in your browser.
[sws_author_bio user="jewels" size="105″ authorposts="More OI posts by Julie" name_format="About the author"] [/sws_author_bio]