From the black lagoon: Weekly rumor round-up for Orlando's theme parks
Universal goes Mad Men for its next on-site hotel
This week Universal made a huge announcement involving an upcoming hotel that will be very different than the ones currently on property. The Cabana Bay Beach Resort, sporting a style straight from the 50s, will be the first Universal hotel to offer family suites. It will also be the first not to offer unlimited Express Pass access with the room key. (Visit this OI blog post to learn more about the new hotel.) While the subject of cost and space versus perks will be debated over the coming year or so until the resort is actually built, what's more interesting is that this could just be the first step into what could become a much larger Universal.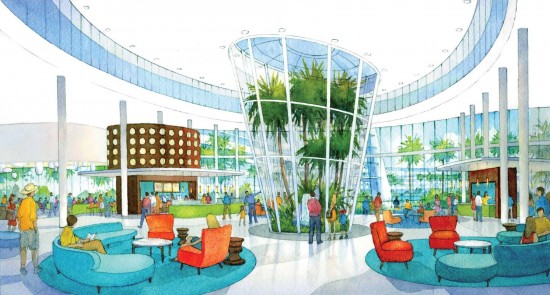 Rumors are going around that Universal is in the hunt for obtaining more property in the area. While there has been talk for a long time of Universal possibly opening up a third gate, the more likely options would be another hotel or moving things currently backstage to a new area. The upcoming Harry Potter expansion could wreak havoc with the backstage area, especially at Universal Studios — but if these facilities could be moved to another area? Bring on a working Hogwart's Express!
I'm betting Universal will be following what happens with Disney's Art of Animation resort and how they affect people staying on property. Unlike other on-site hotels, many of the people coming to the Art of Animation were probably going to be staying off Disney property because of the considerations of space. If Disney finds a huge increase in the amount of people that used to stay off site coming to stay at Art of Animation, you can be sure Universal will fast track another resort with family suites.
Wet 'n Wild 'n ready for an update
Universal seems to be taking a close look at Wet N' Wild this year, most likely to see if there's enough there to turn Universal park's red headed stepchild into a legitimate player. Already some money has been used to open the new play area Blastaway Beach, but Wet N' Wild is still a long way away from being considered a top level water park along the lines of Disney's Blizzard Beach and Typhoon Lagoon, or Sea World's Aquatica.
While Wet N' Wild is the granddaddy of all water parks in Orlando, its age is now showing and it needs a facelift in the worst way. Comcast has shown it is more than willing to put money into the Universal machine, sparing no expense in the recent additions including the new Despicable Me ride, the Cinematic Spectacular lagoon show, and even the Hollywood Drive-In mini-golf. A redesigned Wet N' Wild, better themed to tie in to Universal Studios and Islands of Adventure, would give Universal a legitimate third gate without the huge risk of another new park investment (which Disney has learned the hard way several times, most recently with California Adventure).
The possibilities for a re-themed Wet N' Wild could make some Universal fans very happy. All those Jaws fans upset about the attraction closing at Universal Studios would surely love an "Amity" area. This could be a great opportunity to get a classic Universal Monster involved (with the Creature from the Black Lagoon.) and maybe even a lazy river attraction set to accurately recreate the Kevin Costner movie Waterworld, where you drift slowly for three hours and ultimately end up dissatisfied. Universal Studios, where you RIDE THE MOVIE!
Silent Hill Horror Nights
There's good buzz going around that another creepy franchise could have a haunt at Halloween Horror Nights this fall. We've speculated that the mega popular The Walking Dead could be on their way, and joining them may be Silent Hill (based on the video game and movie franchise). Like The Walking Dead having its new season begin during the same time frame as HHN, Silent Hill has its first sequel "Revelation" released in October as well. As many TV and movie companies have learned with the San Diego Comic Con, the demographic going to HHN is the same ones you want to target for shows and movies like The Walking Dead and Silent Hill. Getting good licenses with good scares is a classic win-win-win (copyright Michael Scott) scenario. It's good for Universal, it's good for the companies to get their product out in front of an ideal fan base, and it's good for consumers to get quality thrills from the brands they know.
Agree, disagree, or have your own rumors to share? Leave a comment below. Or, check out all of our rumor posts.
Cabana Bay Beach Resort – photo gallery
Click any image to view it full-screen. When the full-screen image is open, click to the right or use the right arrow on your keyboard to advance through the gallery. If several thumbnails are missing, try reloading this page in your browser.
[sws_author_bio user="derekburgan" size="105″ authorposts="More OI posts by Derek" name_format="About the author"] [/sws_author_bio]