More 'streetmosphere' characters coming to Universal and Disney
One thing that both Universal and Disney seem to believe will help the parks is the addition of more streetmosphere characters. These are the people who, in character, interact with guests throughout the park. Right now the most well known group of streetmosphere characters are the "Citizens of Hollywood" over at Disney's Hollywood Studios. Disney felt they were such a success that they immediately wanted to kick off the newly remodeled Buena Vista Street at California Adventure by bringing in steetmosphere actors. Universal has also had streetmosphere actors along the construction walls of Harry Potter phase two, possibly to interact with guests during a stretch of the park with not much to see, and also possibly to make sure guests aren't taking pictures over the walls.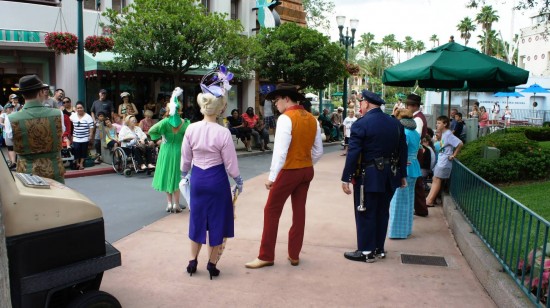 Despite both parks doing as much as possible to remove "the human element" from the attractions, it's clear that streetmosphere characters will be a bigger part of both companies in the future, not less. Universal has already tested out having wizards and witches as streetmosphere characters in the Wizarding World of Harry Potter, and there's a good chance we'll get a lot more of that once phase two opens.
Tink & Periwinkle
And speaking of new characters in the parks, Disney has a new Tinker Bell straight to DVD movie being released on October 23rd. In the movie a new fairy named Periwinkle is introduced, and it will be revealed that she is Tink's sister. The movie will show that when Tink and Periwinkle's wings touch, a "magical" glowing effect will appear. Disney hopes to replicate that effect within the parks during meet n' greets with the two fairies, providing what could be a wonderful photo op. What this also means is that Periwinkle will be taking possible meet n' greet time away from other Disney fairies, so if you want autographs and pictures with the ones currently in rotation, get them now because they may become as hard to find in the parks as Darkwing Duck in the future.
By the way, if you really need to learn more, you can visit http://disney.go.com/fairies/. (I think disney.go.com might singlehandedly be keeping Adobe Flash alive.)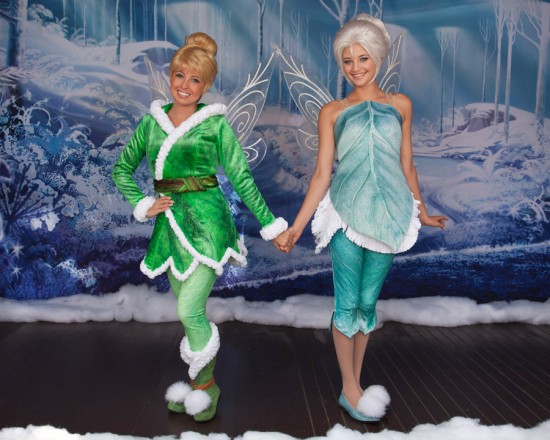 New character dining coming to Universal? Aye Carumba!
Permits were filed recently for some possibly major work to be done of the building which houses the Kwik-E-Mart and the International Food and Film Festival counter service restaurant. The IF&FF is almost always slow and there is some speculation going on that it could be refurbished towards a Simpson's themed environment. Whether it's a playful jab at theme park food with "Krusty Burger" or a "Moe's Tavern" experience, this would also give Universal another opportunity for character meals.
Character meals and dining experiences are one thing that Disney currently blows Universal out of the water on, but it seems that the "new and improved" Universal — the one we've see since being bought by Comcast — is seeing the holes in their game plan and working quickly to fill them up. Families with kids love character dining experiences, and Universal has had very little for years and almost nothing outside of breakfast. Dining experiences are huge money maker and you'd have to have your head in the sand not to see the explosion in popularity of meet n' greets at theme parks. Heck, if Universal made something where this was the only place where you could meet such classic Simpson's characters such as Comic Book Guy, Radioactive Man, or Itchy & Scratchy, you'd see adults with no kids signing up! The IF&FF also sticks out like a sore thumb now being in between The Simpson's Ride and the Kid Zone. Something much more "fun" or cartoon orientated would be very welcome in this area.
Agree, disagree, or have your own rumors to share? Leave a comment below. Or, check out all of our rumor posts.
[sws_author_bio user="derekburgan" size="105″ authorposts="More OI posts by Derek" name_format="About the author"] [/sws_author_bio]