Rumor round-up for Sept 28, 2012: WWoHP expansion, Revenge of the Mummy reboot, Art of Animation evolution
If Potter 2.0 is coming, what does it mean for WWoHP?
This week Universal unofficially unveiled the first step in its Harry Potter expansion by allowing people to walk by the waterfront area that will eventually look like a fantastic recreation of London's Victoria Embankment. While we have speculated what will be popping up in this area, when it is all completed what will happen to the WWoHP over in Islands of Adventure?
It's rumored that a new Ollivander's wand experience show will take a page from Disney's playbook on the new Mickey Mouse meet n' greet at the Town Square Theater in Magic Kingdom. That is, instead of just queuing for just one show, as guests now do at IOA, the new Ollivander's show building would house multiple experiences at the same time. This drastically cuts down the wait time and allows guests to spend that time in the new gift shops or buying lunch at the Leaky Cauldron. But if Ollivander's is over in the London side of Harry Potter (as it was in the books), it makes sense that Universal wouldn't need a lower capacity version in WWoHP.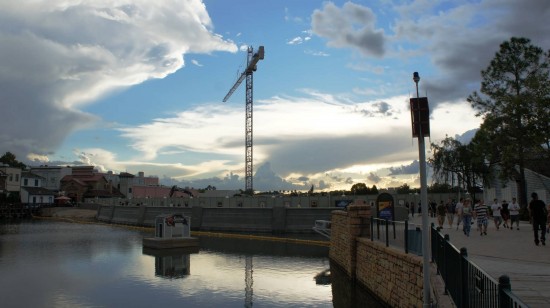 It has been said that Universal Creative has also figured out how to create the "magic feast" that is discussed in the Potter books. This would create a dining experience like no other, and could possibly be what Universal will need over at IOA to draw crowds back once USF has Transformers and Potter 2.0. Surely Universal execs are watching carefully at Disney's roll out of the Be Our Guest restaurant in the new Fantasyland expansion as that will be a good test as what Orlando theme park guests want in a dining experience and what type of money they are willing to spend on it.
Will the Hogwarts Express experience bring crowds back to Dragon Challenge? As Dueling Dragons, this ride was one of the most popular at IOA, but once it was converted for the WWoHP there have been minimal waits. Part of the reason is that the ride is almost hidden from view and very easy to walk by as guests are taking in the wonder that is Hogsmeade Village. The rumored Hogwarts Express ride will have guests on a train going right by Dragon Challenge. While we don't know what guests will or won't see, Universal must figure out a way to get people on that ride, or consider using that large space for something people will go to.
With Hogswarts castle just a few steps away, it's impossible for Universal to be able to show off the incredible castle that is used for Dragon Challenge. One of Hogsmeade Village's most notable places in the Potter books is the Shrieking Shack, and that theme may work better in that area in terms of driving people towards one of Florida's best coasters.
Changes at Revenge of the Mummy now and the future
Riders at Universal Studio Florida's Revenge of the Mummy have possibly noticed the small improvements that have been made in the form of projections becoming much sharper. It's rumored that an upcoming refurb to the treasure room sequence will make a spectacular sequence even better. But could even bigger changes be coming down the road? Over in Hollywood there is a lot of buzz building for an upcoming reboot of the Mummy franchise. Targeting a 2014 release, a new Mummy movie looks to be much more serious and without the whimsy of the Brendan Fraser trilogy (that Revenge of the Mummy is almost unofficially part of). A new film may also give Universal a reason to apply some small tweaks to Revenge of the Mummy, making at least the queue videos and ride ending a bit darker in tone.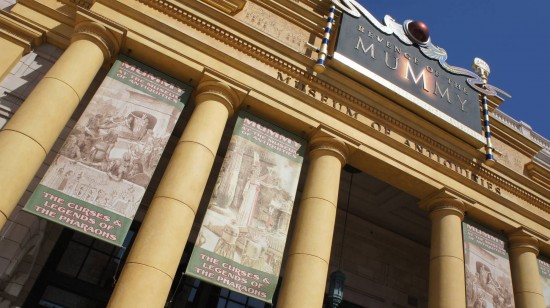 Art of Animation to take over Pop Century?
One rumor out there is the elaborately themed Art of Animation resort may extend over the Generation Gap bridge and start transforming the Pop Century hotels into an extension of the AoA. While the Pop Century hotels will not have the popular family suites that Lion King, Finding Nemo, and Cars bring to table (not to mention the Cabana Bay Beach Resort that Universal is building) having a more immersive theming allows Disney to charge a higher per room price and keep the All Star resorts as the Value hotels for people booking for price and price alone.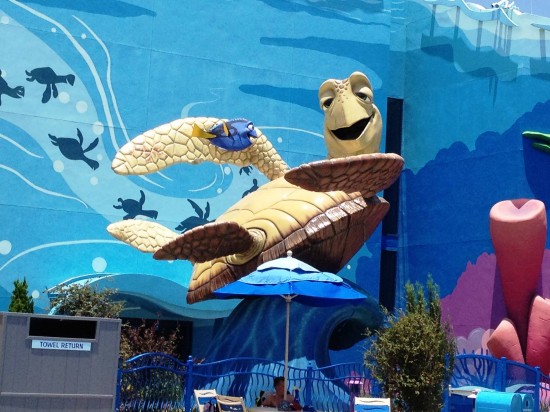 There's also a company wide move towards having more specific merchandise. Whether it's the popular food and t-shirts flying off the shelves at Cars Land in California, to the Art of Animation branded merchandise at the Ink and Paint shop, guests are much more likely to spend their money on something unique. What will be interesting is to see which movies Disney uses if they go ahead with this plan. If the Monster's Inc 3D re-release and the Monster University movie next year put a lot of money into the Mouse's coffers, that could be one of the four. You have to think a Pirates of the Caribbean hotel would be a big hit, and while they would probably never do it, the concept art years ago showing a Haunted Mansion themed hotel room make a theme park fan boy salivate the idea of entire Haunted Mansion themed resort!
Agree, disagree, or have your own rumors to share? Leave a comment below. Or, check out all of our rumor posts.
[sws_author_bio user="derekburgan" size="105″ authorposts="More OI posts by Derek" name_format="About the author"] [/sws_author_bio]