We'll need to see your wand as identification…
Visitors to Universal Studios Florida are seeing a lot of construction, all of it moving at a rapid pace. In the former Jaws area of the park the construction went vertical a couple weeks ago with what some are speculating will be part of King's Cross Station. Recently a much bigger structure has started to go up and it looks to be the show building for the anticipated Gringotts Wizarding Bank thrill ride. Like Harry Potter and the Forbidden Journey, the Gringotts attraction is expected to have a huge show building attached, one that Universal Creative is going to have a challenging time hiding from guests.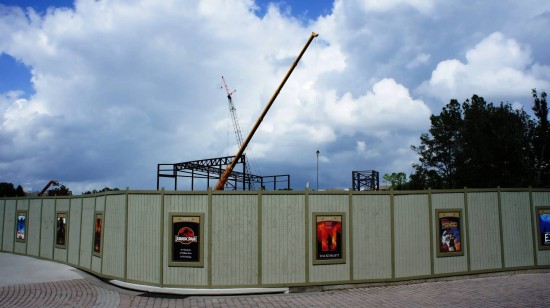 The view on the World Showcase Lagoon
Disney scored a major win when it opened the La Hacienda de San Angel table service restaurant as part of the Mexico pavilion at EPCOT. Sitting along the World Showcase Lagoon, it is a perfect location for guests to enjoy a relaxing meal and a chance for the best seat in the house for fireworks. Word is two other countries are also looking to move towards the lagoon, with Japan kicking around the idea of a sushi-themed dining experience and France putting in a Meet n' Greet location.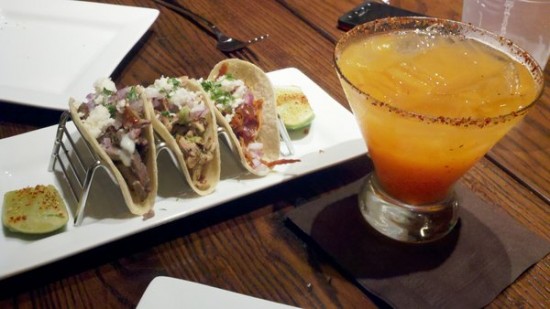 While anything on the lagoon is almost guaranteed to draw in guests, there are some who think any addition actually detracts from the tranquil atmosphere, as well as making it even more challenging for guests to find a good spot to watch Illuminations. If Disney retains the quality of experience guest are getting at La Hacidenda, it's hard to complain, but they also have a recent track history of putting possible profits above "the experience" (see the heated debate over Disneyland replacing the elaborately themed windows on Buena Vista Street with regular merchandise — here's one example).
OI fun fact: Did you know this site's review of La Hacienda de San Angel was Dan's very first OI blog post?
Latest on Pandora
This week social media blew up as an article by an entertainment website IGN gave readers the impression that James Cameron's World of Avatar would be delayed at Animal Kingdom. However, other sources indicate that the article was written by someone probably more in touch with the movie business than the theme park industry. While work has gone slowly, especially compared to the construction Universal is doing for what we expect to be Transformers and a Harry Potter expansion, insiders say Disney Imagineers are proceeding with an Avatarland and it has remained on schedule with the dates they expect internally. While the original scope of a version of Pandora in Animal Kingdom may have been cut down, it's coming to a fanbase that has been — at best — apathetic to the idea.
Legoland expansion?
We know of Disney's FantasyLand expansion, and we see all of the construction work being done at Universal Studios, but another Florida theme park is also moving forward with a big expansion for 2013: Legoland. Permits filed with the state show that Legoland is moving forward with a pirates themed expansion. Guests can look towards the Legoland in California for a sneak peek at what is coming but it seems heavily based in play areas for kids of all ages, with of course the requisite gift shop and restaurant components.
From all accounts Legoland has not been a huge smash success so far, but it has plenty to offer to families on vacation. For those with small kids who enjoy Mickey's Not-So-Scary Halloween Party hard ticket events, you may want to check out Legoland in October as each weekend features Brick-or-Treat trails for kids to get candy, a LEGO pumpkin patch build, costume contests & more, and it's all included with the price of a standard ticket (official event info). This is all in addition to the big announcement of Star Wars coming to LegoLand later this year in the form of a new Miniland and the ongoing construction of an on-site hotel.
If you have kids between the ages 2-12, seriously consider adding Legoland to your Orlando vacation. And you'll be happy to know that OI has a touring plan.
Exclusive Sorcerer's of the Magic Kingdom cards
Speaking of Disney's Mickey's Not-So-Scary Halloween Party, this year's event may have an exclusive spell card for the Sorcerer's of the Magic Kingdom game that will be given out free to party-goers. It's been an exciting year for SotMK in that the interactive game was just opened in February of this year and has already introduced a version to play at home as well as launching packs of cards that guests can buy (previously, SotMK cards were available only by signing up for the game at the Magic Kingdom). Rumors have gone around that Disney will also debut exclusive cards for other "events" in the company, such as the official opening of New Fantasyland, Mickey's Very Merry Christmas Party, and possibly for movie opening's such as Wreck It Ralph and Monsters University.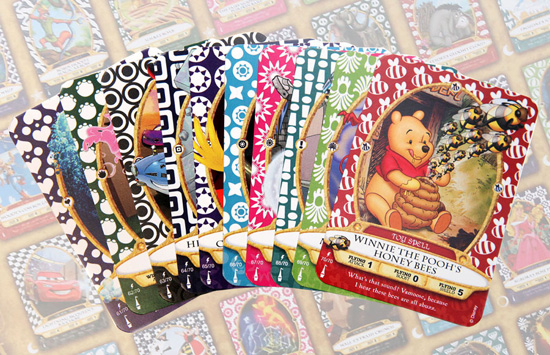 Packs have been selling out fast and the more limited edition cards have a hefty resale value on eBay. Look for the special event MNSSHP to go up quickly in price on the after market as Disney seems to be controlling fan interest in this card game much better than they have done with Vinylmation.
Agree, disagree, or have your own rumors to share? Leave a comment below. Or, check out all of our rumor posts.
[sws_author_bio user="derekburgan" size="105″ authorposts="More OI posts by Derek" name_format="About the author"] [/sws_author_bio]