Cabana Bay Beach Resort
Universal's fourth on-site hotel has begun to show some life as prep work on the Cabana Bay Beach Resort is starting to become very noticeable. Much like the work being done at Universal Studios Florida on the rumored Transformers and Harry Potter expansion, it seems construction crews are working at lighting speed to get Universal's first "value" resort up and running for 2014. Documents filed with the state of Florida make it appear that the first buildings being built will be for the new family suites with phase two down the road bringing the value priced standard guest rooms.

While Universal is keeping most details tight to the vest, they have announced that Cabana Bay will not have the water taxi service or the Express Pass privileges that the other on-site hotels run by Loews have as benefits. It's been rumored that guests will possibly share some of the other perks for staying on-site including one hour early access to the parks, priority seating at select restaurants, and complimentary delivery of merchandise to the hotel rooms. With Cabana Bay targeting families, it's not too much of a reach to expect character dining to possibly have a bigger presence there than at the other three hotels.
Booking a Universal vacation: Enter the land of confusion
One thing to keep an eye on over the next few years will be: how much attention Universal puts into simplifying the experience of planning a Universal Orlando Resort vacation. We've talked in a previous column about the near maddening amount of time it can take to explain the various "front of the line" passes Universal offers to every guest (including Express Pass, Express Pass Unlimited, and Q-Bot) and I personally had a frustrating time this week trying to figure out exactly which combination of tickets would provide the best Halloween Horror Nights experience for when I go later this month (Express Pass? Stay and Scream? Thursday ticket vs. Sunday ticket? Coca Cola discount, etc — although I got some help from OI's admission guide).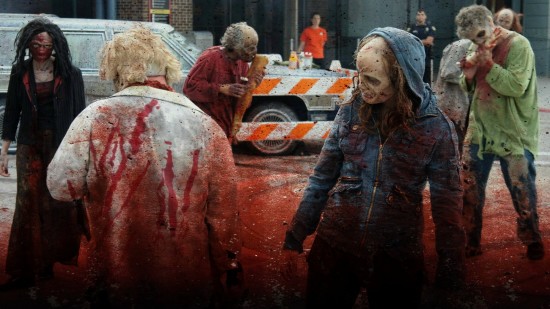 There's plenty to say about Disney, both good and bad, but they do a much better job at making it easier to plan a vacation. I'll be doing Mickey's Not-So-Scary Halloween Party as well this month and it took literally one minute to buy tickets for that. I'm not saying that's the perfect system, but there has to been something in between Disney's "dumbed down" system where everyone is the same and Universal's labyrinth of choices. This may get even MORE complicated in the coming years because a rumored Hogwarts Express train connecting IOA and USF may force Universal to do away with their 1-day 1-park ticket or any ticket that doesn't include access to at least both areas of Potter. There's no indication that Universal even understands how confusing all of this can be for a family who is trying out the parks for the first time, and pity the poor Team Members working at the ticket sales counters in a couple years if the Perfect Storm of this mess comes without any change.
Editor's note: Now would be a rather opportune time to mention that the site you're on right now, OrlandoInformer.com, is the world's largest and most up-to-date Universal Orlando vacation planning resource. So if you're planning a trip, this is about the best place you can be. See the over 200 pages of info we have available here, or learn about signing up.
What if your smartphone runs out of juice?
The Walt Disney World Company is going all in on cell phone technology in the theme park world. While Universal seems to be putting its cash onto next level attractions such as Transformers: The Ride and the Harry Potter expansion, Disney is putting a lot of money into the infrastructure of its resort, including making the park experience smartphone friendly.
Free wifi has started to roll out into the Disney parks, and the recently launched My Disney Experience app (Android, iPhone) will allow guests to see wait times, making dining reservations, and opens up a whole new world of being able to potentially drive guests to places in the parks that aren't busy (such as a push notification giving a guest 20% discount off a meal at a specific restaurant within a two hour window). With that great technology comes an obvious road block, what happens when your smartphone goes dead and there is no easy way to charge it in the parks?
Battery life is a constant battle with many smartphone users, and being able to charge your phone in the parks is almost impossible. Followers to OI's Twitter feed this week saw a picture of what Mall at Millenia in Orlando is doing (photo displayed below) along with other malls, airports, and others places with high foot traffic: installing electronic charging stations.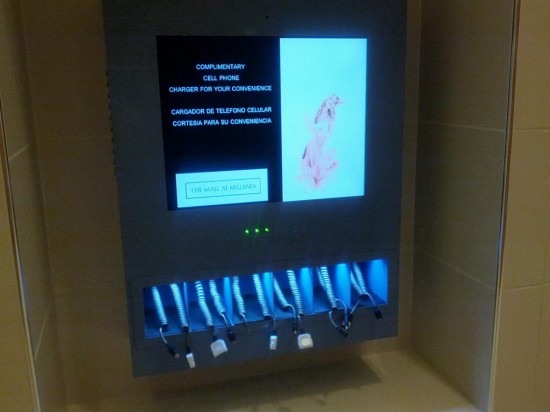 There's strong buzz that Disney is in the process of installing something similar inside their parks. Having charging stations throughout Disney World unfortunately benefits the weirdos that use their iPads to record shows and take pictures, but it will also makes sure Disney doesn't risk guests not having easy access to their FastPass Plus times or dining reservations.
Agree, disagree, or have your own rumors to share? Leave a comment below. Or, check out all of our rumor posts.
[sws_author_bio user="derekburgan" size="105″ authorposts="More OI posts by Derek" name_format="About the author"] [/sws_author_bio]