Rumor round-up for Oct 26, 2012: HHN expansion, Unhappy Hour at New Fantasyland, World of Color, Limited Time Magic
Halloween Horror Nights to expand in 2013
No one can deny that Halloween Horror Nights has been a boon financially to Universal, but this year the scariest thing hasn't been the haunted houses or the scareactors roaming the streets. No, this year the most frightening aspects have been the long lines at the houses and the insanely high prices for an Express Pass (over $100 with tax on some nights).
There have been some extenuating circumstances that caused this problem. One of the soundstages that was being used for a haunted house in previous years was demolished to make room for what we believe will be Transformer: The Ride. The huge amount of construction being done in that area, as well as the former Amity section of the park, are forcing more people into a smaller amount of space. Added on to all of this is that Universal has several very popular properties as haunted houses, including the mega successful Walking Dead franchise, which is breaking records both in television ratings and independent comic books sales.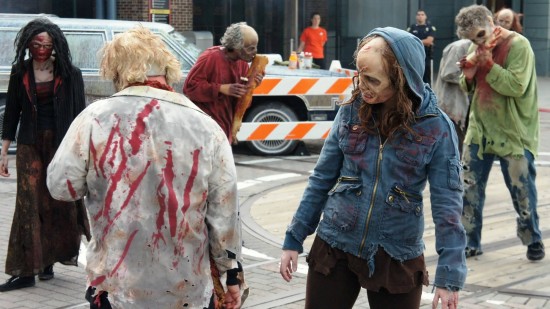 While the opening of Transformers will help to alleviate the congestion in 2013, it's rumored that Universal will once again use Islands of Adventure to help handle the load. IOA was used for HHN in 2002-2005 and was part of a "dual park" HHN in 2004. Interest in Universal is at a record high, and thanks to the success of the Walking Dead and American Horror Story (among other TV and film brands), the American consumer will be chomping at the bit for next year's HHN during Halloween season and using IOA almost becomes a necessity from this point forward.
Wondering what else Universal can do to fix Halloween Horror Nights? Check out the open letter to Universal published on this site yesterday.
An Unhappy Hour at New Fantasyland
As we speculated in a previous rumor mill, Disney has all but opened up the entire FantasyLand expansion area, well ahead of the preview times they announced earlier in the year. Pretty much everything has been getting rave reviews from guests, but as of right now there are not many opportunities for the mega popular meet n' greets. There is Ariel's Grotto, where you can meet the Little Mermaid, and Gaston can be see at Gaston's Tavern, but unit Princess Fairytale Hall is completed (which is scheduled for "sometime in 2013") there is a limited amount of interaction with characters.
One rumor that keeps popping up is an "Unhappy Hour" at Gaston's Tavern. In an interesting twist, Disney villains would make appearances at the Tavern, lamenting about their horrible day thanks the various Disney good guys. You can sort of get a feeling for what Disney is going for with this idea by watching the movie Tangled, which has a great scene at the Snugly Duckling Inn, where Rapunzel gets many a bad guy to follow their dreams.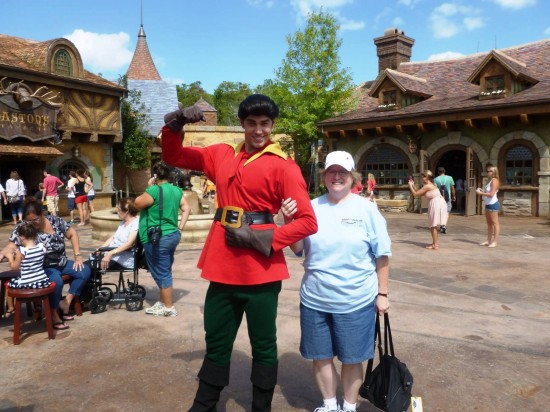 One can picture Capt. Hook and Smee sitting in the bar, talking about how Peter Pan and the Lost Boys escaped them again. Or how about Cinderella's wicked stepmother and step sisters (normally found at the character dining experience at the Grand Floridian's 1900 Park Fare restaurant) walking in and being horrified at such a despicable eating establishment? Disney's great library of movie villains opens up a wide variety of opportunities for this concept and would also be an attraction to get guests with no small children over to New FantasyLand (and encourage them to spend money on food, drinks, and merchandise).
World of Color coming to Disney's Hollywood Studios
There was a little bit of stir in the social media world several weeks ago when Disney held a small media presentation that included the announcement of new benches being installed what was formerly standing room only areas at the amphitheater where Fantasmic is held. There's strong buzz going around that the real reason for bringing in the benches is that the popular World of Color water show from Disney California Adventure will be making it's way to Disney's Hollywood Studios.
I'm a huge fan of Fantasmic. In fact, it may be my favorite nighttime show at any park. But it's obvious the show costs Disney a ton of money with a whole bunch of cast members used during the show. We've discussed many times of how much both Disney and Universal want to eliminate "the human element" as much as they can from attractions, and switching out Fantasmic to World of Color would not only generate a lot of publicity and interest in the short term, but likely cut a lot of expense in the long term.
Limited Time Magic Expansion
It's very early to discuss anything materializing from Disney's 2013 promotion of "Limited Time Magic" (in my opinion one of the all-time worst marketing slogans they have come up with — learn about the announcement here) but there has been a lot of talk that one of the "limited time" ideas being expanded in future years. Disney has announced that one of the weeks for Limited Time Magic (LTM) will be dedicated to "Long Lost Friends," where more obscure characters will come out for meet n' greets. Disney has brought up characters such as Flik (from Pixar's A Bug's Life) and Clarabelle Cow, but there are many others that hardcore guests would love to see, such as Darkwing Duck or the Florida Orange Bird.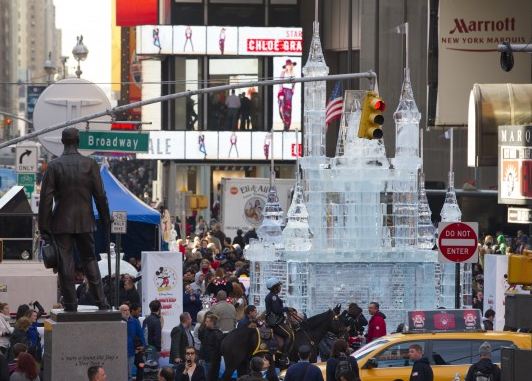 There's speculation that Disney will take this idea and turn it into a recurring event. Disney already has the very successful Star Wars Weekends at Hollywood Studios and Night of Joy at the Magic Kingdom. Until the collapse of daytime soap operas on television, Super Soap Weekend was also a yearly event for over a decade. A Long Lost Friends weekend, or even month, at Hollywood Studios or Animal Kingdom just might be an attendance driver. It also can be used to placate some of the most vocal of Disney's die hard fans.
Agree, disagree, or have your own rumors to share? Leave a comment below. Or, check out all of our rumor posts.
[sws_author_bio user="derekburgan" size="105″ authorposts="More OI posts by Derek" name_format="About the author"] [/sws_author_bio]