Rumor round-up for Nov 23, 2012: Universal's Jurassic Park, Disney's Big Thunder Mountain, Pixarland
The Triceratops is going extinct (again)
Word going around Universal's Islands of Adventure is that the Triceratops Discovery Trail attraction, which has been used very sparingly in recent years, has been shut down for good and will soon be completely removed for a new attraction. The Jurassic Park area of IOA is one of the most well themed areas of any theme park, but it also doesn't have all that much going on. With Jurassic Park 3D being released in April 2013 and Jurassic Park 4 scheduled for 2014, logic dictates that Universal would want to build up this area of the park when America (hopefully) becomes dinosaur obsessed once again.
Like the Mt. Crumpit rumor we talked about last week for Suess Landing, the heavy money right now is leaning on an "amber mine coaster" replacing the Triceratops. Located near the underrated Camp Jurassic (possibly the greatest play areas for kids in any theme park!), the coaster would not be super intense — like Hulk or Dragon Challenge — but more kid and family friendly.
Speaking of changes in Jurassic Park, when are we getting this animatronic Universal Singapore?
[youtube_video]JHKLfm-AmZ0[/youtube_video]
Disney has big plans for Big Thunder Mountain
Big Thunder Mountain at the Magic Kingdom went through an extensive rehab last year, and when it opened up it contained several elements that looked like they were designed for an interactive queue. This week Disney Parks Blog broke the news that the "enhanced storyline" of BTM is based around the character Barnabas T Bullion (who is based off longtime Disney Imagineer Tony Baxter). Also this week came the news from Entertainment Weekly that ABC is developing a show based off the BTM ride.
Normally we at Rumor Round Up would scoff at the idea of a weekly television show based off a theme park attraction, but after Pirates of the Caribbean: The Curse of the Black Pearl, we're open to anything being given a shot with the right people behind it. Both the backstory of the ride and the television show appear to be based off the concept of the mine trains being "haunted," so there's a good chance the two will tie together in some aspects. BTM in Disneyland is also scheduled for a long refurb in 2013, and many believe part of that will be to squeeze in these new interactive elements.
The hat will be coming down? Fan bois rejoice!
Strong rumors coming out of Disney's Hollywood Studios that indicate the Sorcerer's Hat, which is reviled in some fan communities, may be going the way of the obnoxious EPCOT 2000 logo and be removed from the park. The Hat is currently the icon of DHS (replacing the Earful Tower in 2001) and its removal would mostly likely mean a makeover of the Great Movie Ride facade. Right now there is a fantastic reproduction of Grauman's Chinese Theatre covering the Great Movie Ride, but it doesn't look like Disney has the rights to market that image in any form. Since the removal of the Hat would almost immediately make Grauman's the "weenie" of DHS — "weenie" is a Disney term for visual icon, examples include Space Mountain in Tomorrowland, Spaceship Earth in Epcot — a new facade will be needed.
Because of this situation, there are rumors going around that the Grauman's facade would be replaced with a Carthay Circle look that has proven to be popular in Disney California Adventure. DHS already has a small size version of Carthay Circle, so that would need to be changed as well. The New Carthay Circle image could also be the new icon of the park, unless Disney wants to go with something Pixar related…
Pixarland
… Which leads us to discussion of a possible major expansion of Pixar related properties at DHS in the near future. We've talked about the long rumored Monsters Inc coaster, and there has been some recent discussion on what parts of Cars Land would make their way over from Anaheim. We can assume Luigi's Flying Tires is not making the trip to Orlando, but the mega popular Mater's Junkyard Jamboree is a definite. The current buzz is that DHS wouldn't get the fully themed street layout of Radiator Springs, the one that makes you feel like you are "walking into the movie." Why? The ride Radiator Springs Racers has a long segment where you drive through the town of Radiator Springs. When you get off the ride you are right back in the town (where you can walk through it). Story-wise, that makes no sense. So the current thinking is that the Orlando version wouldn't get the walkthrough Radiator Springs as you already drive through it in the ride.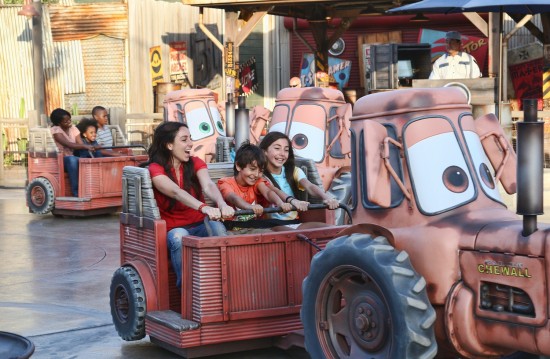 One of the biggest obstacles to more Pixar being rushed into the park is simply logistics. Like California Adventure, DHS was rushed into production and has been getting band aids over the years to keep interest up. Unfortunately, because a long term solution wasn't hatched, the park layout just isn't designed well to keep people moving easily. When you throw in the popular Osbourne Lights, the park at times can be a SWARM OF HUMANITY of people trying to be funneled into small spaces. Major construction of several Pixar projects would make this "fish swimming upstream" problem even worse and would need to be dealt with before attractions can be built.
Agree, disagree, or have your own rumors to share? Leave a comment below. Or, check out all of our rumor posts.
[sws_author_bio user="derekburgan" size="105″ authorposts="More OI posts by Derek" name_format="About the author"] [/sws_author_bio]