Rumor round-up for Nov 16, 2012: Springfield, Seuss Landing expansion, Test Track soft open, Soarin' upgrade
The Great Wall of Springfield
Guests visiting Universal Studios Florida this past week ran into construction walls, and plenty of them. We're used to the walls that travel across where Amity used to be, and we've seen the walls surrounding the Transformers ride for while, but now there are even more walls in the area by The Simpsons Ride. There are walls by the lagoon, in front of the area by the Kwik E Mart and even the International Food & Film restaurant has been shut down with walls put up in front of it.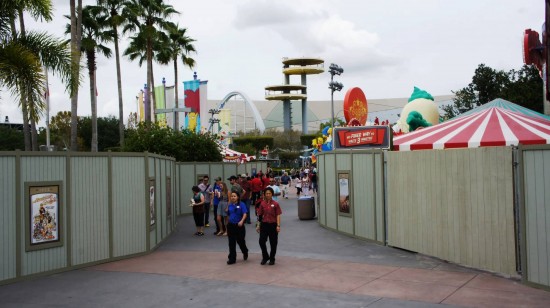 As what seems to be the rule, the new (and improved) team at Universal is keeping their lips sealed tight, but rumors are bouncing around. With the two new E-Ticket rides coming in the form of Transformers and the Gringotts coaster, a ride targeting younger children is more than likely on its way. Something along the lines of Mater's Junkyard Jamboree at Disney California Adventure, themed to the Simpson's Itchy & Scratchy, would be just what the doctor ordered. The IF&F restaurant will be at the very least getting an elaborate overlay, but could be getting an overhaul as well. The buzz going around is the end result being a split between a Moe's Tavern experience and a Krusty Burger counter service.
Opinion is divided on the work by the lagoon. While it could be Simpsons related, others are speculating it could be more targeting an experience designed for the Cinematic Spectacular water show. Disney has begun having specific seating for its parades and fireworks (with a full roll out once FastPass Plus takes over) and Universal may see the financial benefit of having some sort of seating on the lagoon side. There already is a dining package available at Lombard's Seafood Grille, but this could possibly be a "reserved seat-only" deal.
Whoville expands its borders
Many guests have seen activity happening in the area by Seuss Landing lately and speculation is rampant that work has begun on new projects. Unfortunately, almost everything they've seen is just Universal using the space to store parts they'll be using for the Transformers ride. However, there is a still a lot of insiders saying there will be a new ride coming to Seuss Landing. With Transformers, Harry Potter 2.0 and an expanded Simpsons area on the horizon, Universal Studios Florida is preparing itself for a wave of interest that it has never experienced before.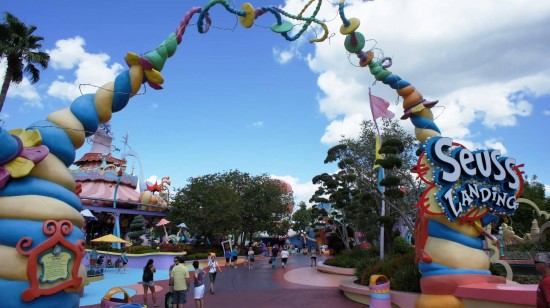 Even though we couldn't imagine this a year ago, when all of USF's projects open it will be Islands of Adventure that will need something to draw the crowds back. The strongest rumor remains an attraction based on Mt. Crumpit, the home of The Grinch. A new kid-friendly attraction in Seuss Landing makes sense for a variety of reasons and certainly wouldn't hurt during the park's popular "Grinchmas" season (starting December 1st). Opinions seem split on whether a Mt. Crumpit coaster would be more in line with the Great Goofini's Barnstormer at Magic Kingdom, or a step up in the thrill department with something along the lines of Big Thunder Mountain.
Test Track soft opening this weekend
Test Track, the popular ride at Epcot that has been closed since mid-April, will possibly be letting guests in for "technical rehearsals" starting this weekend. Scheduled to open on December 6th along with the official opening of New FantasyLand at the Magic Kingdom and the Legend of Jack Sparrow walkthrough at Hollywood Studios, rumors are going around that guests will be able to experience the more futuristic version of Test Track (drawing heavily from the look of the Tron franchise) very shortly. The closing of Test Track left a big hole at Epcot and its opening would take a lot of pressure off Soarin'.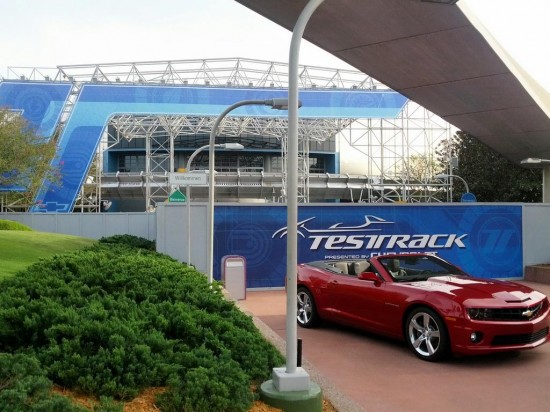 Speaking of Soarin'….
A gigantic hit for Disney from the minute it opened at California Adventure and Epcot, Soarin' is still a guest favorite. But rumors are going around that we may finally see a change in this E-Ticket adventure. Not only will we get a much needed HD upgrade, but we just may get a new "Soarin' Over Fantasy" that has been long in development for the Disney park in Shanghai, China. Instead of taking a hang glider over the state of California, guests would be gliding through various Disney related locales such as Alladin's Agrabah, Lion King's Pride Rock area and Peter Pan's Neverland among others. Think Philharmagic taken to the next level.
Will Splitsville be open in three weeks?!
Going by the picture below, it seems crazy to believe that Splitsville will be opening in Downtown Disney before Spring 2013. However, rumors are going around that Splitsville will be up and running during the big December 6th weekend we discussed above.
Agree, disagree, or have your own rumors to share? Leave a comment below. Or, check out all of our rumor posts.
[sws_author_bio user="derekburgan" size="105″ authorposts="More OI posts by Derek" name_format="About the author"] [/sws_author_bio]