From the black lagoon: Weekly rumor round-up for Orlando's theme parks
The fate of Universal's Soundstage 44
The demolishing of Soundstage 44 is already completed. Possibly the fastest thing to be removed from a theme park (not counting Habit Heroes at EPCOT.) Clearly Universal wanted to fast track this demolition but have been slow to release any details of what may be replacing it. As stated last week, a year-round Halloween Horror Nights-style walkthrough attraction would probably be the best bet (maybe even tie it in with the Van Helsing character), but some are still holding out hopes that the wildly popular Transformers: The Ride 3D will make its way from Universal Hollywood.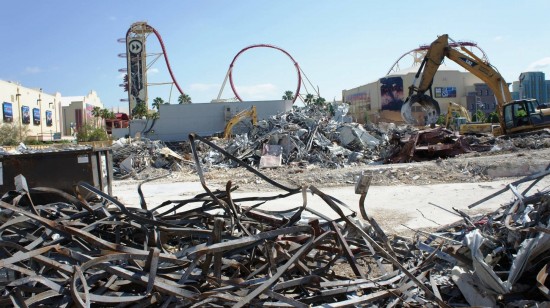 As much as I would love to see the Transformers ride in Orlando (and reminds me of the quote from the Jodie Foster film Contact, "Why build one when you can have two at twice the price?'), it just doesn't seem likely for many factors — including being so close in style to The Amazing Adventures of Spider-Man ride at Islands of Adventure. There have been several ideas which we can definitively say are NOT coming to the area of SS 44 and this includes: A dark ride based on the movie Battleship, a physical building to house the TNA iMPACT wrestling Hall of Fame, or a stage show featuring Cowboys & Aliens: The Musical!
Update: The very latest rumor is that the year-round haunted house idea was set up by Universal Creative as a ploy to identify a leak on their team. Huh. Seems like a little too public of an action to address team member insubordination. If anything is a hoax, I'd say it is the new rumor about the idea being used to identify a leak!
A hero's habits
Speaking of Habit Heroes, the Blue Cross Blue Shield sponsored attraction at EPCOT that was criticized as being too anti-obesity by certain groups including NAAFA (the National Association to Advance Fat Acceptance, not to be confused with NO MA'AM from Married with Children), has still not reopened at EPCOT. While it's doubtful Disney would placate NAAFA with an attraction based around Nathan's Hot Dog Eating Championship, there is a need for something more in Future World now that Test Track is down for a much needed refurbishment. Maybe Blue Cross could sponsor a new video game themed exhibit where kids learn the reality of what happens "after" a fighting game, such as Ken or Ryu from Street Fighter III having to deal with hassle of co-pays and using crutches after a battle.
Learn more about the closing of Habit Heroes via OrlandoSentinel.com.
The Casual Vacancy & The Formal PR Plan
There's a good chance news could be coming soon about what will be included in the Universal's Harry Potter expansion, also known as HP 2.0, also known as Project 722. The reason for this? JK Rowling has her first non-Potter-related book coming out on September 27 called The Casual Vacancy (you can pre-order it on Amazon already). Unlike say, George Lucas, Rowling has a particularly strong hand — in a good way — when it comes to her intellectual property and how she strategically allows that property to be released to the public. In shrewd moves, the anticipation for the Harry Potter book series only grew when she would dole out mere snippets from the books. With a new book on the horizon, look for the announcement of the interactive version of Chamber of Secrets (the second book in the Harry Potter line) on Pottermore as well as the theme park expansion to get people talking about Rowling and increase interest in The Casual Vacancy.
By the way, here's what the old Amity area at Universal Studios Florida looks like now:
[youtube_video]PNX-Gahp3L8[/youtube_video]
To see our photo gallery from the old Amity area, click here.
Price hike at SeaWorld
In SeaWorld news, the price of a single day adult ticket went up $3 this week to $84.99, and there's a good chance when the new Antarctica: Empire of the Penguin attraction is open, they will raise prices to be more in line with one day tickets for both Disney World and Universal. It's almost like watching a nuclear arms race as the Orlando theme parks seem to be in a hurry to get to a $100 per day-per person price point. It's hard to argue with numbers when yearly reports show such huge profit coming from the theme park divisions — SeaWorld had a record year in 2011 — but there's plenty of other entertainment options you can look at for examples of where companies kept raising prices until they got to a point where people just stop buying the product regularly. Once that happens it's much harder to get them back.
What do you think of these rumors? Have any new ones we missed? Leave a comment at the bottom of the page.
Soundstage 44 demolition – photo gallery
Click any image to view it full-screen. When the full-screen image is open, click to the right or use the right arrow on your keyboard to advance through the gallery. If several thumbnails are missing, try reloading this page in your browser.
[sws_author_bio user="derekburgan" size="105″ authorposts="More OI posts by Derek" name_format="About the author"] [/sws_author_bio]