Rumor round-up for Dec 7, 2012: The Simpsons Springfield expansion at Universal, Muppet Vision at Disney
What's coming to the expanded Springfield area?
A while back the rumor mill was buzzing about a Ferris wheel coming to the Springfield area of Universal Studios Florida, but now we are hearing that there will be a new spinner ride that will be located near the waterfront. With two big E-Ticket thrill rides coming to the park —  Transformers: The Ride and the Gringotts coaster in Potter Phase 2.0 — Universal needs a kid friendly spinner ride that will be reminiscent of the popular One Fish Two Fish Red Fish Blue fish located in IOA's Seuss Landing.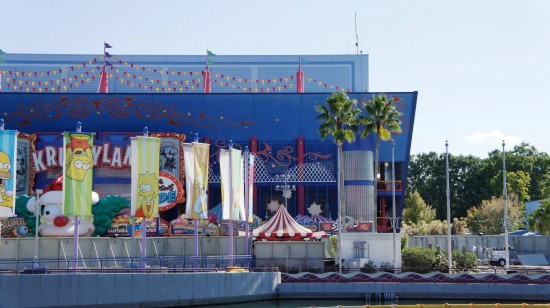 The spinner is rumored to be based among the Simpson characters Kang and Kodos, who make an appearance every year during the popular Treehouse of Horror episode. The two aliens also make a hilarious appearance in The Simpsons Ride reminding guests that "all rides end at the gift shop."
Worst. Rumors. Ever.
The subject of this rumor is a playful tribute to my personal favorite Simpsons character, Comic Book Guy, but it does involve another Springfield rumor. Near the dual Kang and Kodus spinner ride is rumored to be "Duff Gardens," in which guests will be able to get their own Duff beer as they enjoy the waterfront or the Cinematic Spectacular lagoon show. In the Simpsons universe, Duff Gardens is a theme park playfully mocking both Busch Gardens and Walt Disney World, so this move could open up a slew of money making opportunities, in both food/drink and merchandise. CityWalk installed three outdoor "bar" areas within the last year, and this should be a super-sized version of that concept.
[youtube_video]EZBcPIDKyCw[/youtube_video]
What? Even MORE Springfield rumors?!
While we have talked about the destruction of the International Food & Film Festival restaurant bringing us Moe's Tavern and Krusty Burger, there is buzz going around that several other Springfield related eateries will be making their appearance. General Chang's Taco Italliano and Kentucky Fried Panda, part of Springfield's Fast Food District, will possibly be making their appearance in Orlando. Talk about catering to hardcore fans, even if these two "restaurants" only appear as elaborately themed food court-style counter service, it's a level of depth within a brand that you don't see anywhere.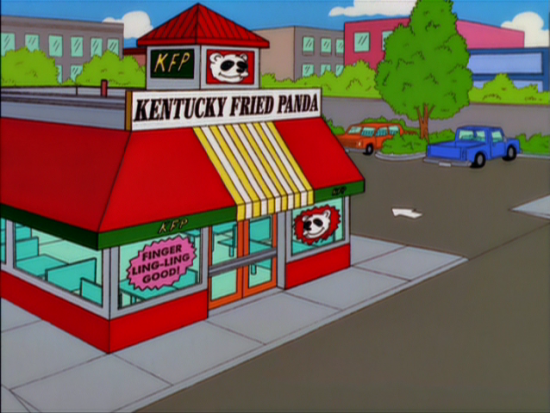 Speculation also abounds about what type of "signature" food and drink all these new locations will have. One of The Simpsons' bread and butter on TV is mocking popular fast food (such as the McRib) or their own original creations such as the Flaming Moe. Right now you can get a "Flaming Moe" and "Buzz Cola" in cans as an energy drink, but Universal would clearly make a lot more money putting them out as real drinks like Butterbeer and Hogs Head Ale. Similarly, some of the food items at Krusty Burger such as The Mad Cow burger, the Clogger, and the world famous Krusty Burger "the unhealthiest food in the world," could soon be in guests hands (and arteries). And of course, instead of the McShake, who wouldn't want to get a Krusty Partially Gelatinated Non-Dairy Gum-Based Beverage on a hot Florida day?! Put me down for two!
If you're a Simpsons fan like I am, the summer of 2013 can't come soon enough. This is almost a dream come true and as impressive as Cars Land is, a truly immersive Springfield environment is something I've been wanting for a long time. To keep up-to-date with the project, be sure to bookmark OI's Simpsons expansion page.
It's time to play the music. It's time to light the lights…
Rumors are heating up again that MuppetVision 3D, which opened in Disney's Hollywood Studios more than 20 years ago, will be getting a new movie to entertain guests. This could be part of a big DHS overhaul that we've discussed in previous columns, which would bring in a scaled down Cars Land and other possible Pixar attractions. People in the theme park industry are still picking their jaws up seeing the financial reward of Disney California Adventure's billion dollar refurb, and Universal is upping the ante in Orlando with several major (and minor) projects currently being built at Universal Studios Florida.
The sticking point to a new Muppets film in the parks isn't that the Muppets theatrical release in 2011 only did "ok," it's more a sense of history as Muppet Vision is the last Muppet property that Jim Henson personally worked on. What is probably going to push the new movie forward is the fact that Muppet Vision just isn't drawing the crowds that it once has. While definitely one of the smartest and funniest attractions in any theme park, everyone has seen the current version of Muppet Vision multiple times.
[youtube_video]Kpr_8IOnLSo[/youtube_video]
What should excite Muppets fans is Disney's new trend of putting multiple "experiences" in attractions using film. Whether it's Star Tours having 54 different ride variations or even the small randomization in the The Legend of Jack Sparrow walk through at DHS or Radiator Springs Racers in DCA, there's a good chance a new Muppet film will offer multiple different experiences encourage guests to keep coming back.
Agree, disagree, or have your own rumors to share? Leave a comment below. Or, check out all of our rumor posts.
[sws_author_bio user="derekburgan" size="105″ authorposts="More OI posts by Derek" name_format="About the author"] [/sws_author_bio]