Something wicked this way comes…
We've talked about the rumors swirling around what's coming to the Wizarding World of Harry Potter Phase 2 and this week we'll examine a couple more. The first is what looks like a possible walkthrough attraction based on the "dark magic" store Borgin and Burkes. Many casual fans of the Potter universe know Borgin and Burkes from the second Potter movie, Chamber of Secrets, as the store Harry Potter was transported to after his first experience with the Floo network. The sixth movie, The Half Blood Prince, also spent a good portion of time at the store as it contained the matching Vanishing Cabinet to the one Draco Malfoy was repairing at Hogwarts.
It's widely accepted that a good portion of the Potter expansion at Universal Studios Florida will be based around the Diagon Alley experience. Borgin and Burkes is located in Knockturn Alley, a shopping area off Diagon Alley, and specializes in stores catering to the dark arts. Voldermort, when he was younger, worked at Borgin and Burkes. The buzz going around is that this attraction will have guests greeted by Mr. Borgin (it's doubtful Mr. Burke will be involved as he has "disappeared" in the Potter continuity created by JK Rowling) and given a tour of the establishment. Guests will also be encouraged to interact with the store's curiosities, which will surely include the Hand of Glory, a skeleton hand that came to life and surprised Harry Potter (and the audience) during the Chamber of Secrets film.
Piggybacking of the success of the Olivander's Wand experience at Islands of Adventure and Disney's Enchanted Tales with Belle (which is drawing huge crowds at the Magic Kingdom), a walkthrough attraction based around Burgin and Burkes seems to provide more of the elaborate themed interactive experience the "average" theme park guest seems to want instead of the E-Ticket thrill ride many hardcore guests want. One thing is for sure, a gift shop selling "dark magic" items like bloody cards, Death Eater masks, "cursed" jewelry and even a working Hand of Glory will have many a Potter fan checking the available limit on their credit cards.
Will Arthur Weasley be guiding muggles through the Potter Expansion?
We've reported on the rumors about the filming going on in England involving Potter stars Helena Bonham Carter (who played Bellatrix Lestrange) and Rupert Grint (Ron Weasley). While they will surely be used in the Gringotts Bank coaster attraction, word is going around that another star will be used to provide the "story" on why muggles (non-magical people AKA Universal guests) are being allowed to walk through the Wizard and Witch-only areas of Diagon Alley.
Mark Williams, who played Ron Weasley's father Arthur Weasley, would be the perfect fit in a role that would explain why we would be able to get a glimpse of this magical world. In both the Potter books and movies, Arthur Weasley is fascinated by non-magical humans and also happens to work for the Ministry of Magic. Arthur's lack of knowledge regarding how regular items work (not unlike the Little Mermaid's Ariel trying to understand a fork) would make for some hilarious videos, and he is hands-down the perfect character to use for pre-ride safety videos.
When will we get the news of a New & Improved Downtown Disney?
Big rumors circulating in the last week are saying that we are getting closer to Disney announcing something that's been needed for a long time, a huge overhaul for Downtown Disney. Word is that a "What's Next?" presentation was scuttled at the last minute. Whether the holding back is because a major partner backed out, or Disney wants a time when the news won't be overwhelmed by the updates on their other major projects (New Fantasyland, Test Track, even Splitsville in Downtown Disney itself), those in the know say it is going to be sooner rather than later when the official word is given. One rumor many have hoped would be true seems to be on the way: a dedicated Downtown Disney ramp off of I-4.
Besides the ramp, another rumor seemingly coming true is a parking structure that will help alleviate the madness that is trying to find a spot at Downtown Disney on any even semi-busy night.
What isn't coming? Hyperion Wharf, which was originally announced two years ago this month:
[youtube_video]kunkCHdI4pw[/youtube_video]
FastPass Plus is coming. ARE YOU NOT ENTERTAINED?!
More FastPass Plus (FP+) testing has been going around The World and word is getting out on what is possibly going to be changing. Get ready for Disney related social media to have a meltdown when certain members of the WDW community begin to realize how they will be on the outside looking in when everything comes to fruition. In fact, WDW's upcoming promotion Limited Time Magic seems strangely catered to appealing a small amount of people, but it could be a pre-emptive strike to quell what will almost surely be a large outcry from those very same guests.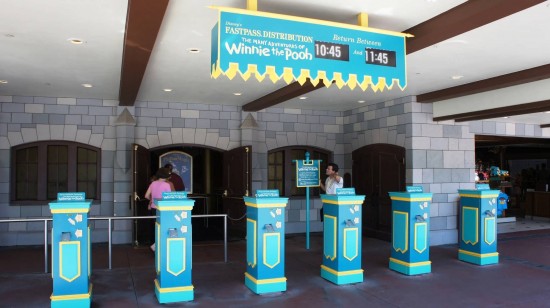 Buzz is building that it's when not if regular FastPass is discontinued. While many average WDW tourists – especially from out of the country – don't take advantage of FastPass, a very high percentage of the Florida residents who regularly go to WDW build their touring plans around it. The full roll out of FP+ seems to be giving those staying at hotels on Disney property access to what we think of FastPass today. Deluxe guests will get a chance to book 6 – 8 attractions using FP+ while those staying at Moderate or Value resorts will get less. FP+ will allow all of these guests the opportunity to book the attractions they want to visit weeks and even months in advance. Disney says that day guests (including local residents) will be given a chance to use the FP+ program at kiosks within the park, but with many of the popular attractions and times already claimed by on-site guests, exactly what will be available to those who are used to knowing how to work the system and have minimal waits? One tip: bring some Excedrin Extra Strength because you're going to need it.
Agree, disagree, or have your own rumors to share? Leave a comment below. Or, check out all of our rumor posts.
[sws_author_bio user="derekburgan" size="105″ authorposts="More OI posts by Derek" name_format="About the author"] [/sws_author_bio]