A Nighttime Spectacular for Islands of Adventure
My favorite rumor in a while started catching fire this week as word got out that Universal has been having pyro tests in the lagoon at Islands of Adventure after park closing. With Universal seeing the benefits of the Cinematic Spectacular lagoon show over in Universal Studios Florida, especially making almost immediate plans to install new viewing areas and install better food/drink locations, a show at IOA would do everything that Cinematic Spectacular was designed to do at USF.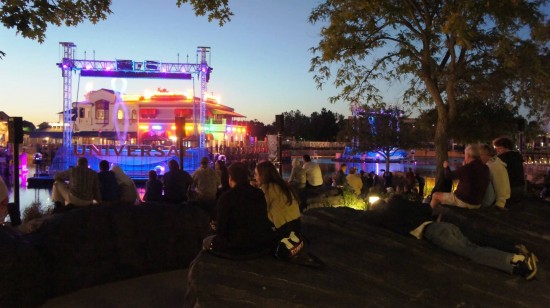 When the Wizarding World of Harry Potter opened at IOA, it changed guest patterns at the Universal parks. Many went straight to IOA, and deservedly so as WWoHP is the gold standard in a theme park experience. Because of this Universal needed to draw people back over to USF. Now, thanks to all the great things USF has already done (Despicable Me Minion Mayhem, the new kid-friendly Universal Superstar Parade, Cinematic Spectacular) and all the unbelievable things coming (Transformers: The Ride, WWoHP Phase 2, The Simpsons expansion), it doesn't take a crystal ball to see that Universal will once again need something to "balance the tides" once people start immediately rushing over to USF instead of IOA. A lagoon show and several of the other rumors we've talked about in previous rumor round-ups (including new additions to Jurassic Park and Seuss Landing) would give the Universal Orlando Resort a heck of a 1-2 punch!
Never too early to be scared
Let's look at a couple rumors already floating around for 2013's Halloween Horror Nights. Members of Universal Creative have released some cryptic clues via social media and the official HHN website (before it reset itself to its current place-setter status). Early word is that we are almost assured to see another house based on The Walking Dead, almost assuredly taking place in the Disaster queue again and probably based on the prison setting in AMC's The Walking Dead season 3. While Universal doesn't make a big habit of "returning" houses, the crowds and merchandise sales that Walking Dead brought with it all but demand it be brought back.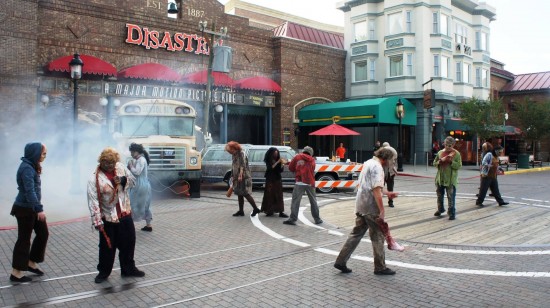 Like the Silent Hill house last year, and The Thing the year before, speculation is out that another house at HHN 23 could be based on an upcoming movie. Rob Zombie's next film, The Lords of Salem, will be released in 2013, and there is a natural tie in with horror and Zombie as his House of 1,000 Corpses movie was used for a maze at Universal Studios Hollywood. The selling line of The Lords of Salem is "residents of Salem, Massachusetts are visited by a 300-year-old coven of witches." Like that concept isn't SCREAMING to be a HHN house!
One more rumor going around is that a haunted house could be based around a Civil War theme, which would be cool in general but definitely given a little boost thanks to the recent video game Assassin's Creed III doing blockbuster business using the revolutionary war as a backdrop. There's definitely money to be made in combining historical fact with horror fiction, something Abraham Lincoln: Vampire Hunter the book discovered and the movie based on the book didn't (for various reasons, including that it probably played the concept too safe and not crazy enough). Also, think of the potential merchandise sales in both Union and Confederate designs.
Jedis of the Hollywood Studios
One new rumor worth talking about is the possibility of a Sorcerers of the Magic Kingdom game being developed for Disney's Hollywood Studios, and it could be based around the Star Wars franchise. The success of MK's card-based game has been astounding and the expansion pack of cards (available for $11.95) have been flying off the shelves at a rate that rivals both Vinylamation and pin sales.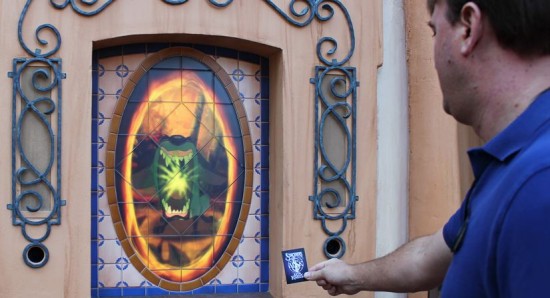 Installing a SotMK-like game at the Hollywood Studios, specifically based around the Star Wars universe accomplishes two goals: 1) Keeps guests busy instead of waiting in long lines. This could be invaluable if, say, a large portion of the park goes into construction like MK had with New Fantasyland and Storybook Circus being built. 2) Booster pack sales would bring in significant income, especially if it involves LucasFilm branded characters.
And just as MK has done special cards available exclusively during special events such as Mickey's Not-So-Scary Halloween Party, imagine the amount of extra people Disney could drive towards Hollywood Studios if a special "Indiana Jones" or "Donald Duck as Stormtrooper" cards were handed out on nights when the Osbourne Family Spectacle of Dancing Lights take place or during Star Wars Weekends. All of Disney's NextGen technology is being used to increase efficiency in driving guests towards attractions, restaurants, hotels and even parks themselves and a Star Wars based exclusive product could help Disney push guests towards Hollywood Studios and away from parks such as MK or EPCOT that may be busier.
Agree, disagree, or have your own rumors to share? Leave a comment below. Or, check out all of our rumor posts.
[sws_author_bio user="derekburgan" size="105″ authorposts="More OI posts by Derek" name_format="About the author"] [/sws_author_bio]