From the black lagoon: Weekly rumor round-up for Orlando's theme parks
Is that Downtown Disney's Characters in Flight balloon floating over Animal Kingdom?
There have been rumors going around that Walt Disney World has been doing some early site work over at the Animal Kingdom for "James Cameron's World of Avatar." This may have possibly been confirmed recently with pictures of land survey balloons floating over AK and reports of longtime Disney executive Joe Rhode (lead Imagineer of the creation of AK) being in town. Despite a Disney investors conference call early this week not mentioning about future plans, this is the first sign since the original announcement that work on bringing Pandora to Orlando are moving forward.

Will the coming of a James Cameron movie to the theme parks bring the leaving of another?
We've seen it at all the parks. Both Disney and Universal seem to be going out of their way to reduce cast members on the attractions. Rides like the Jungle Cruise have been grandfathered in, but whether it's removing JAWS (and it's skippers), or putting a recording on Universal Studios' Disaster or EPCOT's Living with the Land instead of an actual person, one of the ways to cut costs is to eliminate "the human element," so to speak.
One of the attractions that has a huge budget dedicated to actual people is in T2:3D: Battle Across Time at Universal Studios. There is a person in front of the audience in the pre-show, and four others during the main show. It is a fantastic spectacle. There was nothing like it when it opened in 1996 and there isn't much you can compare it to today. However, the attraction is now a bit long in the tooth (best seen in the pre show where a young Shaquille O'Neal is used for a good gag), and the operational costs are through the roof.
[youtube_video]1l_XWkyRsjs[/youtube_video]
With James Cameron working closer with Disney, will Universal finally go through with what it has internally discussed for a while, and replace T2:3D? The footprint for the show building is quite large, allowing for many options. While a lot of work is already being done at the studios for the rumored Transformers: The Ride and the Wizarding World of Harry Potter phrase 2, we could see a replacement in this spot sooner rather than later.
Will Autobots "roll out" to battle the Little Mermaid?
During the investor conference call we talked about above, Disney finally announced the opening of their Fantastyland Forrest. December 6h is the official opening date, with "previews" starting in November. Universal has shown a tendency lately to try to scoop Disney by officially opening an attraction near one of theirs (see Transformers: The Ride opening very close to Cars Land out in California) or even unofficially stealing some press (rumors still buzz that Universal "leaked" plans of WWOHP phase 2 early on December 31st, 2011, to steal some thunder from Disney's "One More Disney Day" announcement.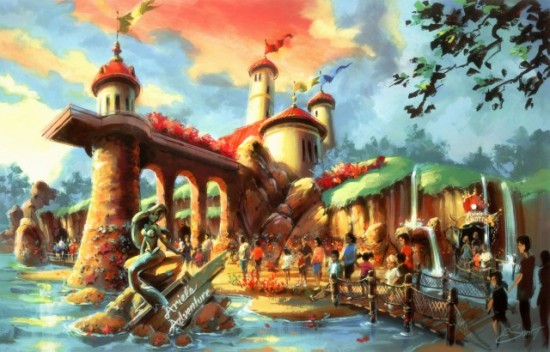 This is a huge moment for Disney, and one that fans have been looking forward to for years. Major attractions, restaurants, and "experiences" based around The Little Mermaid and Beauty and the Beast will finally be available in the Magic Kingdom. Some are speculating this is the perfect time for Universal to officially announce that a Transformers attraction will be coming to Orlando. Both Optimus Prime and Bumblebee (in their truck and car forms) were in California for the debut at Universal Studios Hollywood, will they be driving cross country to make an appearance in Orlando this fall?
"Now, eventually you do plan to have some dinosaurs on your dinosaur tour, right?"
Development on the next Jurassic Park sequel is moving pretty fast through Hollywood, with the writers from the surprisingly well done Rise of the Planet of the Apes movie attached. At last year's Comic Con, Steven Spielberg said we would have JP4 in two or three years. Spielberg can occasionally have a loose tongue, as he may have accidentally spilled the beans on Transformers: The Ride coming to Orlando earlier this year as well, long before anyone assumed it was a done deal that the ride would come to Florida.
With a new JP movie coming out, buzz is out there for a major refurbishment to Jurassic Park at Islands of Adventure, bringing with it another major ride. There is a lot of room available in that section of the park, and besides a new attraction, there is major opportunity to turn River Adventure from a "very good" flume ride to "right up there with Splash Mountain as an all time classic," and you start by adding some more dinosaurs into the mix.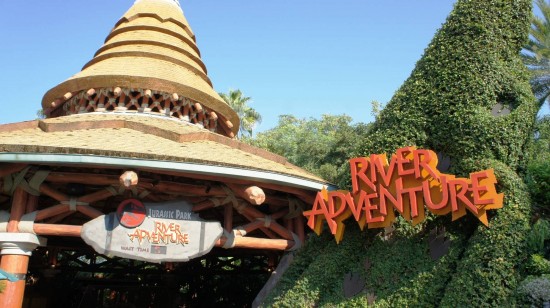 Agree, disagree, or have your own rumors to share? Leave a comment below. Or, check out all of our rumor posts.
[sws_author_bio user="derekburgan" size="105″ authorposts="More OI posts by Derek" name_format="About the author"] [/sws_author_bio]