Rumor BUSTER for Oct 19, 2012: More monorail, a new Disney park, and Universal sells Marvel rights
Today we're going to look at some of the biggest rumors circulating over the last few years that most people would love to have, and my theory as to why they won't happen.
More monorail at Walt Disney World
Who doesn't love the monorail? It's one of Disney's greatest "attractions" and it doesn't cost a penny to get on. Being one of the "monorail resorts" allows Disney to charge a huge premium to hotel guests. For years theme park fans have wanted Disney to expand its use of the monorail system and rumors have been circulating about that very possibility.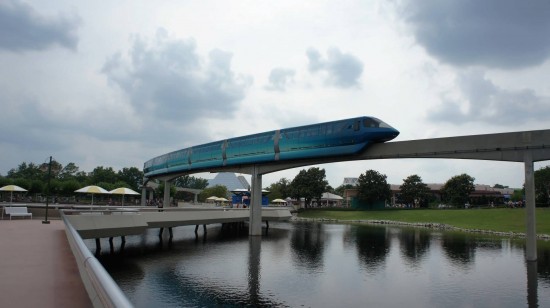 Some say the monorail should go to Disney's other Deluxe resort, Animal Kingdom Lodge, so that it joined the Contemporary, the Polynesian, and the Grand Floridian with this luxury. Others see areas allegedly "put aside" for monorail use by the Swan & Dolphin hotels as well as the Saratoga Springs area. Unfortunately for all of us the simple fact is that it is way too expensive to expand the monorail in 2012 for such a little return on investment.
Most people accept that it cost Disney about $1,000,000 a mile in today's dollars when they originally built the monorail system that we know and love. The problem is, it would probably cost closer to $100,000,000 a mile to build new track today. And because Disney doesn't charge for riding the monorail, the only money it would be saving is having to run less busses. For a company where even the most diehard Disney Fan must agree that they count pennies at every opportunity, expanding the monorail makes zero sense financially.
A fifth gate at the Mouse House
Adding a fifth theme park to Walt Disney World's portfolio one of the bigger rumors that has been circulating for almost as long as I've been going to the theme parks. One of the most popular versions of of the rumors: Disney creating a park dedicated to its villains. Here are a couple roadblocks preventing what would surely send many a Disney fan squealing in delight.
First, whether they will admit it publicly or not, Disney dropped the ball big time on the last three parks it built in North America and had to drastically change a fourth. Disney California Adventure just needed a billion dollar makeover to get attendance up to where Disney thought it would be when the park opened a decade ago. Many see Disney's Hollywood Studios and Animal Kingdom as "half day parks" (which you pay a full day price for). And even the fondly remembered EPCOT Center needed major adjustments on the fly to turn it into the cash cow it is today and not the "edu-tainment" park that turned many people off.
Second, there's no indication that adding a fifth gate would do anything but take away from Hollywood Studios and Animal Kingdom. The creation of more parks (including water parks) were done with the intention of keeping people on property, but studies show people are still going to Universal, SeaWorld and Busch Gardens and try to spread out their "Disney time." So past history would indicate that rather than adding an extra Disney Day to their vacation, a fifth gate would just make many guests skip one of the current gates, or leave parks early to go to another one.
It all adds up to a realization that Disney would probably be much better off putting money for a fifth gate into what it has on property already. Instead of having Magic Kingdom overloaded with rides and is a Must Do for everyone on vacation, build up the other parks and really get guests into the mentality of "no one does theme parks like Disney." (Along this line, see what I think Disney needs to do with Hollywood Studios.) We could be a short time away from Universal overtaking several Disney theme parks in attendance, which should be the kick in the butt that Disney needs to up their game.
Universal gives up the rights to Marvel
This could always change if a sweetheart deal came along, but in my mind Universal would need the theme park equivalent of the Louisiana Purchase to give up the rights to Marvel characters on the east coast. Universal made Marvel characters a signature part of their theme parks when no one wanted them. The buzz behind Spider-Man, X-Men, and the Avengers was almost non-existent outside of the comic world when Islands of Adventure opened. Now they just may be the hottest properties going, with money coming in from all sorts of areas such as Hollywood and the toy aisles.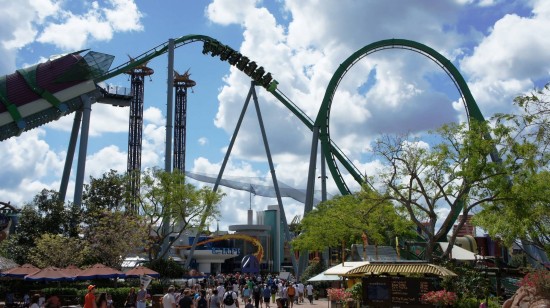 So now that the rest of the world wants to see Marvel characters… Now that boys want to dress up like Hulk and Captain America for Halloween… Now that Joss Whedon has signed on for Avengers 2 and all but guaranteeing Marvel Films will be able to print money again…that is the time for Universal to give up their rights to these red hot characters and turn them over to their competition?! I don't buy it.
The X-Factor in this is, Disney may feel desperate and has as much money as anyone to burn. They watched their in-house characters become almost irrelevant in pop culture and were forced to make billion dollar deals to get their hands on the intellectual property of Pixar and Marvel. It will be interesting to see how New Fantasyland works out in terms of what demographics it appeals to. Midway through the expansion Disney realized it was going way too far in the direction of younger girls, so Pixie Hollow, an Enchanted Tales with Belle-like experience with Cinderella and Sleeping Beauty, were jettisoned for Storybook Circus and The Seven Dwarves Mine Train. Was that enough? No one is better at data mining than Disney, and if they see a severe lack of interest for boys and young men, the checkbook may be brought out.
For those unfamiliar with the legalities of the Disney / Universal / Marvel saga, here is a fascinating article from the Orlando Sentinel.
Agree, disagree, or have your own rumors to share? Leave a comment below. Or, check out all of our rumor posts.
[sws_author_bio user="derekburgan" size="105″ authorposts="More OI posts by Derek" name_format="About the author"] [/sws_author_bio]