Rumor round-up for Oct 12, 2012: Tim Burton characters, Disney's Magic Bands, New Fantasyland dress rehearsal
Will Disney bring Frankenweenie back to life?
Disney was hoping for a big showing from the recently released Frankenweenie, but unfortunately the movie landed with a thud at the box office. After the home run of Alice in Wonderland (and least in terms of revenue), Tim Burton's 2012 of Dark Shadows and Frankenweenie did not perform as expected. However, there's word going around that Disney feels the Tim Burton brand is something people will come back to down the road, using The Nightmare Before Christmas as proof. Like Frankenweenie, Nightmare was a stop motion animated film with a "dark" sense of humor attached. They both can appeal to kids and adults, but also can grab the type of teenager or young adult that would mostly be turned off by Disney animated films.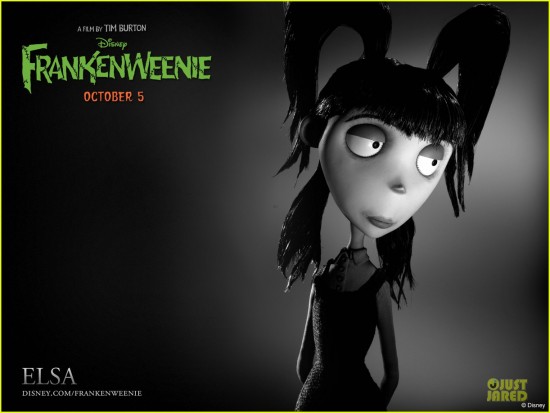 Recently Disney brought the Jack Skellington and Sally characters from Nightmare to Downtown Disney for meet n' greets. To say these were a success would be an understatement as lines were reported to reach two and three hours. Many of these people in line weren't families with young children, they were young adults with no children, just the type of demographic Disney wants to reach for their retail arm. Look for a big Frankenweenie push in the parks next year around this time as Disney tries to serve a market that is a little too old for Mickey's Not-So-Scary Halloween Party but doesn't want the scares of Universal's Halloween Horror Nights.
The Magic Band is coming
In previous rumor round-ups we've gone over Disney investing in future technology, and one of the places that are betting heavily in is RFID (Radio-Frequency Identification). Guests who have stayed on-site at Disney have seen the RFID in use at hotels, as the normal keys that you would push into the door and pull out and have been replaced with keys you just hold up to the door to unlock it. Disney may possibly replace all ticketing and hotel access with RFID wristbands in the future, something that has been done for awhile now at all-inclusive resorts and even major events such as Coachella music festival in California.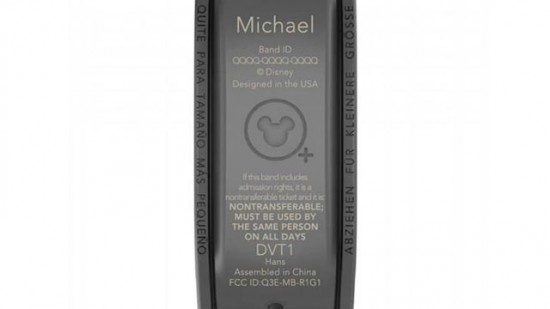 Once Disney rolls out the wristbands, expected them to be called Magic Bands. You can also expect a follow up to include other options for an extra charge. Not unlike the ability to purchase vanity license plates for your car, Disney will have different styles of Magic Bands available to those who want to spend the money. Different colors and pictures of characters on the bands seem to be the most obvious first choices. Sure you can have a regular Magic Band for no cost, but wouldn't little Jimmy like to have a picture of Mickey Mouse or Captain America on his? Disney could even go appease their hardcore fanbase, who will probably be the ones objecting to this new technology the loudest, by offering niche characters or designs appealing to them, such as Mr. Toad or the logo to Horizons.
New Fantasyland soft openings
Not long ago Disney started beta testing the Enchanted Tales with Belle attraction, to many rave reviews. Now word is going around that another major piece of the upcoming Fantasyland expansion will also start letting people into the doors for some soft openings. The Be Our Guest Restaurant looks to be in the process of training its staff, and while the official grand opening is December 6th (with previews occurring in late November) there's a good chance guests will be sampling the menu as early as this month.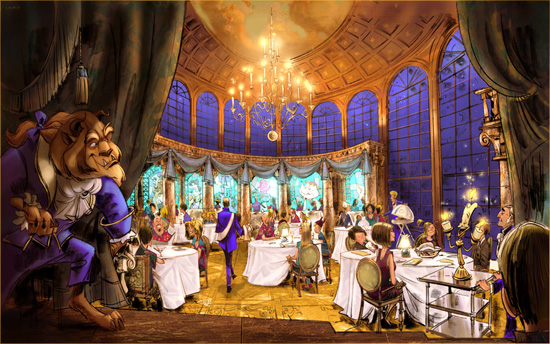 Several weeks ago, Disney started taking reservations for Be Our Guest for dates December 6th and afterward, but many people spent hours on the phone as Disney did not appropriately staff for the huge amount of guest interest. Having a surprise soft opening would be help Disney get back some goodwill after that debacle and if guest response is great, it could generate some last minute trips to the Magic Kingdom during the first two weeks of December as people get excited.
Update: Today Disney opened The Little Mermaid ride and Belle's Village — two major sections of the Fantasyland expansion — to regular guests as part of its very first dress rehearsal. We couldn't make it (come on, we were at HHN late last night), but Attractions Magazine has a nice blog post about it.
More adventure coming to Adventureland
Walt Disney World may be getting a new interactive experience that is beyond what Sorcerer's of the Magic Kingdom, or even Agent P's World Showcase Adventure at Epcot are delivering to guests. This new game would allow guest to travel through Adventureland and have various encounters in attractions such as the Jungle Cruise and Pirates of the Caribbean, as well as show elements throughout the entire land. While both SotMK and Agent P are free (although booster packs of SotMK cards can be purchased), an upcoming experience in Adventureland may be an additional cost.
Here's what we know. We know that the Magic Kingdom seems to be getting busier by the day, and the upcoming opening of the Fantasyland expansion is surely going to swell the gates with people wanting to sample the new offerings, and could be a huge boon to attendance if everything is on the high end of expectation. We also know that Disney is going to cut back on the number of FastPasses available to regular guests as they start implementing FastPass Plus. We these facts in mind it's reasonable to assume Disney is going to want to put more small things in the park so that guests have options other than being stuck in long standby lines.
Agree, disagree, or have your own rumors to share? Leave a comment below. Or, check out all of our rumor posts.
[sws_author_bio user="derekburgan" size="105″ authorposts="More OI posts by Derek" name_format="About the author"] [/sws_author_bio]