If the primary focus of your Orlando vacation is going to be Walt Disney World, you've got a big decision to make. Staying on resort property has some great perks – and a higher price tag, to match. Staying off-site, meanwhile, is full of options, but will your vacation be as magical?
Disney World hotels, as well as off-property accommodations, run the spectrum from no-frills motels to posh five-star resorts – and hundreds of other choices in between. Here are five things you need to consider when deciding between staying on- or off-site on your next vacation.
A quick reminder: The various hotels at Disney World
First, though, let's quickly review that there are hotels that are owned and operated by Disney, and those that are not, both located on Walt Disney World Resort property. Those that land in the former category have the possessive "Disney's" at the start of their name, such as Disney's Pop Century Resort; those that are in the latter camp don't, like the Walt Disney World Swan and Dolphin.
Those third-party venues include the Disney Springs-area resorts, which are within walking distance of Disney's dining/shopping/entertainment district. There's also the Bonnet Creek hotels, which are not walkable to any Disney destination but which are conveniently located on the edge of Disney World real estate. There's also the aforementioned Swan and Dolphin, which are operated by Marriott, and, finally, there is the Four Seasons Orlando at Walt Disney World.
1. Location matters, especially drive time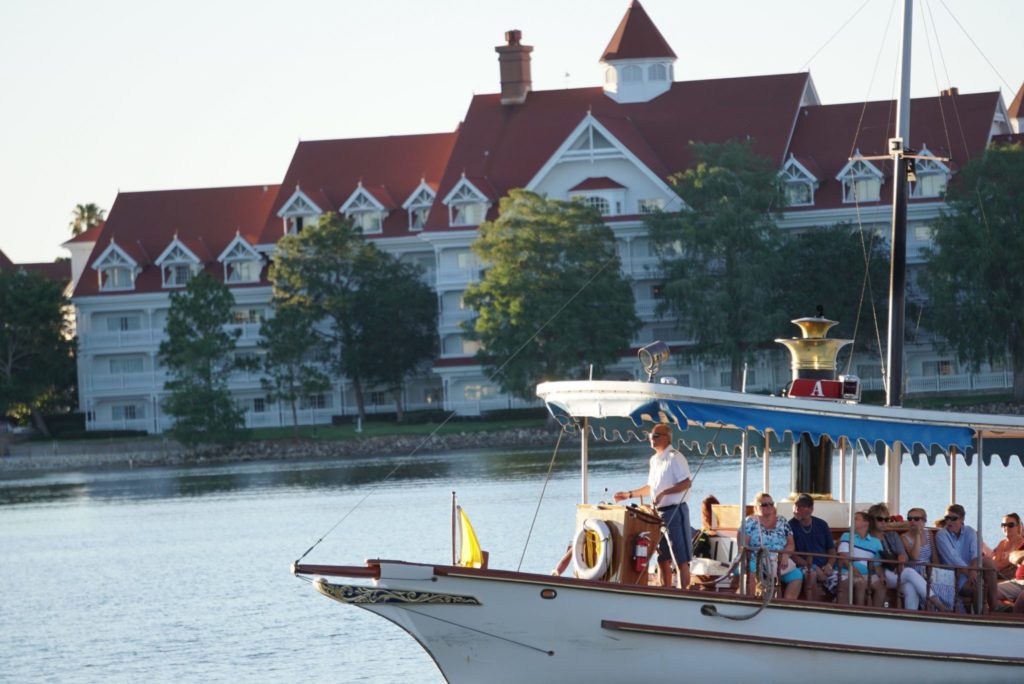 Bargain-priced accommodations outside of Walt Disney World Resort are abundant – you can find some good deals out there. Be sure to spend some time researching two important things: drive time and reviews. The latter will give you a sense of what the venue excels at, and what needs improvement. Pay close attention for any frequent mentions about cleanliness.
For drive time and location information, my preference is to take the hotel's address, plug it into Google Maps, and get directions to Disney. Then I take it a step further and get directions to the specific theme park(s) that I plan to visit; Magic Kingdom, for example, is at the eastern side of the resort, while Disney's Animal Kingdom is on the western. Your hotel's location in relation to each specific park can change your drive time by as much as 15 minutes – and, sometimes, more.
Even if you're not renting a car, you'll still want to consider these commute times if you plan to use either a ride-share or any bus transportation that your lodging provides – after all, even if you aren't the one driving, you'll still be on the road. Be sure to check if your chosen resort will require you to utilize Interstate 4 at all. During peak seasons and, even, peak times of the day, traffic can get backed up on this major highway.
If you stay on Disney property and aren't going to visit other Orlando attractions, you won't need a rental car. Between Disney buses, boat transportation, monorails, and the Disney Skyliner, it's fun to get around, and it's all included at no additional charge. (Note that, once 2022 begins, Disney will no longer offer Magical Express, its service that provides bus transportation to and from the Orlando International Airport. Mears, which is the largest transportation company in Orlando and which was contracted by Disney to run Magical Express, is working on its own replacement, called Mears Connect.)
If you stay off-site, you'll want to weigh the costs of renting a car versus utilizing ride-share services. To check ride-share prices, use either the Uber Price Estimate Tool or the Lyft Fare Estimator. Just don't forget to factor in tips for the ride-shares, or at least one full tank of gas for car rentals (you can check local Orlando area gas prices ahead of time, just to be as thorough as possible).
Some off-property hotels do offer transportation to and from Disney World, but keep in mind that in almost all cases it is not as convenient, nor does it run as regularly as it does at the Disney resorts. Some venues include this service in your base price, while others charge a daily fee to access it. Disney transportation runs every few minutes from before the parks open until well after they close. And the bus terminals for Disney's hotels are much closer to each park entrance as compared to the non-Disney ones.
2. There are still some perks at Disney resorts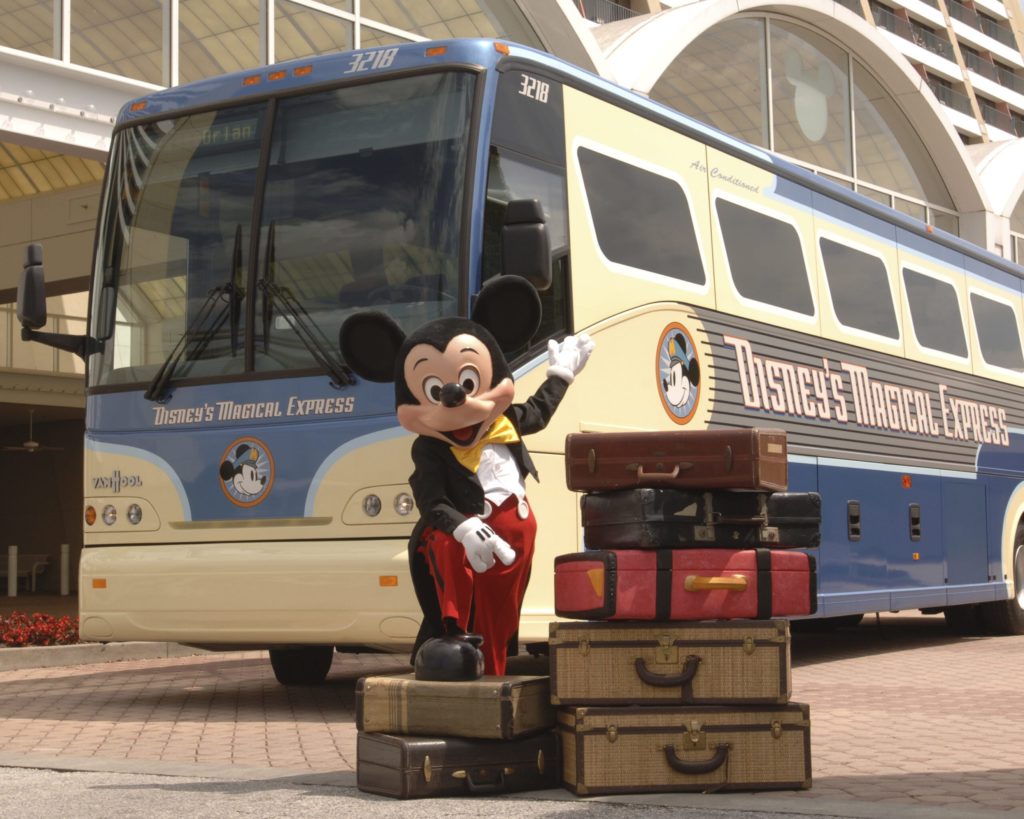 It is true that some of the big benefits of staying at a Disney property are no longer being offered to guests. Disney's Magical Express will be gone in 2022, as we've just discussed. Extra Magic Hours, in which visitors had extra time in the parks in either the morning or evening, depending on the day, is no longer. And the extra booking window for FastPass+ isn't in play since FastPasses have not come back following the March 2020 pandemic shut down.
So, what perks are there, really? One that some folks overlook is the ability to book dining reservations not just 60 days out, but for the length of your stay, as well. This means that those staying at a Disney resort can get a few days – or, even, a few weeks – of a head-start on their off-site counterparts to gobble up the choicest of reservations. And on-site individuals can also use the My Disney Experience app to check in for their stay and get notified of their room number via their phone. Then, once their room is ready, they can go straight there and unlock it with either the app or a MagicBand – no need to wait in line at the front desk to get a key.
Disney hotel guests can also have their purchases that were made within the parks shipped back to their lodging's gift shop for pick-up the next day. This way, you don't have to lug your items around – or risk forgetting to come back at the end of your theme-park day to buy everything. (This feature was temporarily suspended following the COVID-19 shutdown, then brought back, then suspended again, so be sure to check the status when you arrive.)
Finally, later this year Disney will grant its hotel guests an extra 30 minutes in each park every day. While a half-hour doesn't sound like much, it can make a big difference in giving you a head start – when off-property visitors are finally let into the park, there will already be lines forming at most attractions.
3. Check – and compare – all the fees
Here's a quick-but-important one.
Some off-site accommodations charge a nightly "resort fee" that is above and beyond the base room price – and it's not optional. The resort fee normally covers your use of facilities at the hotel, such as the pool, wifi, etc. Sometimes parking is included, and sometimes it's an additional charge.
While Disney-owned hotels do not have a resort fee, they do, in fact, make you pay for parking. The price is determined by resort type:
Disney value resorts: $15 per night
Disney moderate resorts: $20 per night
Disney deluxe and deluxe-villa resorts: $25 per night
And just so you're aware, Disney Vacation Club members receive complimentary parking at the hotels, while resort guests receive complimentary parking at the theme parks.
4. Dining options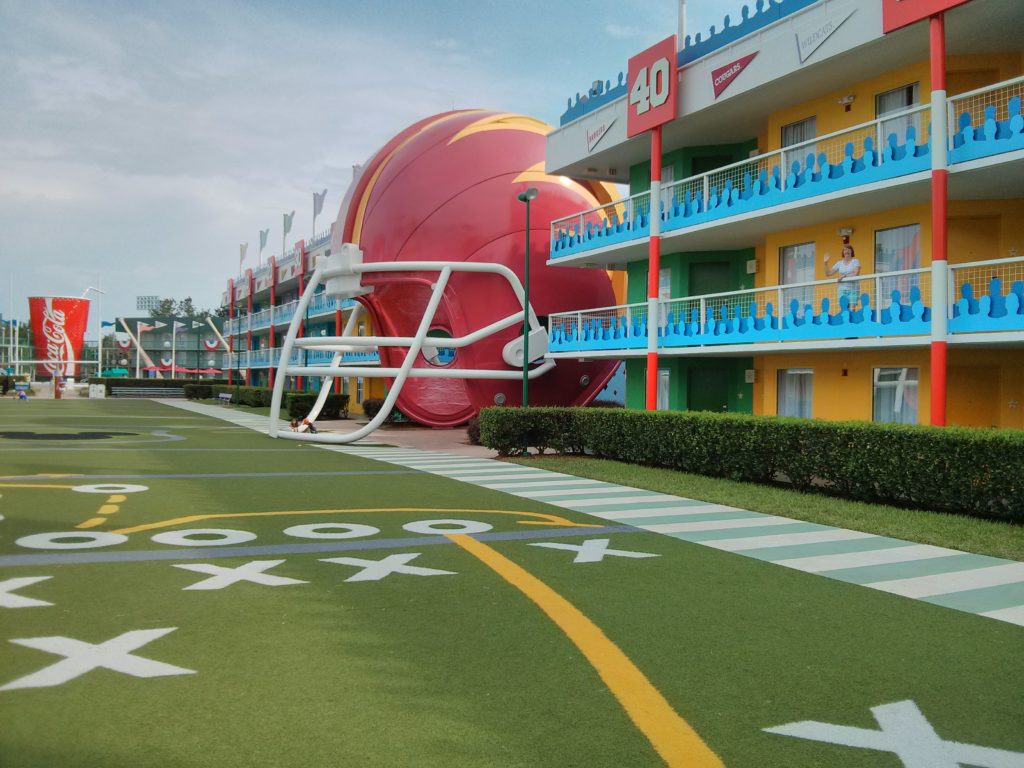 Each Walt Disney World hotel has at least one dining location, and as you move up in each of the categories, you'll find more culinary options. The value resorts have just one venue: a quick-service food-court-style location. The moderates, meanwhile, have at least one quick- and one table-service restaurant. And, finally, the deluxe and deluxe-villa properties have the most options, usually with one quick- and multiple table-service.
All quick-service locations at the hotels use mobile ordering, which is a big time-saver – and can be a money-saver, too. Additionally, this trick can also sometimes be applied to the resorts' table-service locations, as well, as a few of them offer the ability to order takeout via the app.
Off-property hotels often have at least one dining option on premises. Some include breakfast in your stay, which can be a good value, helping you get fueled up before heading to the parks. Be sure to check on this perk when researching your possible bookings. Many also are located near well-known restaurant chains and dining options that are easy on your budget. Here again, my preference is to use Google Maps or a similar tool to look at the location and then zoom in to see nearby offerings.
5. Themed environment vs. standard hotel atmosphere
Being right in the heart of the magic means less time spent traveling to and from the parks, and more time experiencing those magical Disney vibes. Each of Disney World's hotels has a dedicated, elaborate theme that is carried throughout the property. Disney's Art of Animation Resort, for example, celebrates four animated films: The Lion King, Finding Nemo, The Little Mermaid, and Cars. Imagine the look on the face of your kids when you tell them you're staying at "the Cars hotel!"
The higher the category of each Disney resort, the more detailed the theme becomes. Many are dedicated to one geographical destination or another from all over the globe, such as the Polynesian islands or the Pacific Northwest. So not only will you bask in Disney magic, but you can pretend that you're somewhere else in the world, too!
There really aren't any off-site hotels that carry an immersive theme on the same level as Walt Disney World's; still, many offer tropical- or Floridian-inspired décor, reminding you that you are on vacation in the Sunshine State. Many guests like to say, "I won't be spending much time at the hotel, anyway – I will be in the parks the whole time." This can certainly be true. It still feels good, however, coming back to a place you actually feel comfortable in and want to come back to.
Also adding to the theme and to the fun, all Disney resorts have recreational activities, starting with outdoor movies (which are currently shown every other night). And just as with the dining options, the higher you move up the resort ladder, the more possibilities you'll find, including bike rentals and arts and crafts.
Each traveler is different, and each family or group has different expectations, wants, and needs. Make a list of pros and cons besides just weighing the total costs. Your vacation time and vacation dollars are precious, and the hotel you select can impact both. Some research time up front can save you time and money in the end.
---
Which do you prefer: on-site or off? Let us – and thousands of other Disney fans – know in our Orlando Informer Community on Facebook.
And then be sure to follow Orlando Informer on Facebook, Twitter, and Instagram for the latest news, tips, and more at Universal Orlando, Walt Disney World, and other Orlando attractions.