Disney Controversies: The Guest Assistance Card as a Front-of-the-Line Pass
The article below has been re-published with permission from disneylovinspectrummom.blogspot.com.
The Guest Assistance Card (GAC) is intended for use by guests with Special Needs and can be obtained from Guest Relations at any of the Disney theme parks. The GAC is typically utilized by guests with "invisible" disabilities (such as autism spectrum disorders) and it is distributed according to the guest's specific needs. Guests using wheelchairs or ECVs generally do not require a GAC as their mobility needs are more easily recognized by Cast Members who will automatically direct them to the wheelchair entrance and/or loading area of each attraction.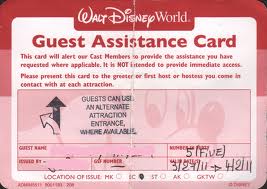 Seems like a no-brainer, right? Well, not exactly…
It seems to be a rather common misperception that the GAC is a "front of the line" pass – in fact, I read that very phrase in a recent post by a Disney blogger (who shall remain nameless). This well-intentioned person earnestly advised his readers with special needs to step right up to Guest Relations and get their Golden Ticket, as it were, so they could "go to the front of the line" at all the Disney attractions. This information is completely misleading!
Our family has utilized the GAC during at least seven visits to Walt Disney World and so I am quite familiar with it. Whenever I hear how "lucky" we are that our family can go right on all the rides without waiting I literally have to squelch the impulse to groan and roll my eyes to the heavens.
"The GAC truly is a help, but it really doesn't get us to the front of the line," I say patiently. "Actually it gets us to the end of the line – the FastPass or alternate entrance line." That is because my son's particular accommodation allows us to utilize an auxiliary entrance because of his autism/sensory issues. The auxiliary entrance may be the FastPass entrance, if there is one.
But, according to PassPorter's Open Mouse for Walt Disney World and the Disney Cruise Line, the GAC can be issued to guests who require a variety of accommodations:
*Using an auxiliary entrance if you cannot wait in line due to health problems, cognitive disabilities, autism ADHD, and related fears. You'll still likely wait — possibly even longer than if you'd waited in the queue – you'll just wait in a different location.
*Waiting in a shaded spot out of the sun if the attraction's queue has you standing in the sun for an excessive amount of time.
*Using your stroller as a wheelchair in queues and through the same auxiliary entrances that wheelchairs and ECVs are allowed to use.
* Sitting up front at shows if you have visual impairments.
It can be stressful enough planning a trip to Walt Disney World with a family member who has a disability without the added worry that you are being put in the position of asking for special (read: unfair) treatment and will be perceived by others as doing so. The GAC offers reasonable accommodations to people with invisible disabilities and their families so that they can enjoy Disney to the fullest, despite their specific challenges.
I recall having only one negative experience using the GAC at Walt Disney World. Once, while we were being admitted to the FastPass queue after presenting our GAC to the Cast Member a man waiting in the standby queue loudly sneered, "Must be nice!" My husband turned, walked up to him and handed him our GAC.
"Here, Buddy," he said, "I'll make you a deal. You can have this card if your son could be autistic for the day and my son could be normal. Then I'll stand on the longest line Disney's got and like it." The guy shut up, quick.
End of controversy!
Thanks Kathy for letting us re-publish this article on our site. To view the original post and learn more about Kathy, click here.