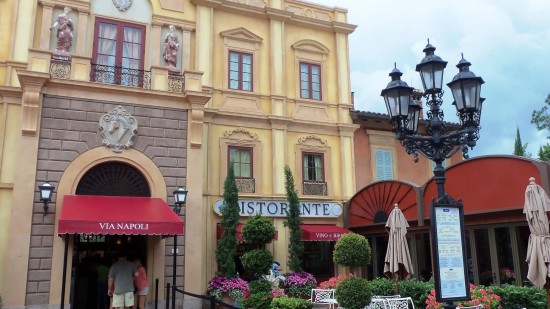 Via Napoli is located in the back section of the Italy Pavilion at Epcot. Opened in the summer of 2010, the restaurant is owned and operated by Patina Restaurant Group, which also owns the other eatery at the Italy Pavilion, Tutto Italia, as well as the wine bar, Tutto Gusto. Though the restaurant has been open for a while, somehow I had not managed to dine there yet. So during my recent visit to Walt Disney World, I knew it was time.
My party arrived at Via Napoli about thirty minutes before our reservation in hopes of escaping of a mid-day thunderstorm that was starting to roll in. Our early arrival was pleasantly accommodated by the hostess, and we were quickly seated.
Our server stopped by our table to greet us and shortly thereafter we were brought a bread service that was ample for our group of four.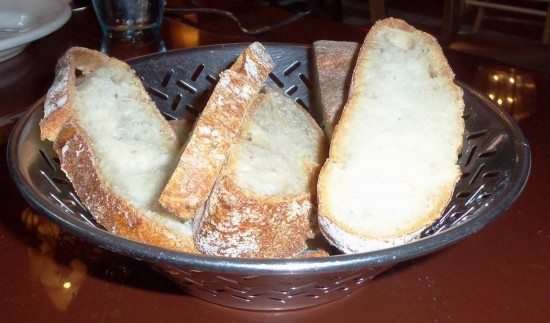 We had made the reservation for Via Napoli for the sole purpose of trying some their pizza. But figuring out what kind we wanted to order was taking some time, so we went ahead with ordering drinks and and an appetizer.
The drink menu features a few specialty drinks, wine, and a small selection of Italian beer. Now, Italy is known for many things, but I'm afraid great beer isn't one of them. So my suggestion is that, if you're in the mood for a beer, forego the Italian ones and stick with the Sam Adams. It appears to be the best of the choices they have available. (We had the summer seasonal brew, which turned out to be pretty good.)
My husband chose an antipasti, the Salami e Provolone, for his appetizer. Unfortunately my photo of it appears to being missing from my camera disk so I am not able to share that. Though he enjoyed both items, the portions for each were rather small. In the future we would probably skip this and order the salad for two instead, as there really wasn't enough of this appetizer to share.
Via Napoli offers several specialty pizzas, in three sizes: Individual, Large (serves two to three), and Mezzo Metro (serves three to five), or you can choose to build your own from a list of ingredients. We went with the Mezzo Metro, which we decided to do half plain pepperoni and half specialty pie, the prosciutto e melone (mozzarella, fontina, prosciutto, cantelope, and though not listed on the menu, arugula).
Via Napoli cooks its pizzas in wood-fired ovens which each have been named after an Italian volcano: Stromboli, Vesuvio, and Etna. It's fun how each is "personified" with a face.
Our pizza arrived at the table piping hot, and was sliced into 16ths. The pepperoni had a good amount of spice to it and there was plenty of the topping on the pizza. The prosciutto slices were large, large enough in fact to bury the cantaloupe underneath (but it was there). This flavor combination might seem odd to some, but the prosciutto, cantaloupe and arugula really worked well together.
Here's a shot of the pizza lengthwise in the pan (a little blurry, sorry!), followed by a shot of the pepperoni and one of the prosciutto e melone:
For those who might wonder if the serving sizes advertised are accurate, I can say that each member of our party ate three slices of the pizza, and so we ended up with four slices left over, which we took back to our room. No one left hungry, so I feel we would have been fine with this pizza for a party of five.
While I did not personally order dessert, I was able to try one of them. The Gelato Frizzante is an Italian style ice cream soda made with vanilla ice cream and San Pellegrino Aranciata. I don't recall the exact flavor this drink was supposed to be, but it was citrus in nature and quite sour.
Personally, I didn't really care for it, but the member of my party who ordered it seemed to enjoy it. Next time I'd like to try the gelato or tiramisu.
While there are a few restaurants around Walt Disney World with some pretty great tasting flatbreads, for an authentic wood-fired pizza experience, Via Napoli can't be beat. From the simple to the unusual, you'll find something for everyone. It's worth noting that the prices might surprise you at first — paying $41.00 for a pizza sure seems a little crazy. But when factor in that the pizza is feeding four to five people, it doesn't seem so bad after all.
Via Napoli – map & links
Click any marker to display the attraction or venue name. To scroll or zoom, use the controls on the top-left of the map. You may also switch to different map views by using the buttons on the top-right of the map.

View Via Napoli in a larger map
Official website: http://disneyworld.disney.go.com/dining/via-napoli/
Via Napoli – photo gallery
Click any image to view it full-screen. When the full-screen image is open, click to the right or use the right arrow on your keyboard to advance through the gallery. If several thumbnails are missing, try reloading this page in your browser.
[sws_author_bio user="KatSRQ" size="105″ authorposts="More OI posts by Kat" name_format="About the author"] [/sws_author_bio]