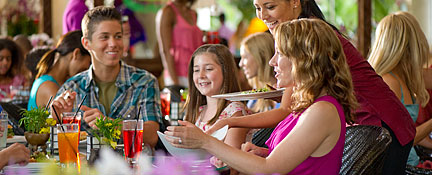 Chefs at Loews Royal Pacific Resort are creating a brunch that fits perfectly with what Sundays are meant to be: a time to relax, unwind, enjoy a good meal and spend time with family and friends. Sunday Brunch at the Wantilan launches March 11 and continues through June 24 in the outdoor Wantilan Pavilion.
"We set out to create a brunch experience that is laid back and fun, while featuring a delicious, chef-inspired selection on the buffet," says General Manager Larry Beiderman. "People can come in their shorts, bring the kids and enjoy live music while they relax in our tropical paradise."
The new Sunday brunch takes place in the hotel's Polynesian-themed outdoor Wantilan pavilion, designed to reflect the natural beauty of the South Pacific and the graciousness of island hospitality. Featured buffet items include roasted Hawaiian honey-glazed ham, sesame-crusted salmon, spiced chicken breast, potato hash with eggs sunny side up, Tahitian French toast, Applewood smoked bacon, Portuguese sausage, salads, desserts, champagne or mimosas, plus a children's buffet with kid-friendly favorites. Live entertainment traces the roots of Hawaiian music and dance, and encourages the audience to take part.
View the Sunday Brunch at the Wantilan menu below, or download the PDF file here: http://bit.ly/SBW12menu (PDF file).
Registration begins at noon, with brunch and live music from 12:30 – 2:00 pm. Reservations can be made by phone at 407-503-DINE (3463) or on-line at http://bit.ly/OTRWL.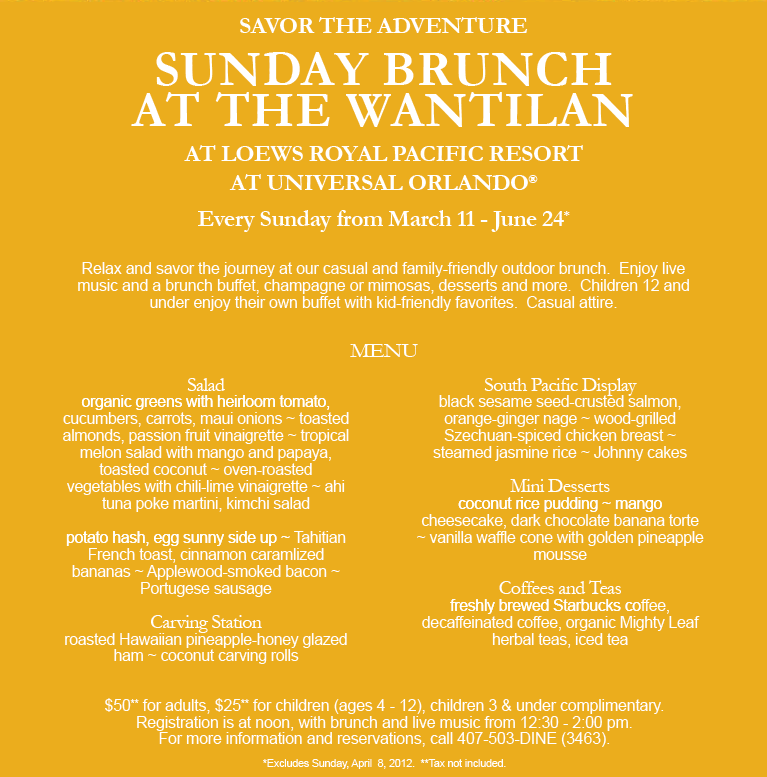 For our readers who are interested in learning more about Universal Orlando's on-site hotels, we encourage you to visit our On-site hotels section in the OI Universal Center — which features tons of insider information about the resort properties and over 700 full-screen photos.