A few weeks ago, I brought you some comparisons of Universal Orlando Resort and Walt Disney World with my post Universal vs. Disney – round 1. I explained some policies and practices that the two properties employ, compared them, and in most cases, chose a victor. The article proved to be popular, so I'm back with a follow-up. Here, we'll explore even more similarities and see which resorts do things better.
Universal vs. Disney – resort website
For the modern first-time potential visitor to the theme parks, many would tend to consult the resort's official website to begin planning their vacation. Comparing Walt Disney World's and Universal Orlando Resort's official sites, there are stark contrasts. Disney's site — http://disneyworld.disney.go.com — consistently gets complaints about its difficulty to use. The website has so little information about its attractions, dining, and shows that it would be more informative to check any other Disney fan site. When booking accommodations, the website will often clearly not give the least expensive room. On the other hand, Universal's site — http://www.universalorlando.com —  is significantly cleaner, more intuitive, and guarantees the best price on tickets.
Disney does have two saving graces. First, it offers free vacation planning DVDs that can be mailed to the potential traveler, postage paid. Universal has recently started posting vacation planning videos online, but for those that want physical copies, Disney's version is a great service. Second, Disney pays certain travel agencies to help potential travelers, so visitors can get help planning for free. However, this information is not readily accessible due to Disney's poorly made website.

Verdict: Universal wins
Universal vs. Disney – dining variety
Disney is well-known for its dining variety and accessibility. Several bloggers specifically write about Disney's hundreds of on-site restaurants. Disney's parks have plenty of quick and full-service restaurants, many with unique offerings. Outside the parks, Disney's many resort hotels and Downtown Disney offer some of the best dining on property. These range from Raglan Road pub, to the Beaches and Cream classic American joint, to Victoria and Albert's, which is the only AAA Five Diamond Award in the area.
On the contrary, Universal has very little variety, with only a handful of full-service restaurants in the parks, sufficient but homogenized quick-service restaurants, and franchised restaurants in CityWalk. Certainly the argument can be made that demand is lower at Universal's parks with less attendance, but even proportionally, dining variety is minimal.
Verdict: Disney wins
Universal vs. Disney – riding together
To clarify the title, this does not refer to rides accommodating certain riders of certain dimensions or health levels, but rather refers to riders physically being able to ride together or near each other. For the great majority of these, it means attractions that force an odd-numbered party to single out one of its riders to ride alone. For example, a group of five adults riding Haunted Mansion would typically mean one rider would need his or her own Doom Buggy. This is true for most of Disney's Omnimover attractions, most coasters, many dark rides, Splash Mountain, Sum of All Thrills, and others.
Universal makes a better effort to let riders ride together. Harry Potter and the Forbidden Journey, Incredible Hulk Coaster, Dragon Challenge, The Amazing Adventures of Spider-Man, Doctor Doom's Fearfall, Revenge of the Mummy, and other attractions utilize four riders to a row, so no matter the party size, no one needs to ride alone.
Verdict: Universal wins
Universal vs. Disney – classics
Disney has a huge fan following for its attractions. There is such a large fan base of the attractions that many Hollywood movies have been based on the attractions, like Haunted Mansion, Tower of Terror, and of course, Pirates of the Caribbean. Often when changes are announced to such attractions, huge uproars from the fanbase occur. Even "new" classics like Splash Mountain and Tower of Terror have many fans.
Universal, on the other hand, has demolished nearly all of its attractions that could possibly be regarded as classics, such as Kongfrontation, Back to the Future, Earthquake, Hanna-Barbera, and most recently Jaws, just to name a few. It's not as if these were not loved attractions; in fact, Jaws had a huge fan following, and there was an uproar. But the land had to make way for change. Many believe E.T.'s days are numbered, and honestly, they probably are.
Verdict: Disney wins
[youtube_video]wOq6l3JUAIA[/youtube_video]
Universal vs. Disney – live shows
Disney is well-known for its spectacular shows. There are so many that they are divided into distinct categories. There are parades like Mickey's Jammin' Jungle Parade, the Main Street Electrical Parade, and Pixar Pals Countdown to Fun. There are stage shows, like Beauty and the Beast, Finding Nemo the Musical, and Legend of the Lion King. There are nighttime spectaculars, like Fantasmic!, Illuminations, and Wishes. There are so many that it is difficult to see all of them in one trip.
Universal's pickings are slim. Islands of Adventure has no parade, no nighttime show, and only one regular stage show, The Eighth Voyage of Sindbad. Universal has several more stage shows, many of which are great. Universal also recently debuted their Cinematic Spectacular and the Superstar Parade. These will no doubt be great additions, but cannot match the offerings at Disney.

Verdict: Disney wins
Universal vs. Disney – water rides
In this category, the resorts are actually pretty fairly matched. Walt Disney World has two real water rides, Splash Mountain and Kali River Rapids (Pirates and Maelstrom are excluded since it's highly unlikely that the average rider will get wet). Universal has three, all of which are at Islands of Adventure. These are Jurassic Park River Adventure, Popeye and Bluto's Bilge-Rat Barges, and Dudley Do-Right's Ripsaw Falls.
The theming and storyline of Splash Mountain is much better than Ripsaw Falls, but the actual ride portion of Ripsaw Falls is better. Bilge-Rat Barges is better than Kali River Rapids in every respect except perhaps the queue. The addition of Jurassic Park River Adventure gives Universal a clear edge over Disney.

Verdict: Universal wins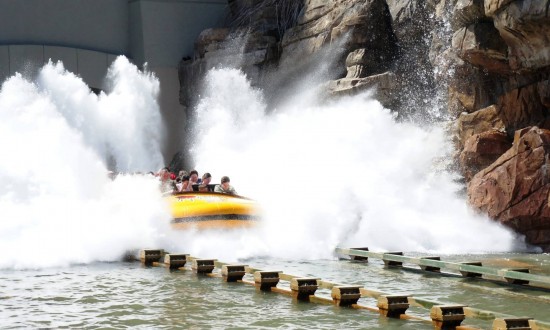 Agree? Disagree? Feel free to respond in the comments below! Or, check out round 1.
[sws_author_bio user="joshmercer" size="105″ authorposts="More OI posts by Josh" name_format="About the author"] [/sws_author_bio]