One of my many responsibilities as steward of the world's largest and most up-to-date Universal Orlando vacation planning resource, also known as the OI Universal Center, is to monitor our crowd calendar and Universal's park operating hours. In doing so today, I discovered that Universal has published their hours for April, May, and June of this year. (For those who do not know, Universal typically publishes their hours only about three to four months in advance.)
As I was going through the hours, I noticed quite a few surprising things! Here are copies of our calendar for April and May, 2012. Click either image to view a larger version.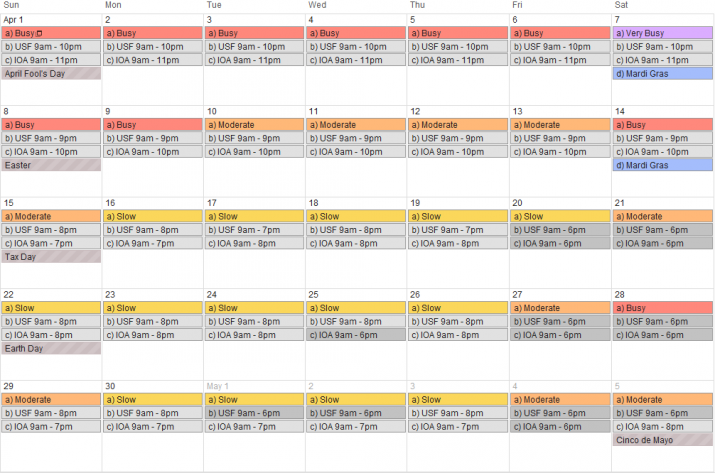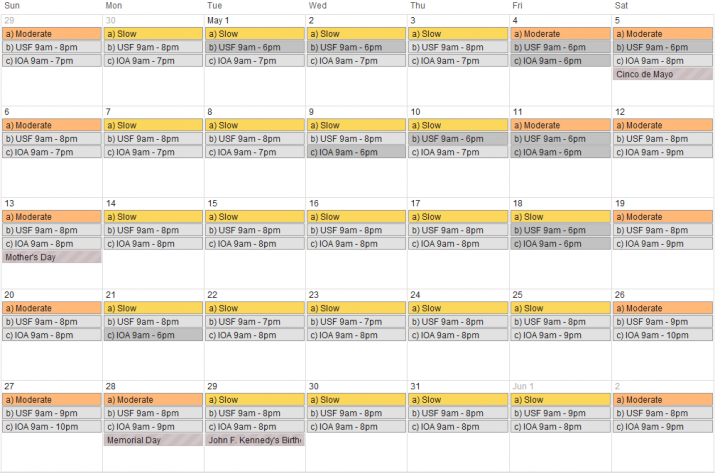 Starting on March 31, Universal Studios Florida is open until 10:00pm for eight straight days. Okay, USF is never open that late, for that long of a stretch. If I didn't know better, I'd say we are going to have a new lagoon show introduced during that time period.
But even more interesting, look at all the dates that either USF and/or IOA closes unusually early. I marked the operating hours for these days with a darker shade of gray. During the two months, one or both parks close unseasonably early 18 times!
Now I am only speculating, but I gotta believe that Universal Orlando is going to be hosting a bunch of events for the 100-year anniversary of Universal. If they are hosting that many private events, well then it seems like they really must be doing a lot for this celebration. We hope that it spills over into the daytime hours for park guests!
We will find out more next Wednesday, when Universal holds their media-only webcast event.
Last but not least, starting on June 23, Islands of Adventure will began opening at 8:00am to the general public. That means Early Park Admission is bumped up to 7:00am. Correct me if I'm wrong, but I don't think Universal has done the 7am/8am opening time combo for Island of Adventure, other than over the last week in December. I'm almost certain the opening time for IOA was 9:00am all last summer.
In any case, it is going to be another busy summer for the Wizarding World. I am very happy that I just completely updated our Wizarding World of Harry Potter Touring Plan, Ultimate unofficial guide to Forbidden Journey, and added How to ensure your trip to the Wizarding World is a success! to the OI Universal Center.
View the full Universal Orlando crowd calendar
Don't know about the new lagoon show or Universal's 100-year anniversary? Visit this blog post
Not sure what this media-only webcast thing is that I refer to above? Visit this blog post