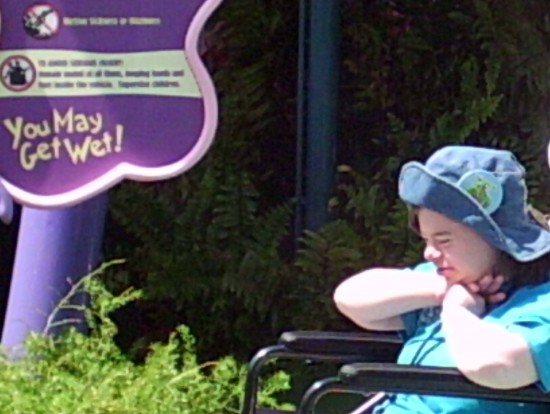 Ever wonder what happens when you lose something at Universal Orlando? As I mentioned in a previous post, my daughter's hat recently took its own flight, so I now have the 411 on how to hopefully find an item through Universal's Lost and Found!
Step 1: Contact the attraction's attendants immediately
My Downs daughter has had her floppy denim hat for 14 years but it got away from her dad on Flight of the Hippogriff in The Wizarding World of Harry Potter, Islands of Adventure. We followed all of Universal's recommended procedures, beginning with immediately telling the ride team trainer, Erik. He, along with the guy who was sitting in the car behind our daughter, helped us look for the hat through the fences around the attraction and along the queue. Brandon allowed me to ride again so I could look down into the trees and bushes and to make sure the hat wasn't sitting on top of a structure. Erik told me the crew would be walking the areas under the track after the park closed, which is done every night on every ride. If you lose something, be aware that your item probably will not be turned into Lost and Found until after the park closes.
Step 2: Visit the Lost and Found office before leaving the park
Lost and Found is located within the Guest Services office in Islands of Adventure and at the Studio Audience Center in Universal Studios Florida. Team member Monique gave me a business card with the phone number I was to call the next day. No description was taken at this time because all found items are logged into a computer database with a detailed description first. Universal team members are not allowed to reveal statistical information to the public but Disney World does release their Lost and Found figures; they yearly log 18,000 hats, not to mention a daily average of 210 pairs of sunglasses, oodles of cell phones, cameras and other items. Logging all these lost personal items really must be a chore and Universal's number of lost items is probably similar.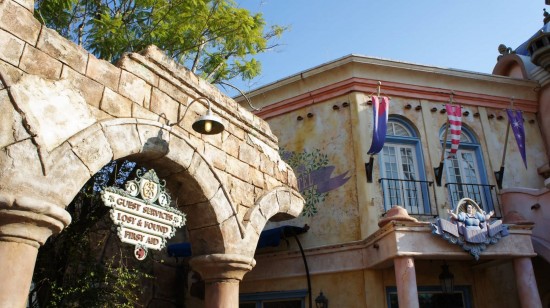 Step 3: Call the Lost and Found phone number the next day
Call 407-224-4233 and press Option 2 between 10 am and 7pm. There is also a form available at http://visitorsatisfaction.com/CONTACTUS/; do not send a picture of the item as they are not able to open attachments. I spoke with Heather who took a complete description of our hat, my demographic information and gave me a report number that I could give when I called back. This info went into a different database. She sincerely showed an interested in helping us find our lost item, as did everyone contacted.
Step 4: If your item isn't found on that first call, call back in a few days
I waited three days before I called again. Amy didn't find anything under "floppy" but did under "denim fishing hat, with pins." She said she would mark this as a possible match, send the info "downstairs" and I would be called by another team member. That person will have the item in hand when calling. After not hearing from anyone (and getting a bit anxious) I called the next morning, speaking with Michael. He said I was third in the system and just hang in there – it sounded like this was it. Not five minutes later, John called! The moment he mentioned the Smokey the Bear pin (from our trip to Great Smokey Mountains), I knew it was our daughter's treasured hat. I asked about the other pins, the really important ones from USF/IOA and they were ALL still on the hat! John truly seemed to be as excited as I about this Eureka moment! He said the hat would be mailed to us, free of charge.
Step 5: Contact Guest Services and submit a Thank You report
I called Christian three days later and asked him to submit a "good job" report. Diane had taken the report for Erik and Brandon before we left the park, but I wanted kudos to also go to the rest of the people who had helped since. I think it's important to let Universal know how important these people were to you while visiting their Orlando property. Not only are congratulatory statements sent to the team members immediate supervisors, their names go all the way up the corporate ladder. Even though team members are under no obligation to immediately look for lost items, it should be noted that looking for things every day IS in their daily procedures. And if you find something, please don't keep it – turn it in. It could be someone's favorite hat.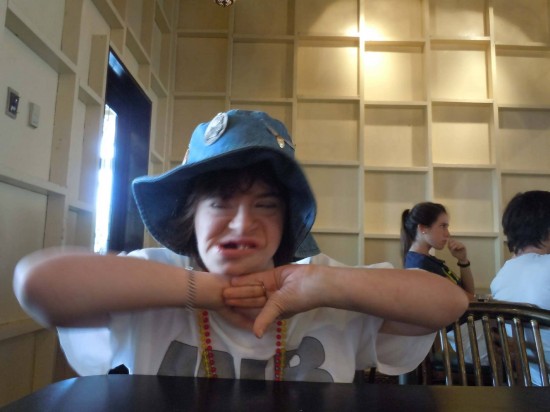 [sws_author_bio user="iamdollie" size="105″ authorposts="More OI posts by debi" name_format="About the author"] [/sws_author_bio]