Universal implementing PHOTO Express Passes (updated with pictures from all three on-site hotels)
Update 7/1/12
The PHOTO Express Pass kiosks are now in full operation at Universal's on-site hotels, and we've got all the information you need to know about them in our Complete guide to Universal Orlando Express Passes.
Update 4/9/12
Here are shots of the new PHOTO Express Pass kiosks at Portofino Bay Hotel: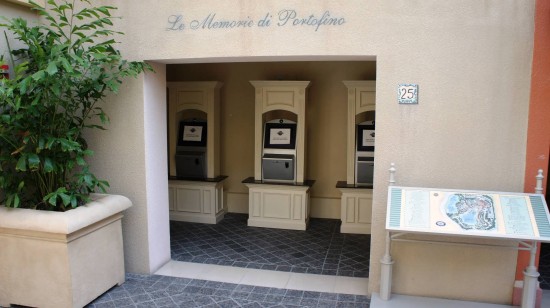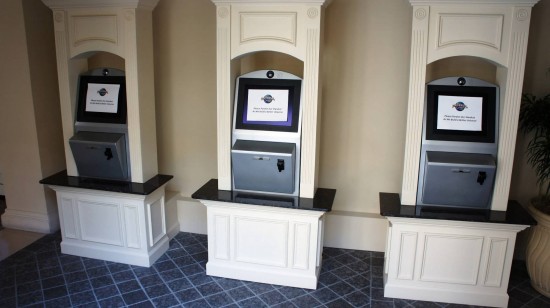 And here is a shot of the new PHOTO Express Pass kiosks at Hard Rock Hotel:
If you don't know what I'm talking about, check out the original post below…
Original post 3/21/12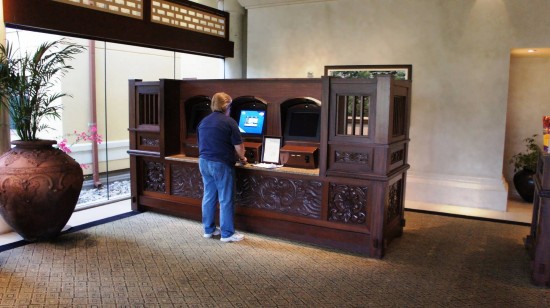 YOU HEARD IT FIRST ON ORLANDOINFORMER.COM
Yesterday I went to Royal Pacific Resort at Universal Orlando to research a Golf Universal question for one of my subscribers. As I entered the concierge area, just past the front desk, I noticed something rather surprising… the Golf Universal desk was gone, and in its place were three new electronic kiosks!
So I stopped at the Destination Universal desk (that's the desk that sells Universal tickets) adjacent to the now missing Golf desk and asked what happened. I was told that the Golf Universal desk has been gone for some time — I'll have more on that in a later post. So I then asked, what are those new machines for?
Well, I was told that they are for the new PHOTO Express Passes that Universal will be implementing "in about a month" from now for on-site guests. Why? I was told the new system is to stop guest "fraud".
Not sure what all this means? Here's an explanation:
In the current system, when you check into any of Universal's on-site hotels, you are given a room key with your name and the dates of your stay. It looks like this:
As you can read at the bottom of the card, the room key is good as an unlimited Express Pass for participating attractions inside Universal Studios Florida and Islands of Adventure. This is just one of the amazing benefits that Universal's on-site guests enjoy.
Well, it doesn't take someone very long to realize that they can basically hand this key to anyone, who can then use it as their own unlimited Express Pass. So, I assume it has become very common for guests to register four or five people to a room — even if those people aren't actually staying on-site or exist at all — just so they can get four or five unlimited Express Passes essentially for free.
Now that will end. As I was told yesterday, in about a month guests will be asked to take a photo, which will then be printed on their unlimited Express Passes. And, from what I understand, the unlimited Express Passes will now be a separate card from your room key. No more details were available, as Universal has not officially announced this policy change.
You cannot believe the amount of information our site has covering Universal Express Passes and the on-site hotels. Follow any of the links to head into the OI Universal Center and learn more:
Universal Express Passes – a complete guide
Early Park Admission to the Wizarding World (the other huge on-site benefit)
Universal's on-site hotels (includes a list of all on-site benefits)
Compare all three on-site hotels
By the way, here's the old set up of Royal Pacific's concierge area. The Golf Universal desk was the desk on the far left, the Destination Universal desk is in the middle, and the Hertz car rental desk is on the right — the actual concierge desk is off-camera.