Taking a time out at Disney's Tune In Lounge
If you are in search of a cocktail at Disney's Hollywood Studios, step out of the heat and in to kistch-filled Tune In Lounge, located next to the 50's Prime Time Cafe.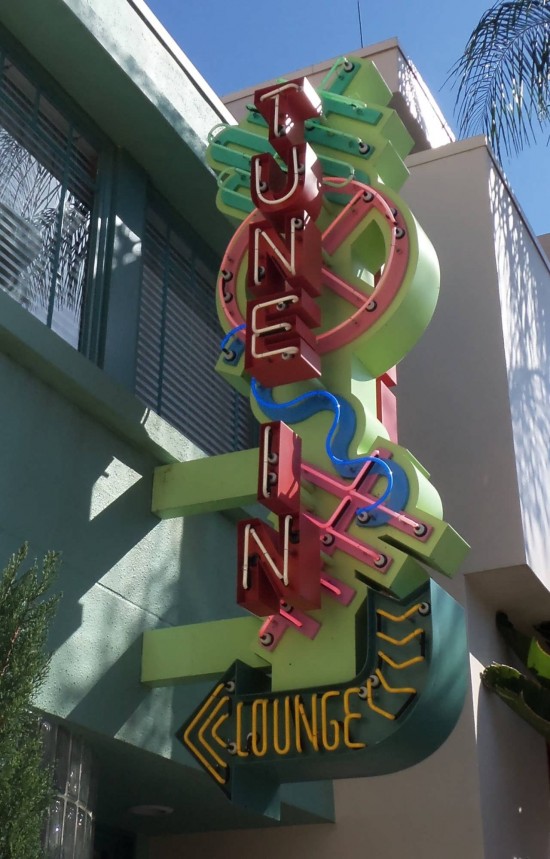 When you walk in, you'll immediately notice that the 50's-era themeing of the restaurant is carried over to the lounge as well. This is to be expected of course, as the lounge doubles a "waiting room" for those with advanced dining reservations at the restaurant. The theme is fun and quite well done, from the retro furniture, to the assorted knick-knacks that adorn the walls, to the "Disney" televisions scattered about that play clips from popular shows from the 50's, like Father Knows Best and the Mickey Mouse Club.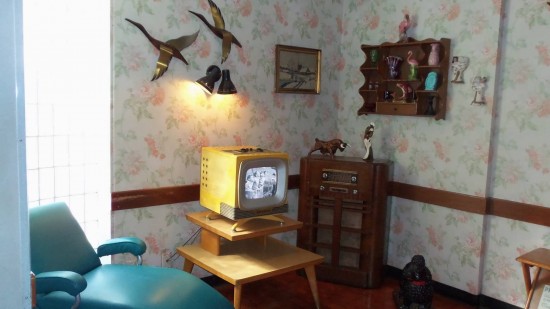 While the lounge has a few couches and chairs to relax and enjoy your drink on, bar seating may be your preferred choice because if you are seated at the bar, you can order off the full menu from the restaurant. This definitely comes in handy for those who might not have made previous reservations and are looking for a meal that's a step-up from the surrounding fast food theme park fare.
The Tune In serves a few different beers on tap, you won't find anything more exotic than a Blue Moon here, and the bottled beer selection isn't much better. But that's o.k., because what you really want to try when you come to the Tune In is one of their specialty drinks such as Dad's Electric Lemonade, the Mowie Wowie, or Grandma's Picnic Punch. My personal favorites are the Mowie Wowie, which has a tropical taste to it, and the Grandma's Picnic Punch, which didn't taste much like liquor at all but definitely contained it. I found Dad's Electric Lemonade to be on the overly tart side, though I given its name, that is probably to be expected. It didn't bother me as I enjoy tart drinks, but this particular drink might not be for everyone. If you're not interested in any of their signature drinks, they have a fully stocked bar and the bartenders here are quite capable of whipping up whatever it is you're looking for.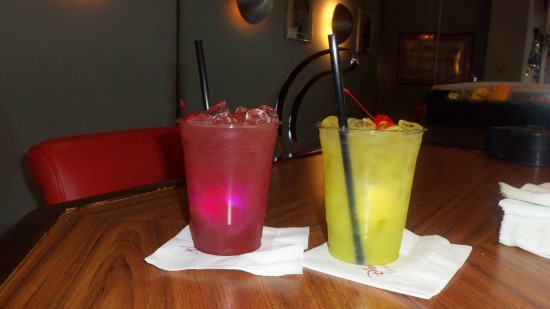 Because the Tune In is used as the waiting area for the restaurant and is also the only indoor lounge at the Studios, it can get pretty crowded sometimes. The best time to visit is during off-times for meals. If you stop by and find there is no seating available, you are always welcome to grab a drink to go.
If you are a Tables in Wonderland member, be sure to show your card for a 20% discount. Also, while I love a glowing drink as much as the next person, you can save about $3.00 per drink by ordering those that are listed on the menu as containing them without one. (This trick works pretty much everywhere on property, but the savings may vary.)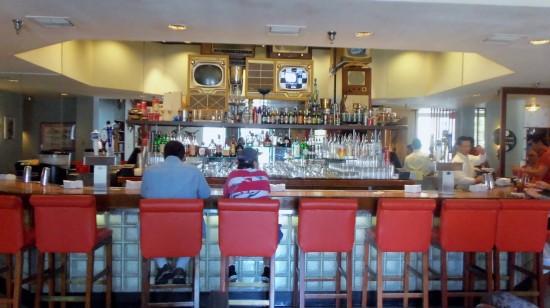 Next time you're at Disney's Hollywood Studios, be sure to take time out for the Tune In Lounge.
Tune In Lounge – map & links
Click any marker to display the attraction or venue name. To scroll or zoom, use the controls on the top-left of the map. You may also switch to different map views by using the buttons on the top-right of the map.
Official website: http://disneyworld.disney.go.com/dining/50s-prime-time-cafe/
[sws_author_bio user="KatSrq" size="105″ authorposts="More OI posts by Kat" name_format="About the author"] [/sws_author_bio]