My least favorite attractions at Universal Orlando
Much attention has been paid to Harry Potter and the Forbidden Journey, The Amazing Adventures of Spider-Man, and Revenge of the Mummy.  And for good reason – these are easily some of the best attractions in all of Orlando (and, according to many, in all of the world).  Very little has been said of the flip side of the coin, the weaker stops that Universal Orlando has to offer, though, and since I strive to provide the best possible experience for the guest – particularly those who, like myself just last month, have an extremely limited amount of time to spend at the parks – I want to give you sufficient advance notice of what to expect.
But this doesn't (necessarily) mean you should skip these rides!  Indeed, most of these offer some of the best theming details you'll find in Universal's little neck of the Orlando woods.  Think of these, then, more as side dishes in-between the main servings of the (Harry Potter) feast for those with longer stays.
#5 – E.T. Adventure
Location: Woody Woodpecker's KidZone, Universal Studios Florida
Opened: June 7, 1990
The last of the original rides to open with the park a little over 20 years ago, E.T. Adventure offers the most traditional, Disney-like dark ride experience to be found at Universal.  Part of this is the problem, however – despite some wonderful moments, including a Peter Pan-esque fly-by over a city and one of the most atmospheric queues in the history of themed attractions, the herky-jerky movements of some of the animatronic figures and comparatively-threadbare production values really betray the age of the ride.  Even worse, E.T. strikes both of the worst theme park chords:  a strict regurgitation of the source material in some scenes and a completely non-sequitur story in all the others.
#4 – Twister… Ride It Out
Location: New York , Universal Studios Florida
Opened: May 4, 1998
Twister seems to work best in the in-between stage:  after the initial, borderline-tedious intro (essentially a "behind-the-scenes" DVD extra narrated by the film's stars) and before the main thrust of the attraction (watching the twister unfurl), when the audience is in Auntie Meg's storm-addled house.  The TVs crackle, cats mew in distress, the lights flicker… it's engrossing, but it's short-lived.  Bill Paxton and Helen Hunt yet again discuss both the movie and what is about to come, and then what comes simply doesn't live up to either the creepy atmospherics or the potential of the premise.  This is partially thanks to similar, stronger-executed spectacles at other parks, but mostly due to a very fake cow being zipped on a very obvious line right in front of the audience's faces.
[youtube_video]owB4Z4_mjeE[/youtube_video]
#3 – Terminator 2 3D: Battle across Time
Location: Hollywood , Universal Studios Florida
Opened: April 27, 1996
It has to be said:  the combination of actors, animatronics, and 3D footage is extremely clever, particularly in how the one-screen theater metamorphizes into a three-screen, Cinerama-esque experience.  The inclusion of all the original actors is similarly a nice touch – but the carrying over of every plot point, character beat, and action-set piece isn't.  There is not one new idea in the entirety of the 12-minute movie, making T2 3D feel singularly derivative (a shame, since such thought was put into its presentation and live action/film interaction).  Add in James Cameron's penchant for names or story riffs that are outright ridiculous – the T-1,000,000 is dispatched to kill John Connor once and for all (no, really this time) – and the result is a recipe for the cheesiest of cheese.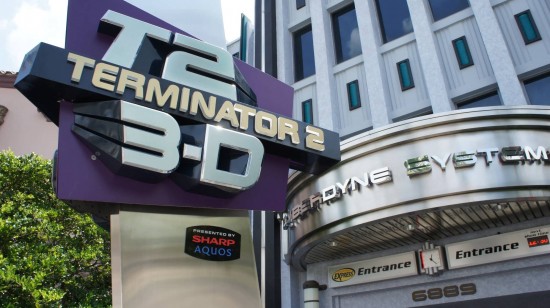 #2 – MEN IN BLACK Alien Attack
Location: World Expo, Universal Studios Florida
Opened: April 8, 2000
Take Cat in the Hat's penchant for spinning, combine it with Toy Story: Midway Mania's laser-tag hook, and garnish with set design that has the decided feel of cardboard cutouts, and Alien Attack is the result.  It's a fun ride that tries for all the world to be a zany, madcap experience, but it falls short in every category and in every instance.  For thrills – or just plain, old-fashioned fun – Revenge of the Mummy is superior in every conceivable way; for humor, next-door-stop The Simpsons has it beat.  (Even Cat in the Hat bests it in the silly spinning category, despite Men in Black's technological improvements on their shared ride platform.)  At least there's the ambivalent presence of Will Smith…
[youtube_video]X553i1Bd6qg[/youtube_video]
#1 – Poseidon's Fury
Location: The Lost Continent, Islands of Adventure
Opened: May 28, 1999
There is literally only one good thing that can be said for Poseidon's Fury:  its art design is second-to-none, ranging from its much-discussed (and often malfunctioning) water vortex tunnel to the show building itself, which promises prospective attendees the adventure of a lifetime.  What they get instead, however, is an attraction – complete with dialogue, characters, costume design, and, sadly, even special and visual effects – that is so horrid, it would be extremely comical if it weren't so embarrassing.  The final showdown alone between Poseidon and Darkanon is easily enough to make one banish the entire experience from her memory.  Indeed, if Walt Disney said that story is king in any themed attraction, he is more than rolling in his grave.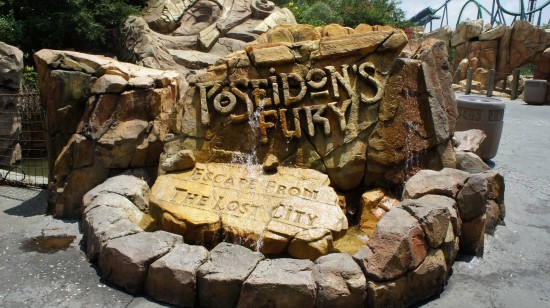 Ready to debate my observations? Leave a comment below!
[sws_author_bio user="msunyata@yahoo.com" size="105″ authorposts="More OI posts by Marc" name_format="About the author"] [/sws_author_bio]