My top five favorite moments at Universal Orlando
What are theme parks for but attractions, shows, and restaurants? Well, quite a bit, as it turns out. A number of what were, in retrospect, some of the most poignant moments of atmosphere or immersion or sheer enjoyment were found in the most unexpected places, whether figuratively (behind or beside the immaculate facades Universal has created to direct your attention) or literally (elements that are sometimes right smack dab in front of your face as you're being chased by Dementors or entertained by animal actors).
Detailed here are my top five, listed to help expand your perceptual boundaries and open your mind to some of the more ephemeral qualities that Universal Orlando has to offer.
5. Balconies at Portofino Bay Hotel
Getting a bay view room at Portofino Bay Hotel is a magical thing in and of itself, but standing there at nighttime, watching the lights play off of the waters while people stroll and laugh and sit out on the main piazza and converse gently, only heightens the atmosphere. Even more immersive still is the nightly opera singer emerging on his own balcony to serenade the area with one particular song or another. For us, it was "Music of the Night" from Andrew Lloyd Webber's Phantom of the Opera, which is a beautiful enough song in and of itself and the perfect way to help wrap up an already wonderful day.
Magical, indeed.
[youtube_video]DKCJf9_n1Jk[/youtube_video]
4. Revenge of the Mummy's Ceiling of Fire
From the queue to the opening chamber of Revenge of the Mummy, where golden treasures and light alike entice riders before menacing audio-animatronic warriors chase them out and start the careening, zigzagging ride, one can instantly tell that a lot of love and attention went into what is easily one of the most fun, not to mention one of the most clever, attractions at Universal Orlando. But the highlight of the ride – for me, at least – is the small room that is literally caught on fire, topped with a ceiling made entirely of roiling, undulating flame. It's a sight to behold, even when zipping backwards at close to 45 mph, and it easily stands out against all of the other memorable sights and sounds the parks have to offer.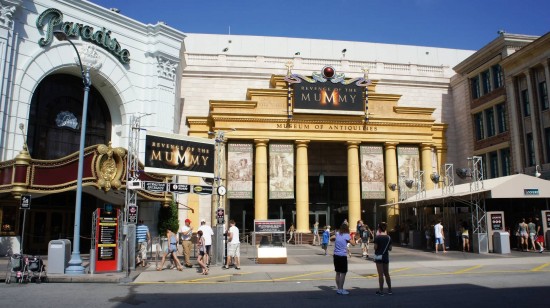 3. Strolling the Universal Property
Starting at the heart of CityWalk, with its vibrant lights and thumping music and sheer electric charge, and walking hand-in-hand with my wife alongside the water taxis' canal back to our hotel one night, past lampposts and trees and the occasional guest, a peacefulness that is otherwise hard to come by at the bustling resort settled over us, and the simple, singular fact that we were at Universal Orlando was an overwhelming – and very much palpable – experience. Call it an existential realization of the immersive kind, our theming moment of Zen.
Simply put, every vacation requires – and deserves – one of these.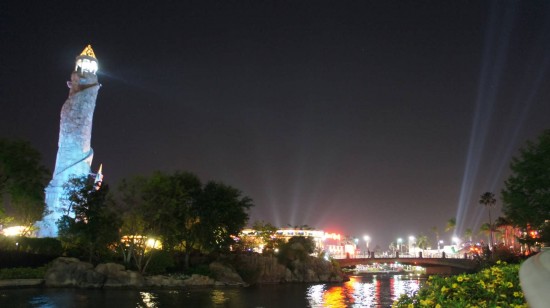 2. Entering the Wizarding World of Harry Potter
Even after looking at countless photos and YouTube walkthrough videos, and even after hearing almost literally every other park attendee say the same exact thing, walking through the (front) gate of the Wizarding World of Harry Potter and entering the recreation of Hogsmeade Station is simply breathtaking. Buildings careen, shop windows leap to life, and John Williams's wonderful score envelopes you, creating an experience that is unrivaled at the resort – and even gives a number of Disney parks a run for their money.
Universal spent just a little over $250 million designing and constructing the Wizarding World, and nearly every penny can be seen walking down that wonderful Hogsmeade street.
[youtube_video]6LK_MozGBjI[/youtube_video]
1. The Prelude of Harry Potter and the Forbidden Journey
You've waited in line through the many rooms of Hogwarts Castle as part of Harry Potter and the Forbidden Journey, you've listened to many a conversation of the castle's talking portraits, and you've witnessed the simple delight of having your favorite actors from the films come to life in front of you. And while each of these deserves its own spot on some enthusiast's homemade highlights list, and while the ensuing ride is itself a crowning achievement of Imagineering that alone deserves to be experienced, it is the simple, quiet moment after you've been strapped into your very own flying bench, before Hermione appears to cast her spell and swoosh you through the Floo Network, that is easily the most powerful. "Hedwig's Theme" being played on a lonely piano right in your ear is the most understated and most exquisite counterpart to the anticipation of the adventure awaiting you.
And as I lied in my bed at Portofino that night, with the wonderful atmosphere bubbling around me and another day of theming potentiality spread in front of me, it was that intimate musical refrain that was easily the most resonant.
That's when I knew Universal had me, hook, line, and sinker.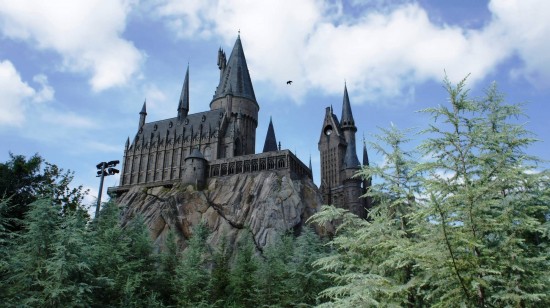 [sws_author_bio user="msunyata@yahoo.com" size="105″ authorposts="More OI posts by Marc" name_format="About the author"] [/sws_author_bio]