Update
If you are interested in attending a taping of IMPACT WRESTLING at Universal Orlando, see this post in the OI Forum for tips on getting VIP seating.
Original post
On February 28th I had the chance to see TNA IMPACT WRESTLING at Universal Studios! I've never been a huge fan of wrestling but this was a whole new experience! I'll be honest — as a kid I loved playing wrestling video games, so this brought out the kid in me again. I would always play as Sting because I got a huge kick out of the make-up and costumes he wore. Sure enough, I heard that he might be on the show so that enticed me to take a chance and see it!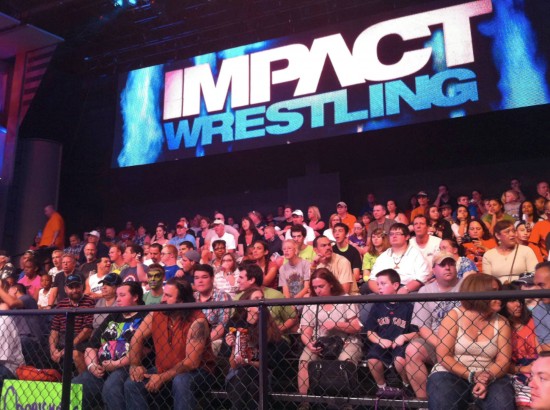 The taping is open and free to all (you just have to pay for parking if you have a car), and you are free to come and go as you please. It was very laid back. If you are inside of Universal Studios Florida, there are two stands on each side of the Universal Music Plaza concert stage that have information and hand out tickets to the event. If you don't have admission to the park, you can get in through a separate entrance next to the Blue Man Group theater (according to Universal's website). For that day's taping the doors opened at 5:30pm and the show started at 6pm exactly in Soundstage 21.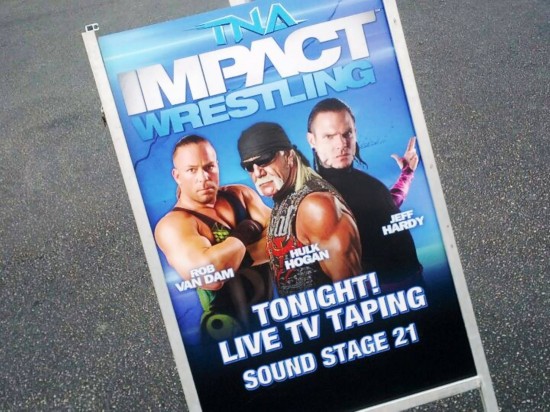 For what I thought was a very small soundstage, they really made the most out of the space and accommodated more than enough room for everyone! There were bleachers on three sides of the ring along with ringside standing, which I got lucky enough to get. Up close and personal with the action! It may have been because it was a Tuesday during the slow season but they were struggling to fill spots, even telling guests beforehand that they could enter the show after it started, and they did. As the show went on, the seats began to fill more and more. It was very organized and fast, we didn't have to wait much before they let us into the building, which was much better than the hour and a half wait and not being able to move from our seats when I went to the filming of Family Feud months ago.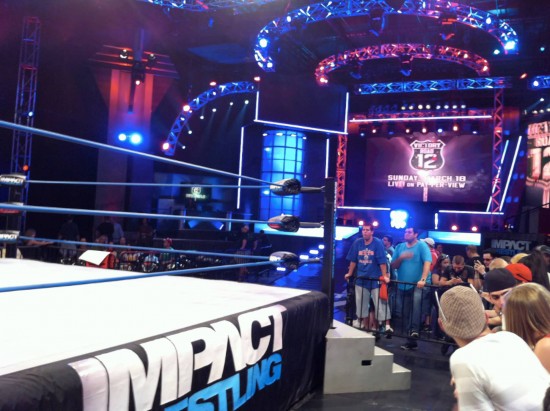 They set up the filming much like it was live on TV that very moment, with quick "commercial" breaks in between each match. Each match was very entertaining and they didn't dwell on one group more than others. Normally they'd come out, exchange some threatening words to each other, which would initiate a huge brawl!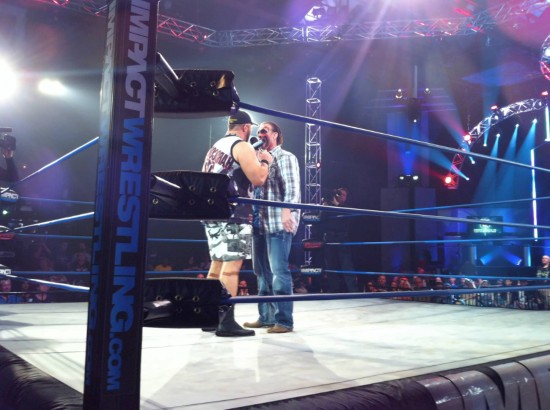 I've never watched an episode before that night but it wasn't hard to pick up what was going on, like who's in a rivalry with one another. All of that aside it was all-around entertaining in general! They got to the point without too much down time. Great theatrics, pyrotechnics, and wrestlers! It all consisted of four matches and lasted until about 7:30pm. All in all it was about a two-hour experience. It was a great production, and I'd say if you have a little extra time or want to beat the heat, give TNA IMPACT WRESTLING a shot! The episode that I went to will air on SpikeTV Thursday, March 9th at 9pm EST. Refer below to see the current schedule when IMPACT will next be taping at Universal Studios (remember that dates and time are always subject to change – call 407-224-6000 for the latest information).
March 18 – Victory Road – live pay per view event
March 19
March 20
April 2
April 3
April 17
April 18
April 30
May 1
May 13 – Sacrifice – live pay per view event
May 14
May 15
May 28
May 29
Official Universal website: http://www.universalorlando.com/Shows/Impact-Wrestling.aspx
Official TNA website: http://www.impactwrestling.com
TNA IMPACT WRESTLING live taping – photo gallery
Click any image to view it full-screen. When the full-screen image is open, click to the right to advance through the gallery. If several thumbnails are missing, try reloading this page in your browser.
[sws_author_bio user="BlaineCummings" size="105″ authorposts="More OI posts by Blaine" name_format="About the author"] [/sws_author_bio]